Yes, these are really Fruit Salad Smoothies, made from leftover fruit salad. Never, I tell you, never throw out left over fruit again!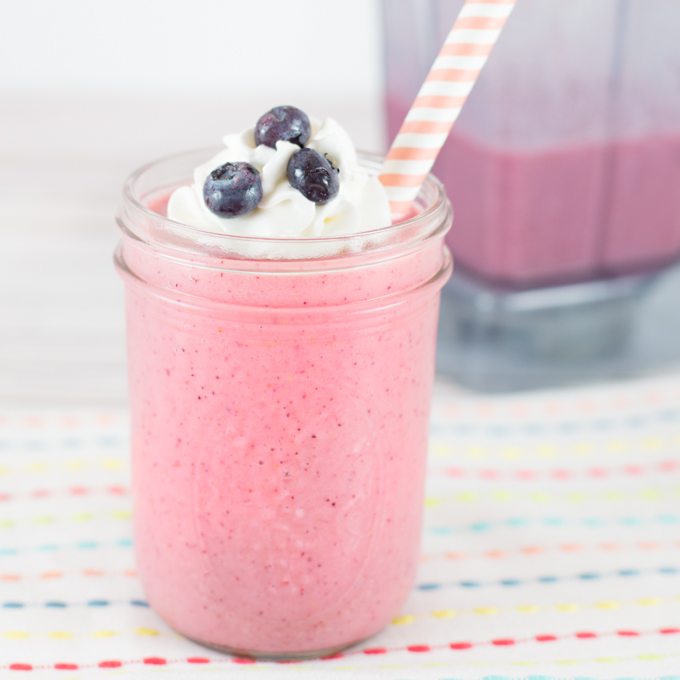 Let me tell you one more time. Do not throw away fruit……….freeze it! I freeze any fruit that I've boughten too much of and is starting to ripen too quick. I always freeze bananas and berries, but also have frozen pineapple, melon, kiwi, and left over fruit salad! I've never frozen apples by themselves, but if they're in the fruit salad, into the freezer they go. You'll notice the bag of frozen fruit contains, pineapple, red grapes, blueberries, strawberries, green grapes, cantaloupe, raspberries, kiwi, and blackberries. Almost every fruit except bananas were in that bag. A few weeks ago, I hosted a baby shower and prepared a fruit/granola/yogurt tray as part of our brunch. Well I got a little too ambitious and prepped way to much fruit, so into the freezer it went, just waiting to be made into a Fruit Salad Smoothie! Have I mentioned yet how delicious the smoothie was?
Into the blender, the fruit, coconut water, and vanilla Greek yogurt goes for a good mix.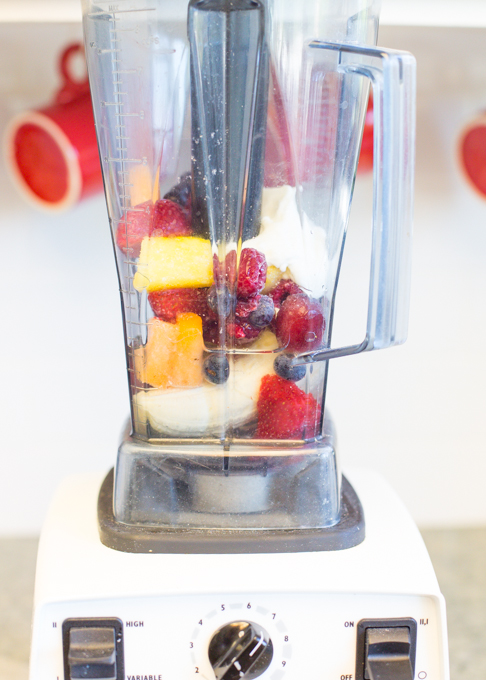 Add a little more frozen fruit if it's too thin, a little more coconut water if you prefer yours on the thinner side.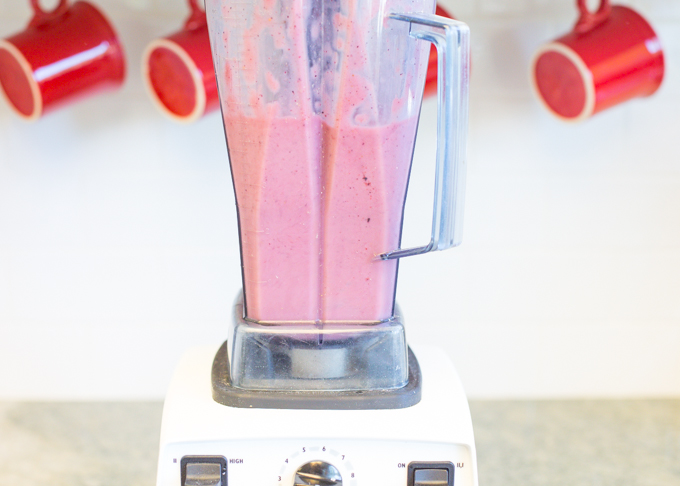 I'm kind of a straw freak! Like seriously, I have more straws than I know what to do with. But, for a nice thick delicious smoothie or shake you need these FAT straws or maybe STAINLESS re-useable straws. I can't remember where I purchased the cute orange & white striped straws, I seriously buy them whenever/wherever I see them. I also should mention how much I love my Vitamix Blender. They're pricey, but I've had mine for years and it's still going strong. Blenders are one of those appliances that I tend to destroy within a year or two. This ones gotten a good work out and it still going strong. I've also heard great things about the Ninja Blender.
Now that the smoothie is well blender and at the consistency that is perfect, stick in one of those fat straws and enjoy!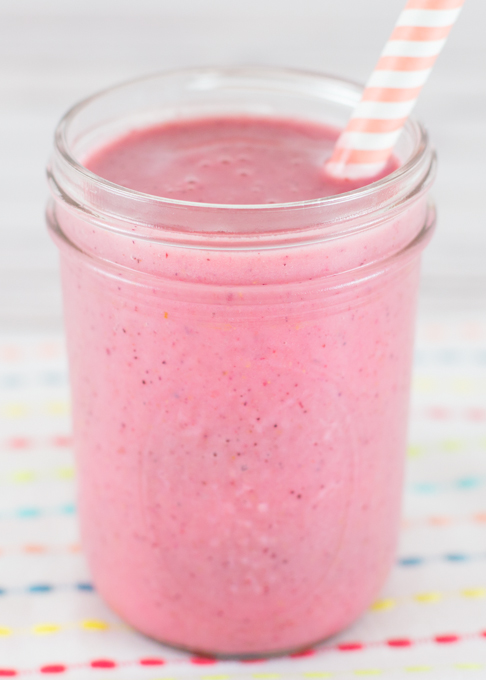 And of course, to make it a little more fun, top it with a little whipped cream and a few blueberries!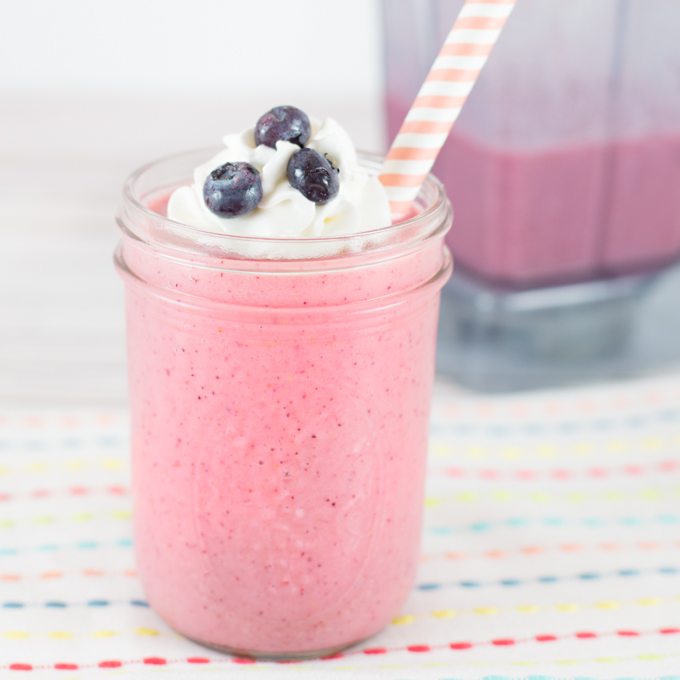 I love how this smoothie is a pretty shade of pink. Depending on the fruit that you use, the color of your smoothie will vary. Obviously, lot of berries made a pink smoothie. Believe me, I've made up a few that aren't quite so pretty, but they taste just as delicious!
Fruit Salad Smoothie
Ingredients
1

cup

coconut water

1

cup

frozen fruit salad

1

banana

1/2

cup

vanilla yogurt

**Optional: whipped cream for topping

**I typically use a combination of fresh & frozen fruit. In this recipe I use frozen fruit salad and a fresh banana.
Instructions
Place all ingredients into your blender.

Blend on med/high until completely blended and smooth.

Add a little more coconut water if you prefer a thinner smoothie. Add more fruit if you prefer it a little thicker.

Top with whipped cream and enjoy!