I stumbled upon the original Chex Mix recipe on Pinterest the other day and decided to make up a batch. It's been years since I've made it, so I figured I'd make some up. Yep, it's a good as I remember! I did mix it up a little by adding in some pretzels and cashews. I also decided to not use the seasoned salt and used Good Shit seasoning instead. Yes, there really is such a thing. They sell it at a little boutique that I visit often. It's similar to the seasoned salt, but has more of a salty sweet flavor to it. In case you're curious, you can order it here.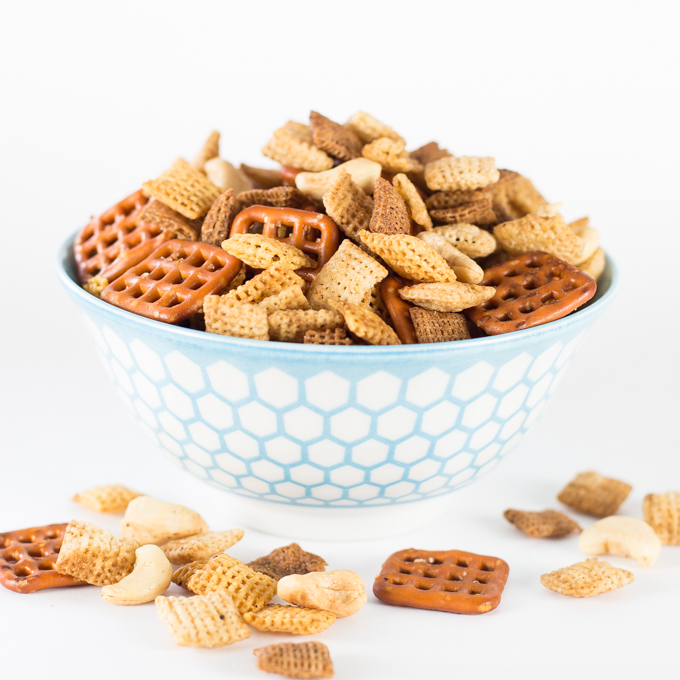 Chex Mix
Ingredients
1

cube butter

1

tsp

Seasoned Salt

I used 2 tsp Good Shit seasoning instead

4

tsp

Worcestershire Sauce

2

cups

Corn Chex cereal

2

cups

Rice Chex cereal

2

cups

Wheat Chex cereal

1 1/2 -2

cups

small pretzels

1 1/2 -2

cups

cashews
Instructions
Melt butter.

Stir in Worcestershire Sauce and seasoning (either seasoned salt or Good Shit seasoning)

Combine cereals, pretzels, and nuts in large bowl.

Slowly stir butter mixture into cereal mix. Stir until well coated.

Dump mixture onto large rimmed baking sheet, parchment lined.

Bake in 250* oven for 45 minutes, stirring 2-3 times.

Cool and enjoy!