My daughter suggested I post a wrap recipe, and since I happened to have some leftover chicken…..
I was torn between this Thai Peanut Chicken Wrap or a Mango Salsa variation. Certainly wraps are very versatile and you can't go wrong either way! And, they're a perfect way to use up leftover chicken!!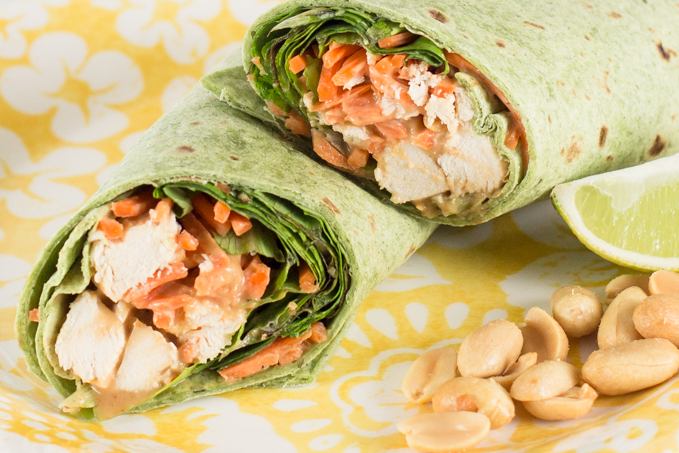 I'm so bad, by the end of eating this I was literally spooning extra peanut sauce on every bite. Now that would have been a picture to post!! Picture me standing over my stove, with a yummy pan of Thai Peanut Sauce sitting there, spooning more sauce over each bite!! So good!!
Here's the sauce recipe, but honestly, I know a lot of grocery stores (Trader Joes) sell a Thai Peanut Sauce, so if you need to take a short cut, ain't no one going to judge you!! Feel free to fill your wrap with whatever you have on hand. I used some leftover chopped chicken, a spinach tortilla, mixed baby greens, grated carrots, extra chopped peanuts, and a good squeeze of lime juice.
Thai Peanut Sauce
Ingredients
1/2

cup

peanut butter

I used creamy because that's what I had, crunchy would be fine also

1

cup

coconut milk

1 1/2

TBSP

Thai red curry paste

1

TBSP

soy sauce

1/4

cup

dark brown sugar

lightly packed

juice of one lime

pinch

of salt

*Optional: peanuts

chopped for garnish
Instructions
Combine all ingredients (except lime juice & chopped peanuts) in small sauce pan over med/low heat.

Stir or whisk until smooth.

Heat until smooth and peanut butter is melted.

Serve slightly warm or cool.
After I made this, it got me to thinking. I have a grand daughter who is slightly picky when it comes to eating dinner. However, she will eat chicken (usually, sometimes) and she loves peanut butter. She just might eat chicken if this is served as a dipping sauce! It should be in a kids cookbook……..Chicken & Peanut Butter!! Chicken and sauce only, leave off the spinach tortilla, the lettuce, the carrots, and the extra topped peanuts, and the squeeze of lime.