Ebelskivers aka Danish Pancakes are a little bit of family tradition for me. I have such fond memories of my Aunt Roberta standing at the stove cooking batch after batch of these delicious little pancake balls. I've seen variations when they are filled with jelly, but we're purists in our Ebelskiver eating. Powdered sugar only! No butter, no syrup, no jam, just a heavy sprinkle of powdered sugar. As you can imagine these are slightly time consuming to make so they are a special occasion breakfast. And, since you need buttermilk, and no one ever has buttermilk on hand, you have to plan ahead to make these.
I remember once when one of my daughters (feeling bad now that I don't remember which daughter) had "heritage" day at school and was supposed to bring in a food that reflected their heritage. You'd think I would have been happy buying a tin of Danish Butter Cookies at the store, but no, not me…..I delivered dozens upon dozens of Ebelskivers for her class to enjoy. Mom of the day? I do think I qualified!
Anyways, these are certainly a special breakfast treat that you can't get just anywhere. We have a little Danish town, Solvang, here in CA, where you can get them, but I'm telling you, you're not going to find them at any old pancake house, anywhere USA. So, if  you happen to see them on a menu, order them!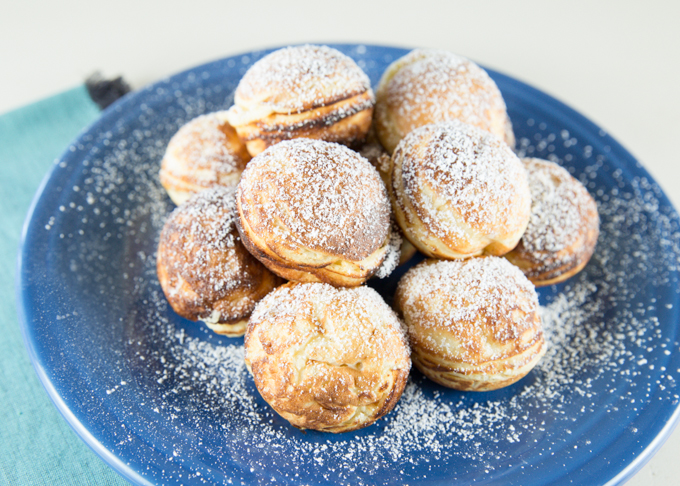 My ebelskiver pan has been passed down to me and is a heavy cast iron pan. I'm not sure you can still get the exact pan I have, but here's a link to a Calphalon Ebelskiver Pan from Amazon. Order one, and make your family a breakfast that they'll love and remember.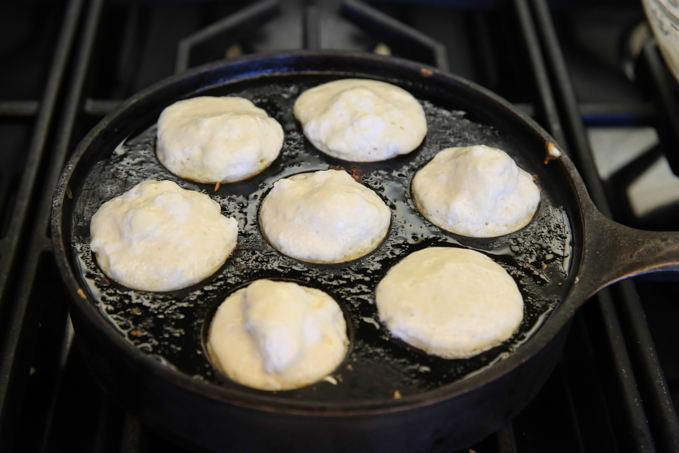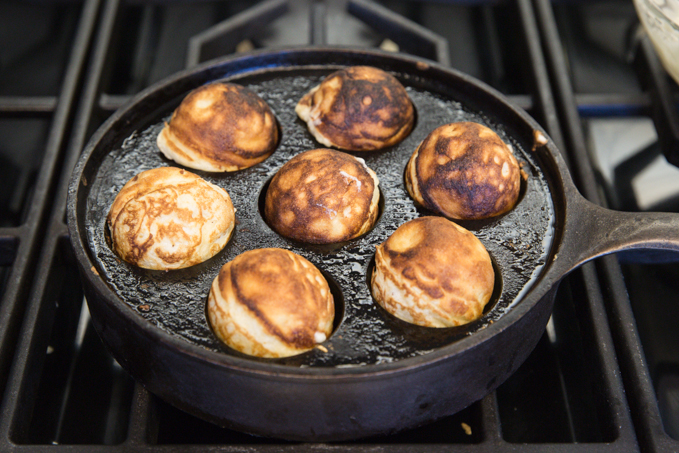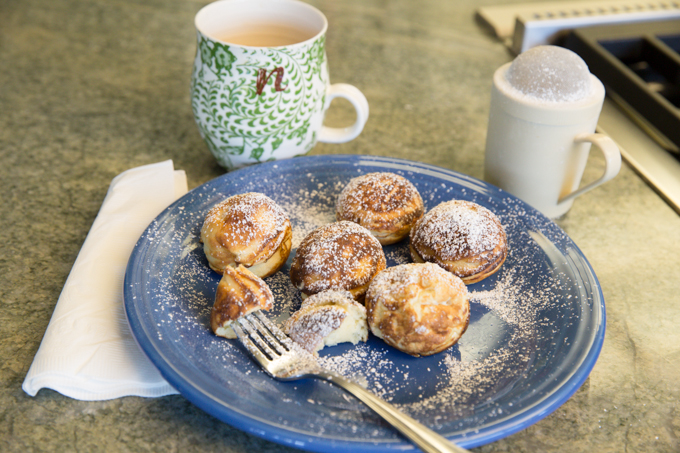 Ebelskivers (Danish Pancakes)
Ingredients
2

cups

buttermilk

2

cups

all purpose flour

3

eggs

1

tsp

baking powder

1/2

tsp

salt

1

tsp

baking soda

2

TBSP

sugar

Crisco
Instructions
Separate eggs and place whites in large bowl. Beat with electric mixer until stiff peaks form.

In a separate bowl, beat yolks, add sugar, salt, buttermilk, flour, bkg soda, and baking powder.

Using a rubber spatula, lightly fold beaten egg whites into egg yolk mixture. Do not over mix.

Heat pan over med/low to med heat.

Use a little crisco in each "whole" in pan (this is how my grandma & aunt did it, so it's good enough for me).

Add approx 1/4 cup of batter to each "whole." The batter should be about level with edge.

When they begin to look a little dry around the edges, carefully turn with a fork.

Cook until golden brown all over.

Add a little more crisco to pan and repeat cooking process.

Sprinkle with powdered sugar and enjoy!