This Lemon Butter Baked Chicken was a new recipe for me. And it was good! It is definitely blog worthy and I have no doubt I'll be making it again soon.
Have I mentioned I love my cast iron skillet? Seriously for stovetop to oven recipes it's a must have. My skillet belonged to my grandmother, so it's been very well seasoned with lots of love and cooking. I have no idea what brand it is, but you can find something similar HERE.
For this recipe, you start out by seasoning the chicken, then browning it stovetop in butter (hence the recipe name). After it is well browned you make a sauce and into the oven all of it goes to finish cooking.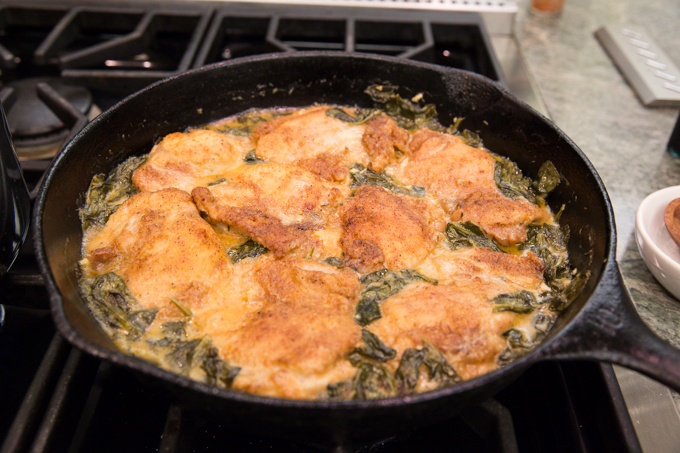 I served mine with lightly buttered noodles, but it would also be good with mashed potatoes. The sauce that the chicken bakes in is delicious and you won't want any of it to go to waste. You might even want to just eat it with a spoon.
I love cooking spinach. This recipe called for 2 cups of fresh spinach (I used a bag, so maybe 2-3 cups). It cooked down to nothing and absorbed the flavor of the sauce. The spinach, along with our side of steamed broccoli, definitely provided us with our dark green veggies for the day. 
Lemon Butter Baked Chicken
Ingredients
8

boneless skinless chicken thighs

1 1/2

tsp

smoked paprika

1 1/2

tsp

regular paprika

1

tsp

salt

1/2

tsp

pepper

1/4

cup

flour

3

TBSP

butter

3

cloves

garlic

(minced)

1

cup

chicken broth

1/2

cup

heavy cream

1/4

cup

freshly grated parmesan

Juice of one lemon

1

tsp

dried thyme

2-3

cups

fresh spinach leaves
Instructions
Preheat oven to 400• degrees

Using a large zip-lock baggie, combine flour, paprikas, salt, and pepper. Add chicken thighs and toss well to coat.

Melt butter in oven proof skillet over med high heat. Add chicken and sear until golden brown on both sides.

Remove chicken from pan.

Reduce pan heat down to med/low.

Add garlic and saute until lightly browned. Stir in chicken broth, heavy cream, lemon juice, parmesan, and thyme.

SLOWLY heat sauce and bring to a low boil.

Stir in spinach and simmer until wilted and sauce thickens.

Return chicken to skillet and place in oven, bake until chicken in thoroughly cooked. approx 25-30 minutes depending on thickness of chicken.

Serve with noodles or mashed potatoes.
This recipe was a Pinterest find and adapted from Damn Delicious.