Oatmeal and peaches are the perfect muffin combination. They're just sweet enough, full of oats, and the yogurt keeps them nice and moist. There's nothing worse than a dry muffin! And, they're "semi" healthy and lunch box friendly.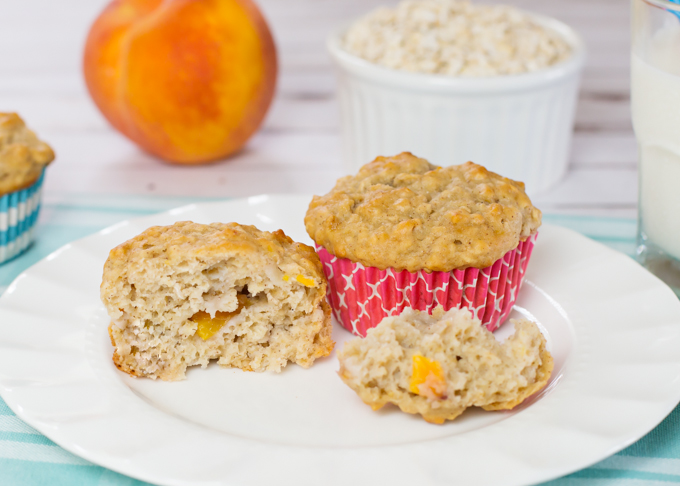 I made some Oatmeal Chocolate Chip cookies the other day, only to find out that my grandson couldn't bring them in his lunch because they have chocolate chips in them. I understand the schools wanting healthy lunches for the kids, but I tell you, it was sure simpler back in the day. My girls used to bring 1/2 sandwich or bagel or maybe a rice cracker with peanut butter, some chips, fruit, and a little sweet (like a cookie). The drink was often a boxed drink (yes, I know shame on me). Lunch boxes were not cool past maybe 2nd grade, so brown bagging it was. Today's lunches are in fancy sectioned lunch boxes. They bring it to school AND back home. They only bring water and it must be in a re-usable water bottle (which of course match the lunch box, which holds the cute sectioned container, and it all goes inside a matching backpack). Years ago allergies seemed non existent. Now, there seem to be a lot of food allergies. Depending on the school, the guidelines are strict. No sweets, no chocolate, no juice, no nuts, and everyone's lunches are to be packed in re-usable containers. Now with all that said, knowing me, if I still had a child in elementary school I'd probably be into packing the cute little lunch boxes (and might even theme them, 'cause sometimes I tend to be a little over the top). If you're actually reading this paragraph, please don't get me wrong, I believe in healthy food for kids, I just am not obsessive about it.
So, since the cookies weren't allowed, I decided to make a little "sweet" that maybe is allowed. Can he bring a "semi" healthy muffin? I'll find out.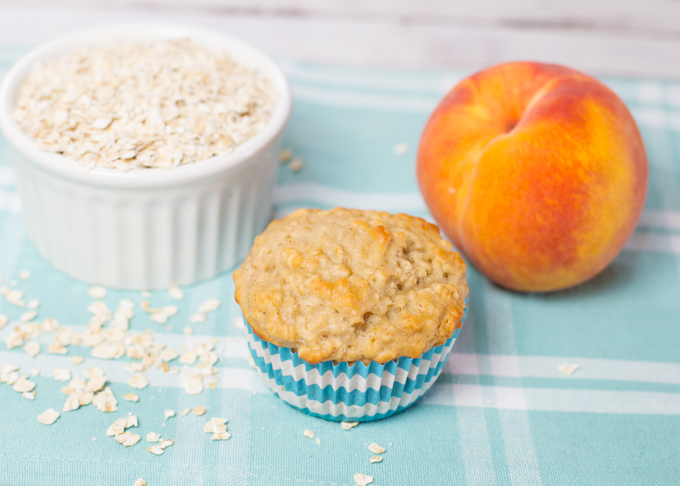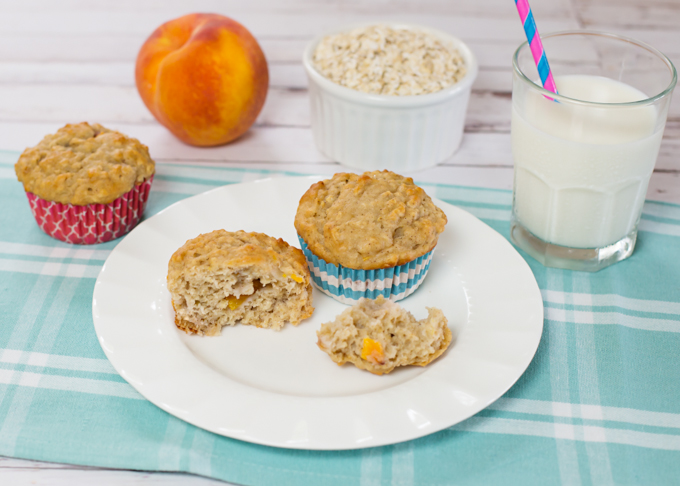 Oatmeal Peach Muffins
Ingredients
1 1/4

cup

flour

1

cup

oatmeal

quick cooking

1/4

cup

brown sugar

1

TBSP

baking powder

1/2

tsp

baking soda

1/2

tsp

cinnamon

1

egg

1

egg white

1

cup

vanilla greek yogurt

1/4

cup

honey

2

TBSP

vegetable or canola oil

1

tsp

vanilla

1

large peach /1 cup

peeled, pitted, and small diced
Instructions
Preheat oven to 375*

Spray muffin tin or use liners.

Whisk together in small bowl: eggs, yogurt, honey, oil, and vanilla until well blended.

In a larger bowl, combine together dry ingredients: flour, oatmeal, brown sugar, baking powder, baking soda, and cinnamon.

Stir wet ingredients into dry, do not over mix.

Gently fold in diced peaches.

Pour batter into 12 muffin cups.

Bake for 20 minutes or until inserted toothpick comes out clean.

Cool on wire rack.