Biscuit Berry Shortcake is the perfect dessert! It's a family favorite for us and I'm sure your family will love it also. Start with a freshly baked biscuit, top with juicy ripe berries, freshly whipped cream, and a small shaving of chocolate. Delicious! It's sure to please even those that "didn't save room for dessert."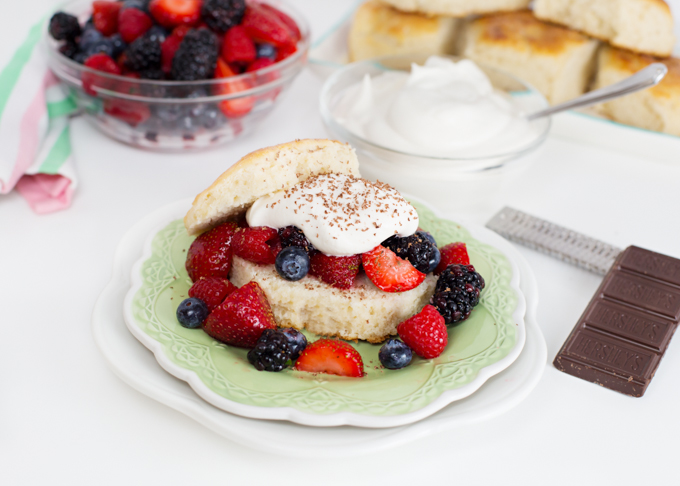 I love making my biscuits in my cast iron skillet. I also love all the variations of biscuit recipes. I tried a new recipe for this shortcake and they came out perfect! I saw this biscuit recipe on a food blogger friend's site, That Square Plate, and knew I would't be disappointed. Please go check out Whitney's site, you'll be glad you did! Here's her post about these Touch of Grace Biscuits and her story of why she made these delicious biscuits. I followed the recipe exactly, just changed the size and type of pan.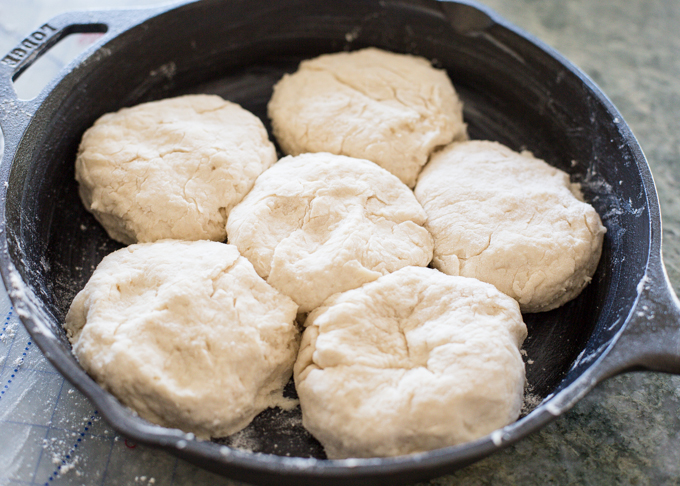 For these large biscuits I used my 10″ Lodge Skillet. They came out perfect. Tender golden brown biscuits, with just enough "crisp" along the edges.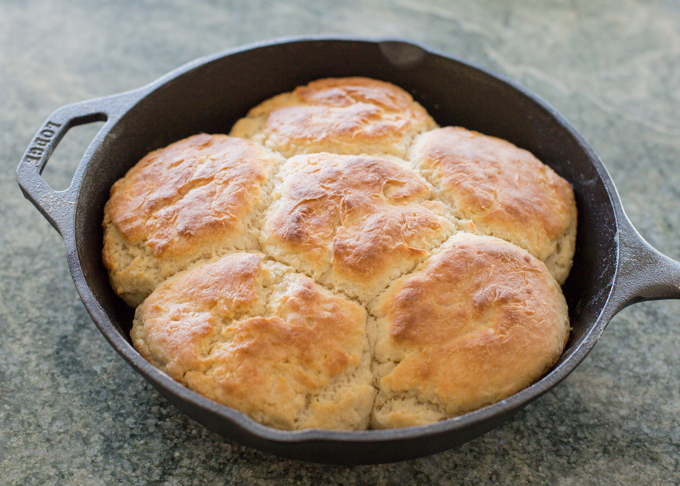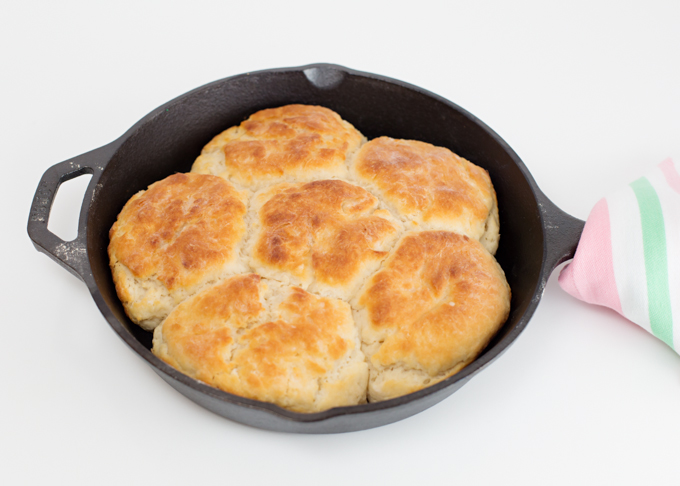 Fresh biscuits definitely call for freshly whipped cream. I love using my grandmother's whip cream bowl, it brings back so many wonderful memories of her in the kitchen, always in a floral apron. I don't have many items that belonged to my grandmother, but this little aqua bowl is one of them.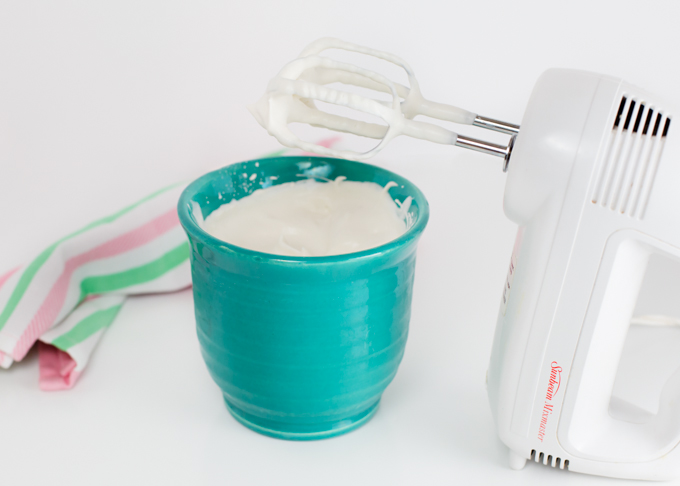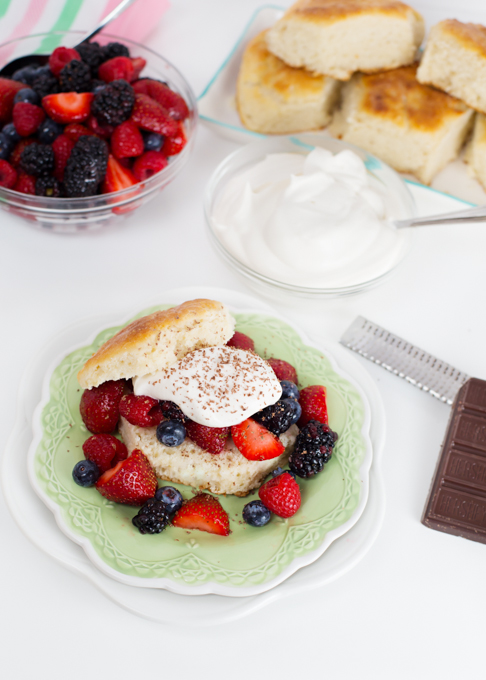 And just because I love Hershey's Special Dark Chocolate, it only made sense that I zested a little right on top. It was the perfect garnish to these delicious Biscuit Berry Shortcakes.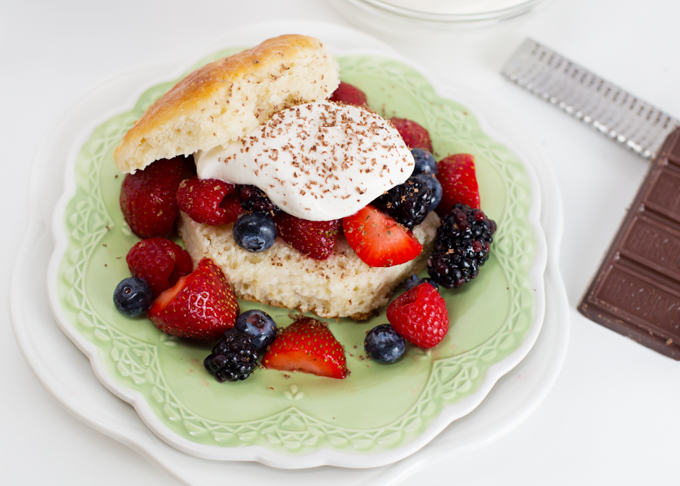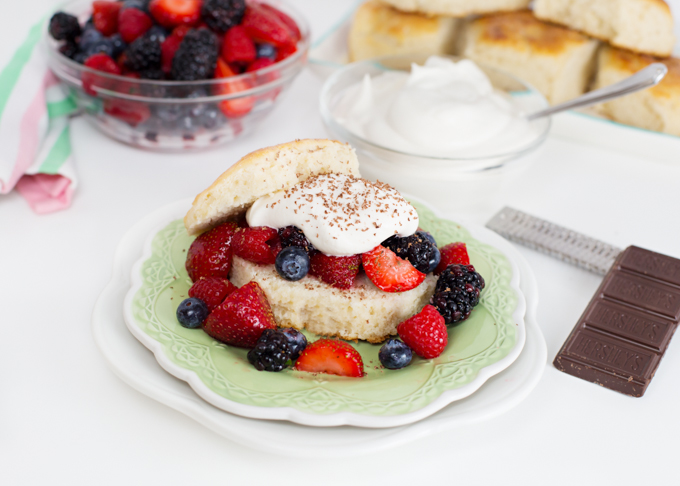 If you're a Shortcake lover, please use the share buttons below!
Biscuit Berry Shortcake
Ingredients
Biscuits:

Butter for greasing pan.

2

cups

self rising flour

1/4

cup

sugar

more or less depending on how sweet you want your biscuits

1/2

tsp.

salt

1/4

cup

Crisco shortening

2/3

cup

heavy cream

1

cup

buttermilk

+/- to make it dough resemble cottage cheese

1

cup

all purpose flour

for shaping dough

3

TBSP

butter

melted for brushing on top of cooked biscuits

Berries:

A mix of which ever berries you like

I used strawberries, blueberries, blackberries & raspberries

1/4

cup

sugar

Juice of 1/2 lemon

**Gently mix berries with sugar and lemon juice. Cover and refrigerate for 2-3 hours.

Whipped Cream:

1

pint

heavy whipping cream

2-3

TBSP

powdered sugar

confectioners

1

tsp

vanilla

**In tall bowl using electric mixer

whip cream on high speed until almost "whipped." Add in sugar and vanilla and continue whipping until desired consistency. So not over whip or you'll end up with butter.

Hershey's Special Dark Chocolate for zesting on top.
Instructions
Preheat oven to 425*

Butter 8-9 inch round cake pan or cast iron skillet.

In a large mixing bowl, stir together the self-rising flour, sugar, and salt. Work the shortening in with your fingers until there are no large lumps.

Gently stir in the cream, then some of the buttermilk until dough resembles wet cottage cheese. It should be a wet mess -- not soup, but cottage-cheese texture. If you are not using a low-protein flour, this may take considerably more than 1 cup of buttermilk.

Spread the plain all-purpose flour (not self-rising) out on a plate or pie pan. With a medium (about 2 inches, #30) ice cream scoop or spoon, place three or four scoops of dough well apart in the flour. Sprinkle flour over each. Flour your hands. Turn a dough ball in the flour to coat, pick it up, and gently shape it into a round, shaking off the excess flour as you work. Place this biscuit in the prepared pan. Coat each dough ball in the same way and place each shaped biscuit scrunched up against its neighbor so that the biscuits rise up and don't spread out. Continue scooping and shaping until all dough is used.

Place the pan on the arranged shelf in the oven. Bake until lightly browned, 20 to 25 minutes. Brush with the melted butter. Invert onto one plate, then back onto another. With a knife or spatula, cut quickly between biscuits to make them easy to remove. Serve immediately. "Butter 'em while they're hot."

**Do not use self-rising flour for shaping, as the leavener will give a bitter taste to the outside of the biscuits.

**I prepared dough as above but since I wanted large biscuits, I patted out the dough on a floured pastry mat, then cut using a large round biscuit cutter.

To prepare shortcake, slice biscuit in half, top with a mound of fresh sweetened berries, a big spoonful of sweet whipped cream, and a zest of Hershey's Dark Chocolate.