I absolutely love cooking in my cast iron skillets! So much in fact that I decided to reach out to a few of my food blogger friends to bring you a Cast Iron Cooking Round-Up. Posted below I'll be sharing a few of my favorite Cast Iron recipes along with links to a few of my favorite blogger's Cast Iron recipes. Everything, from veggies to bread, main dish to desserts. We've got you covered!
Caring for your cast iron cooking does require a little TLC, but it's worth it. I figure it was best just to link you to the pros, Lodge Cast Iron for their care on cooking with cast iron.
First up are my Cast Iron Biscuits. They baked up perfectly in my cast iron skillet and made a deliciously tasty Biscuit Berry Shortcake.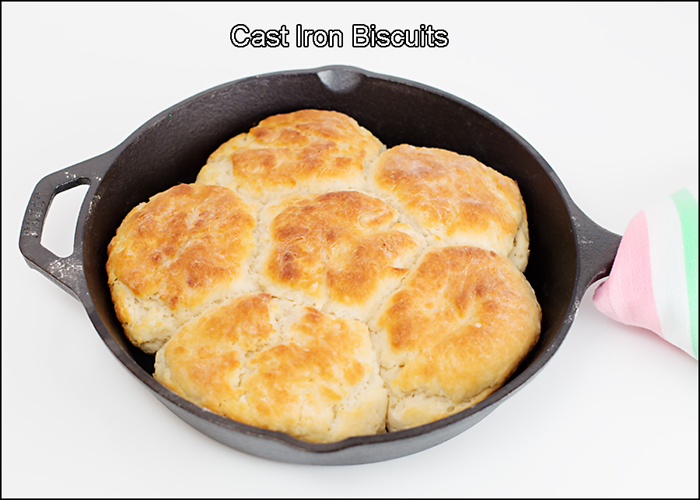 I love cooking with my grand babies, and it's even more fun as they're getting old enough to "really" help. Pictured here is B, making our dinner! His Easy Cheese Pizza was the perfect meal for just the two of us on date night 🙂
Karen, from Karen's Kitchen Stories is a master at bread making. She has almost convinced me that even I, can make homemade bread. Check out her Cast Iron Country Bread, baked her in cast iron. I honestly don't think that I'd have any problem devouring a loaf of her warm bread, with lots of butter of course!
My Baked Spaghetti & Meatballs, has by far been my most popular post! I'm proud to say that it's been featured on Lodge Cast Iron's FB page and has been shared nearly 7k times!! That is crazy in my little blogging world. It was also just featured on Recipe Chart. If you aren't familiar with Recipe Chart, you need to check them out. They're a great resource for finding new recipes and meal inspiration.
Chrissie from The Busy Baker shared her delicious Paprika Chicken w/Roasted Root Veggies. If you ask me, this is the perfect fall meal. If you ask Chrissie, "One serving (2 chicken thighs and 1 heaping cup of vegetables) is only 10 WW PointsPlus.This dish is comfort food at its finest, yet it's guilt-free and full of nutritious ingredients." This meal is definitely on my "to make" list!
Most everyone likes a good steak, and I'm here to say, that my Cast Iron Steak might have been one of the best steaks I've ever eaten. I'm not kidding you, it was steakhouse quality, cooked stovetop in my grandmother's old cast iron skillet. This winter, when it's cold and wet outdoors, I suggest you give this recipe a try. You won't be disappointed.
Here's another cast iron skillet chicken recipe, that Brian from Krumpli shared. The combination of the garlic and lemon with the perfectly roasted chicken is seriously calling my name! This Zingy Garlic Lemon Chicken looks like the perfect meal to me!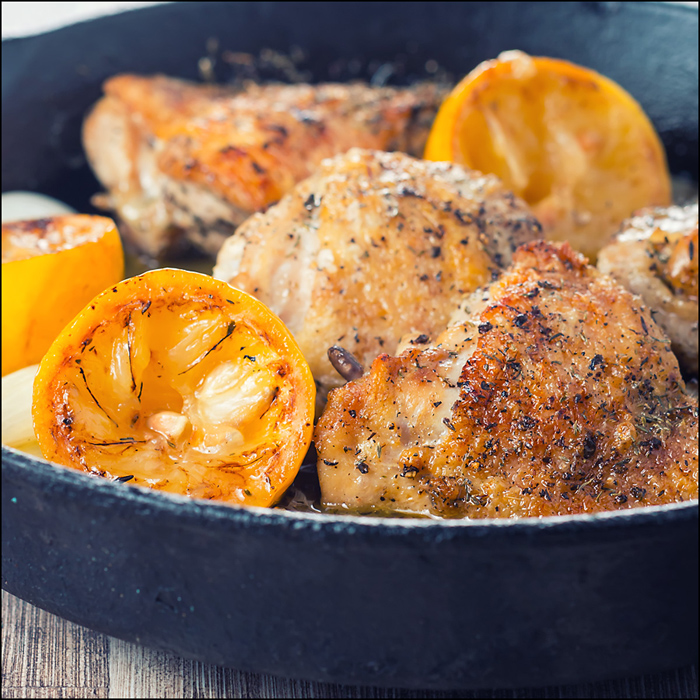 Moving on to dessert, how about some fresh Peach, Raspberry, & Blueberry Cobbler that Linda from The Food Huntress shared? How would you enjoy yours? Topped with a scoop of vanilla or some freshly whipped cream?
S'more's are always a favorite at our home. We love to gather round our fire pit, cozied up with blankets, good friends, and of course, a S'More. Tina from The Gluten Free Foodsmith, puts a different twist on the S'more, baking hers fireside in her cast iron skillet, then dipping the graham crackers (gluten free of course) into the chocolate marshmallow goodness. Check out her Fireside S'mores, you won't be disappointed!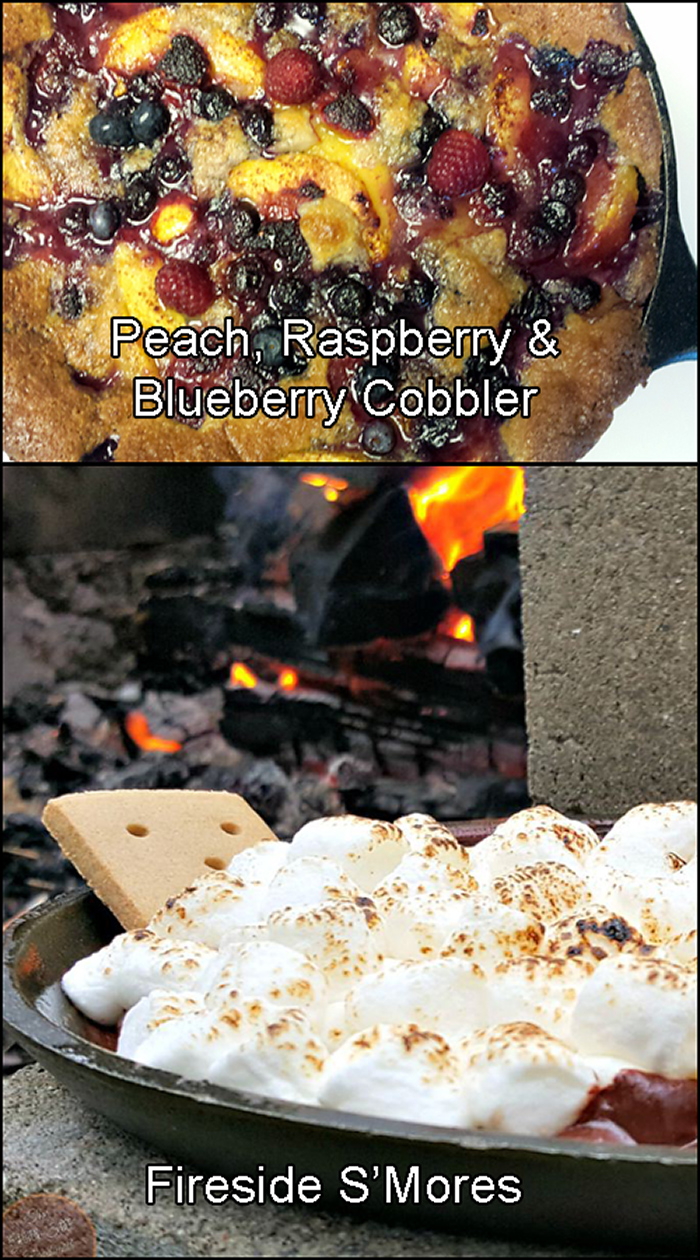 Let's not forget our veggies!! Byron from Pretty Practical Pantry shared his Sauteed Buttered Asparagus, and boy do they look delicious!! I could enjoy those any night of the week!!
And because Brussel Sprouts have become one of my favorite veggies, and because this recipe with cranberries and bacon feels "fall-ish" to me, I thought I'd share my Brussel Sprouts w/Bacon & Cranberry recipe with you.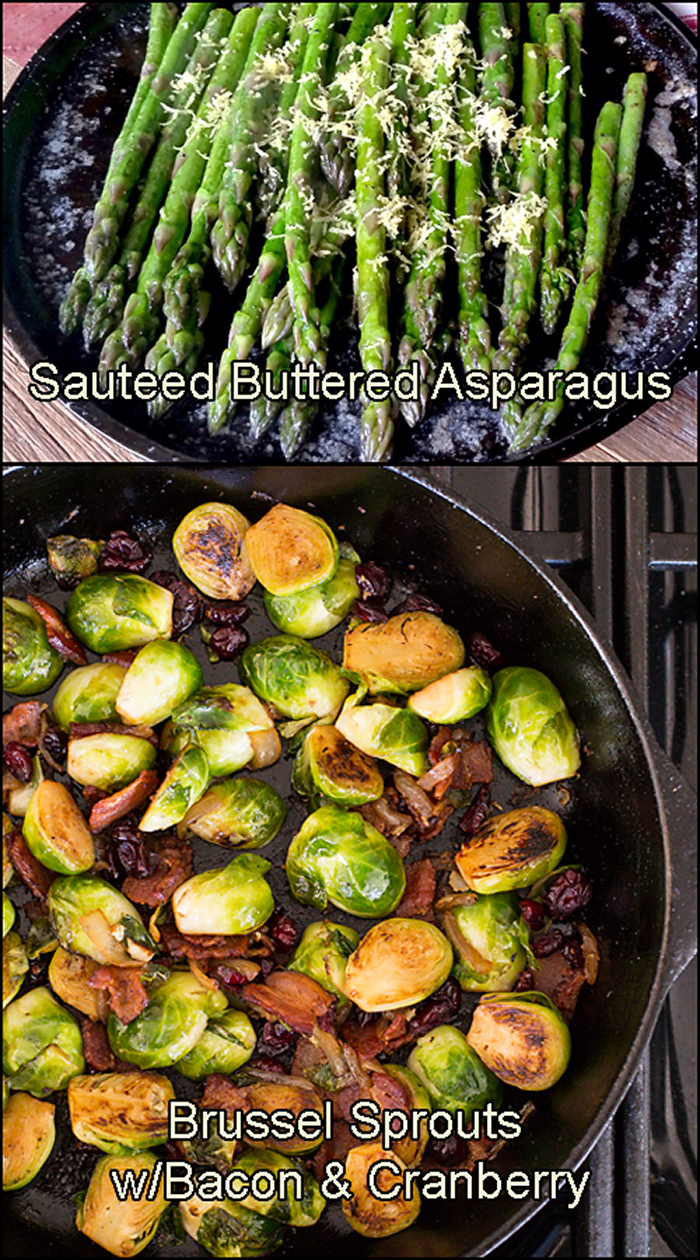 And, just in case you're still hungry and have a little sweet tooth, what about a gigantic M&M Chocolate Chip Skillet Cookie. I mean…….seriously??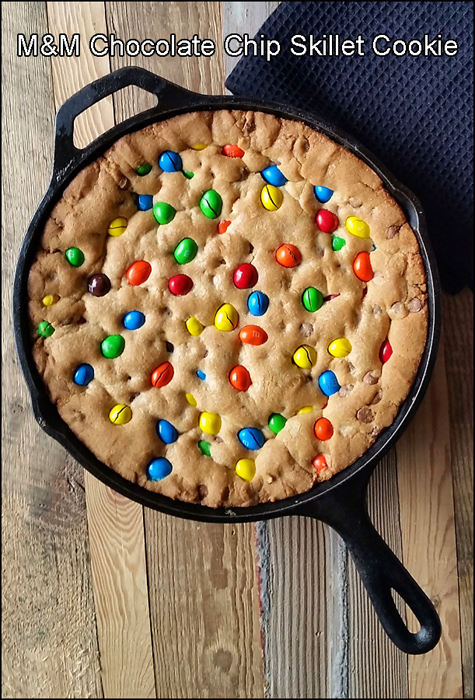 Pffew, thanks for sticking with me and reading to the end. I know this post got a little long, but there wasn't a recipe here that I could leave out. I am seriously in awe of the talent of each of these food bloggers. They truly share their recipes not only from their kitchens, but from their heart! I hope you give their blogs a visit and remember, whether you're looking for a main course, veggie side dish, bread, or dessert, this Cast Iron Cooking Round-Up has you covered!