Cooking steaks in the winter is something we seldom do. When I think of steak for dinner, I think of a warm summer evening, cold drinks in hand, and visiting around the BBQ. Sides would include at least two salads and maybe some garlic bread if we're being really indulgent.  I must be craving protein because I was really craving a good grilled steak. But, it's not quite summer, and we didn't feel like grilling. No problem. I remember I had seen a pan grilled steak (on Pinterest of course), so I took my spin on it and headed straight to the meat market for a good steak. He recommended a thick New York strip.
Let me tell you right now, that this Cast Iron Steak with a side of Cauliflower Mash was DELICIOUS! In fact, it was so good, I've made it twice. The first time I "topped" the steak with fresh rosemary, roasted garlic, and some blue cheese crumbles. It was good, but the second time all I added was some salt and pepper, and it was even better! Sometimes you just have to follow the KISS method (keep it simple stupid).
Cooked to perfect in a screamin' hot cast iron skillet, this Cast Iron Steak did not disappoint. I added about 1 TBSP real butter and 1 TBSP olive oil to my skillet. After seasoning these steaks with fresh chopped rosemary and plenty of salt and pepper, into the HOT skillet they went.  Following the butchers recommended for the size of the steaks, I cooked each side for 5 minutes. Cooking time will depend on the thickness of your steaks and how rare or well done you like your steak. We like ours pretty rare!
After your steak is done, remove from pan and place on cutting board. Loosely cover with tin foil and let it rest for about 10 minutes. The steak will continue to cook a bit and the juices will re-distribute into the meat when cut.
Topped with roasted garlic and blue cheese crumbles. Served with a side of Cauliflower Mash.
Ok, how cute is this MOO plate? I picked it up on one of my many trips to Home Goods. I couldn't resist it. This is the small one, which is perfect as a small serving platter for two, or one large dinner plate! I still have my eye on the large one, it would be perfect for serving at a BBQ.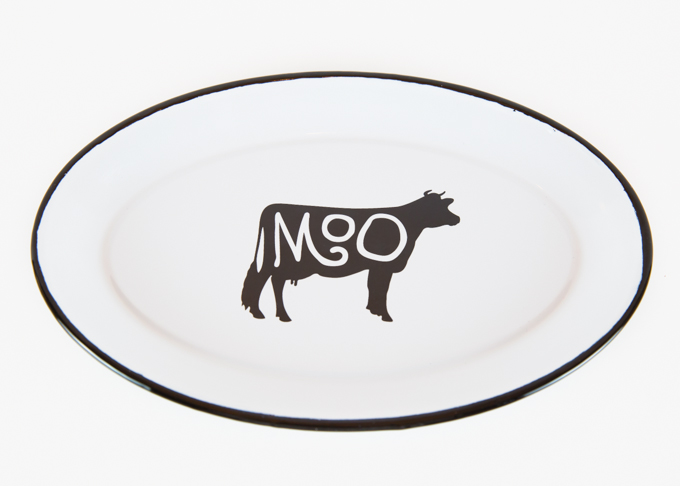 The second time cooking my Cast Iron Steak, I again used a New York Strip, but kept the seasonings to salt and pepper (plenty of salt and pepper). YUM!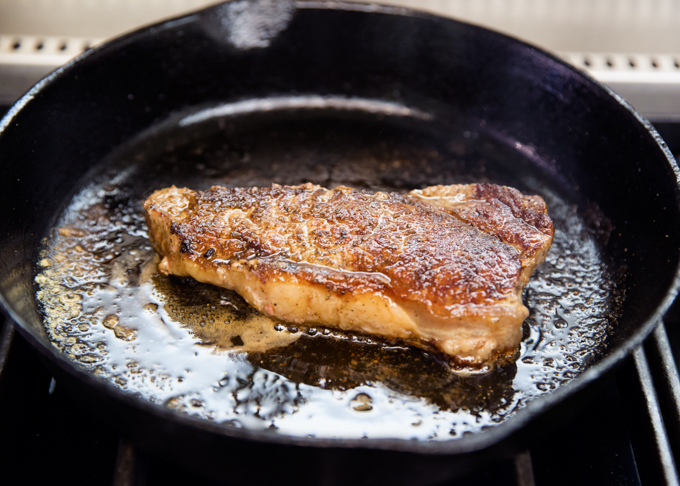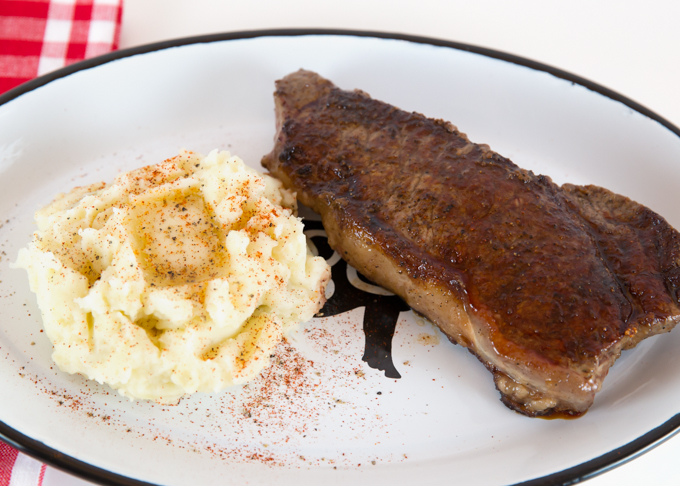 I told you we like 'em rare! I probably could have gone another minute or two on this one.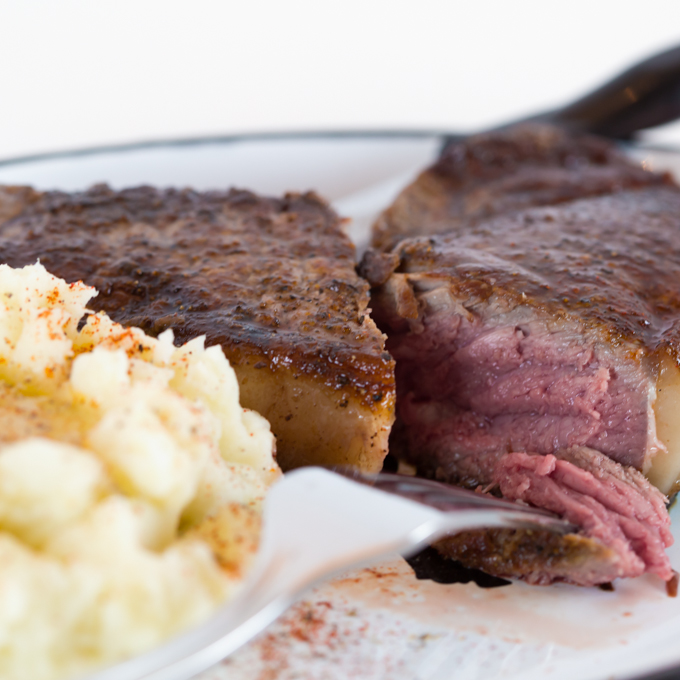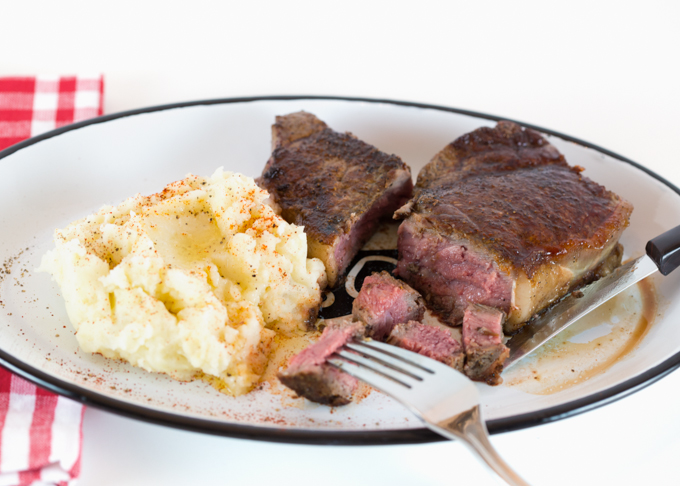 I've never really understand people mashing cauliflower and trying to pass it off as mashed potatoes. I'm sorry, but if I want mashed potatoes, I'll eat mashed potatoes. But, I thought I'd compromise and make a half cauliflower/half potato mash. Oh my goodness, they were good. No one would know the difference! What a great way to sneak veggies into your kid's dinner!
To make the Cauliflower Mash, I used 2 russet potatoes (peeled and chopped fairly small), 1/2 head cauliflower (cut about the same size as the potato chunks), and added 3 peeled garlic cloves. Cook in saucepan (covered with salted water) until potatoes and cauliflower are fork tender. Drain and mash. I prefer a hand potato masher, not a mixer. I heated 1/2 cup milk and used most of it, plus a dollop of butter and a little salt and pepper. Smash and mash until desired consistency.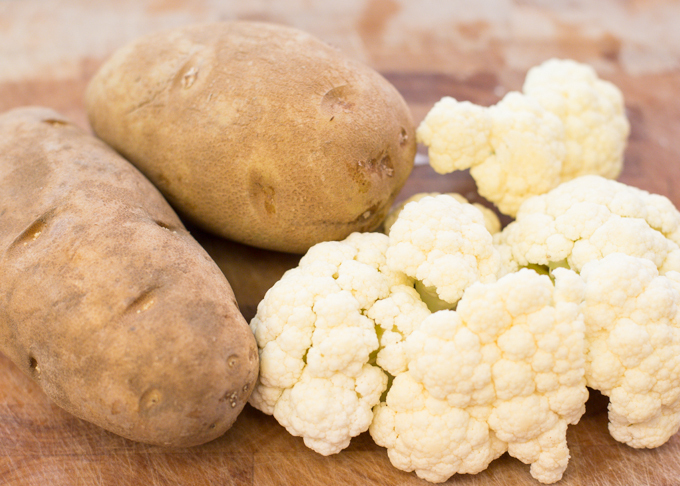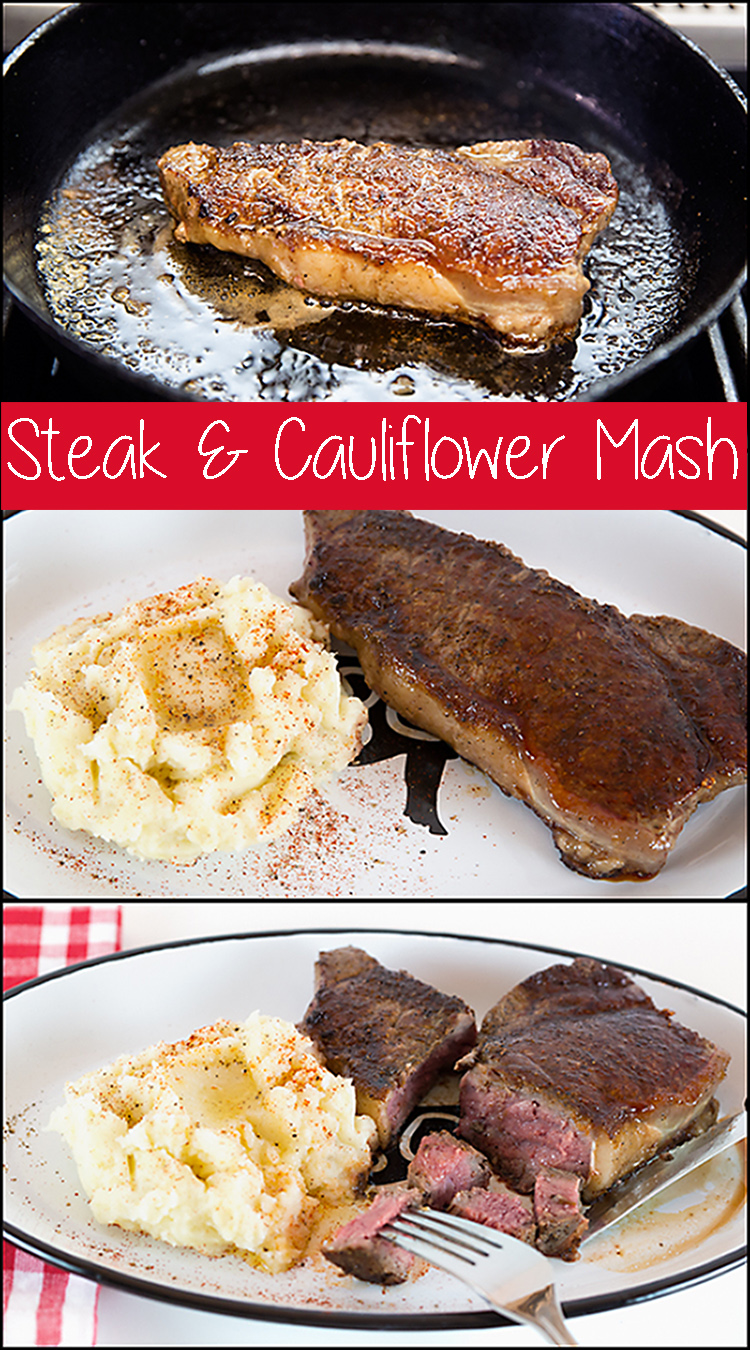 *This recipe was adapted from one found on Pinterest. I could never find the original source, therefore I have no source to share, other than Pinterest.
I love sharing recipe links over at Christy Jordan's Southern Plate. Hop on over to see this and many more delicious recipes!