Brussel Sprouts are not the enemy!! As a child, like me, did you think you hated brussel sprouts? Blechh! I probably still would if I were forced to eat them boiled to death like our veggies were when I was a child. Fast forward, many many years, and I now love brussel sprouts! You just have to know how to cook them. My husband still isn't a huge fan, but his loss is my gain. When I make them (which isn't often since I know he really doesn't like them), I get to enjoy them for dinner, and then the leftovers for lunch. It's a total win for me!!
My go to cooking method has been to roast them, with just a little olive oil, salt, and pepper, but I was talking with my daughter and she was telling me about the brussel sprouts her husband had recently made. Cast iron skillet, onion, bacon……… I was sold and knew I had to give them a try!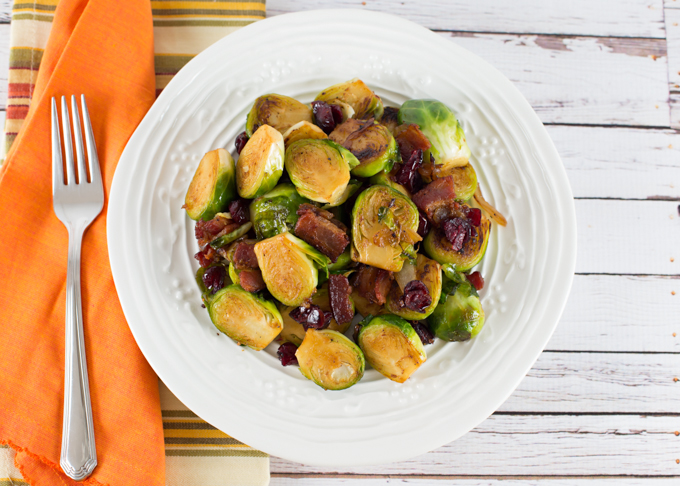 And you learn something new everyday! I was wondering why the spell check kept underlining the word "brussel" sprouts, so I looked it up. Well dang if it isn't BrusselS sprouts. Seriously, I've been saying it wrong all these years? Feeling a bit foolish now, let me tell you about this Brussels sprouts recipe. No matter how you spell them, if you cook them correctly, they are delicious!!
Have I every mentioned that I love my cast iron skillet?? I love to use it for just about everything, except eggs (for those I need a good nonstick). In fact, I gave my son-in-law (who inspired this recipe) a 12″ Lodge Cast Iron Skillet for his birthday and he is about as obsessed with his as I am with mine. I'll have to ask him if he likes cooking eggs in his?  The only downfall to cast iron, is that it does require special care. To learn about caring for your cast iron, read this short article from Lodge Cast Iron.
I started by cooking some bacon, then removed it from the pan, leaving some of the bacon fat to cook the brussel sprouts and onion in.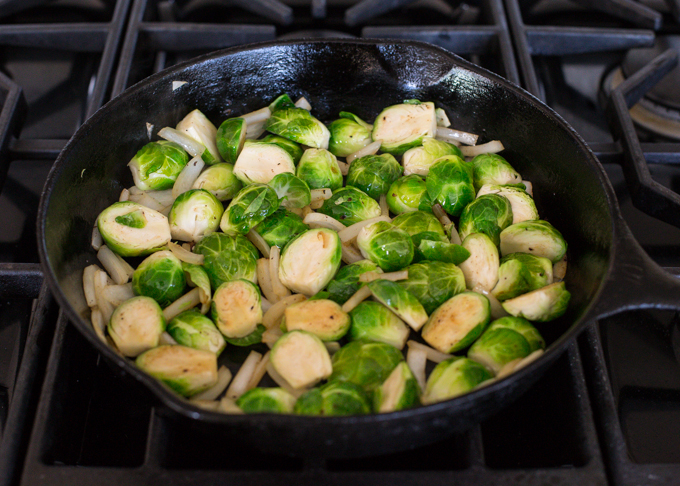 After about 15 minutes (when the sprouts were almost tender), I added the bacon back into the pan, along with a clove of crushed garlic. I let those cook together for about 5 minutes then added in a handful of dried cranberries. I love the salty sweet combination that you get from bacon and cranberries.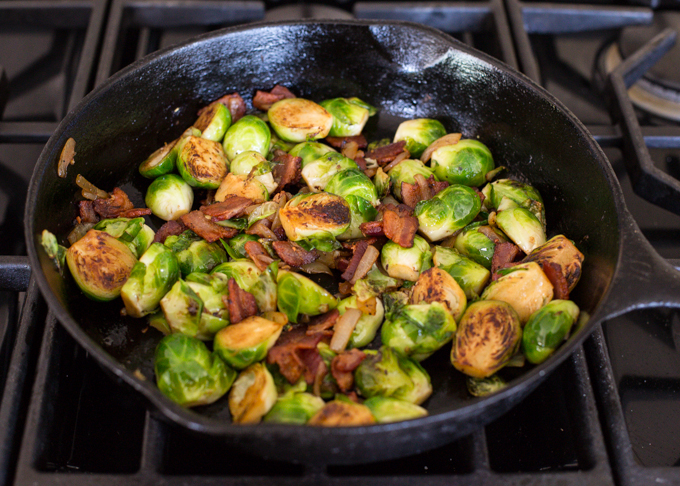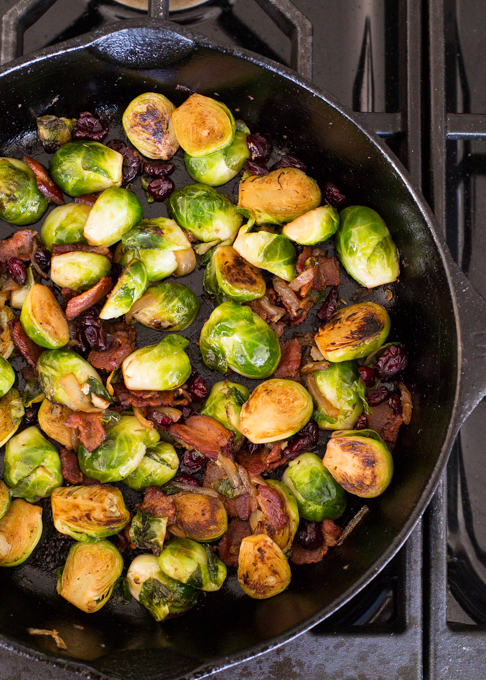 Now, you tell me, what's not to love about these Brussel Sprouts with Bacon & Cranberry??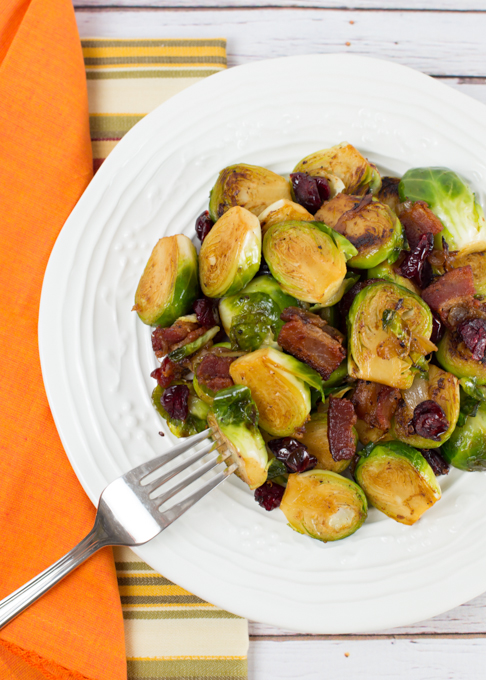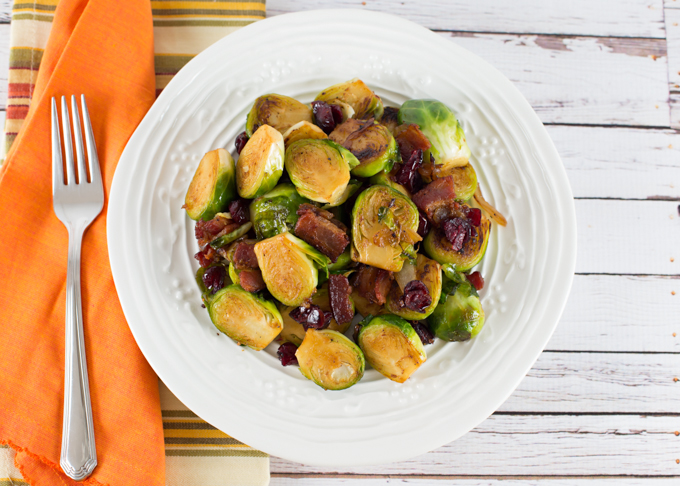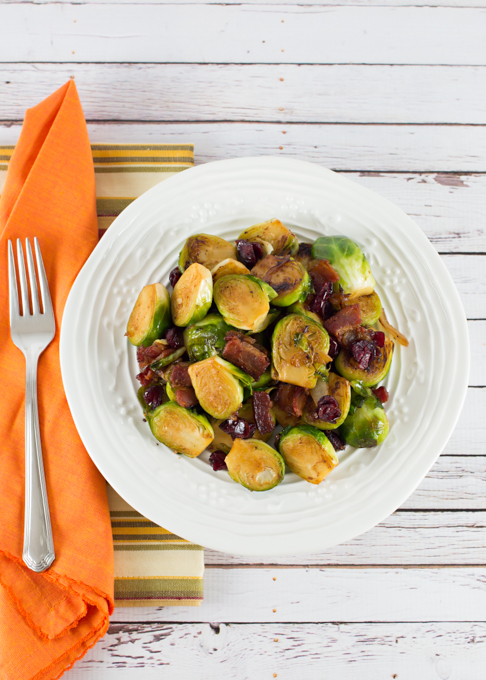 Are you a fan of BrusselS Sprouts?? If so, please share this recipe to your FB page!
Brussel Sprouts with Bacon & Cranberry
Ingredients
1

# Brussel Sprouts

ends trimmed and halved

4

slices

bacon

1/2

yellow onion

thinly sliced

1

clove

garlic

crushed

handful

1/4 cup dried cranberries

salt and pepper

pinch of salt, pepper to taste
Instructions
Cut bacon pieces into 1" pieces before cooking (or cook whole, then chop after).

Fry bacon over med heat until browned and tender crunchy.

Remove from pan with slotted spoon, set aside.

Lower pan heat to med/low, add onions, halved brussel sprouts, salt & pepper.

Cook, stirring often, until al-dente and lightly browned, about 15 minutes.

Add in bacon and clove of crushed garlic, cook for another 5 minutes.

Add dried cranberries, cook another 2-3 minutes.

Serve and enjoy.

**cooking time is approx for al-dente brussel sprouts, cook a little longer if you prefer.