Digging through my pile of recipes, I came across an old hand written yellowed index card. It was written by my aunt and was my grandmother's recipe for her Lazy Daisy Cake. It was noted on the card that she also used this card for her Pineapple Upside Down Cake, which I do vaguely remember her making.
The card and the recipe definitely show their age! Their is no ingredient list, instead it's written out in one long paragraph (ingredients and instructions together). It also does not say what size pan or how long to cook it. I seemed to recall that my grandma used her cast iron skillet for the Pineapple Upside Down cake, so that is what I used.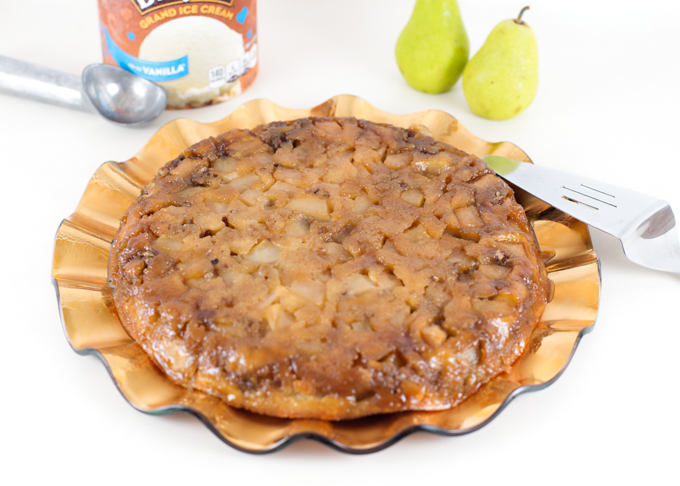 As you can tell by the picture, I didn't use pineapple. I had a bowl of fresh pears that I needed to use and figured they'd be just as tasty, especially caramelized with the pecans. They were! You'll probably also notice that the cake is a bit thin. Oooops, maybe she didn't use the cast iron skillet, or maybe she doubled the cake batter recipe.
I almost didn't post this recipe, since it really should have been a thicker, taller cake, but it was still so tasty I thought I'd share. And, in case you're wondering, I was at Marshall's a couple days later and they had a smaller Lodge Cast Iron 8″ skillet. I bought it for next time. My old one, passed down from my Grandmother is 11 3/4″.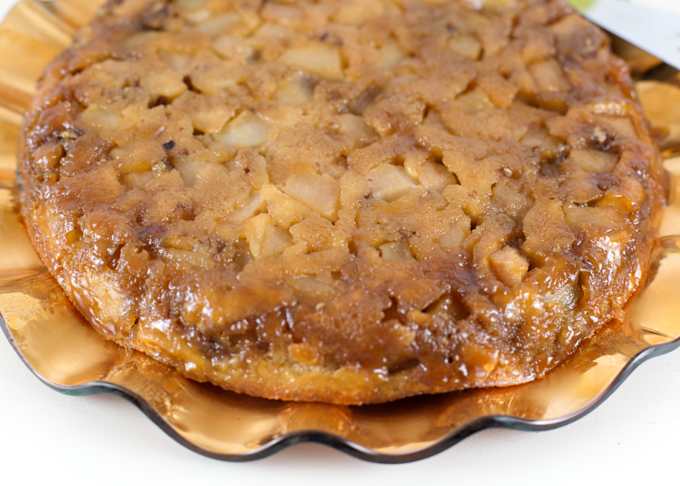 Ok, so I took this old recipe, and an idea on turning it into a Caramelized Pear & Pecan Upside Down Cake, and a pan that was a little too large and ended up with this.
Have you ever made an upside down cake? After it cooks, you need to let it cool "just enough" then invert it onto a plate, hoping that all the caramelized goodness doesn't stick to the bottom of the pan and that the cake isn't too warm that it will break in half. Using a large heavy cast iron skillet and a fragile plate made me a little worrisome, but I did it. It came out in one piece!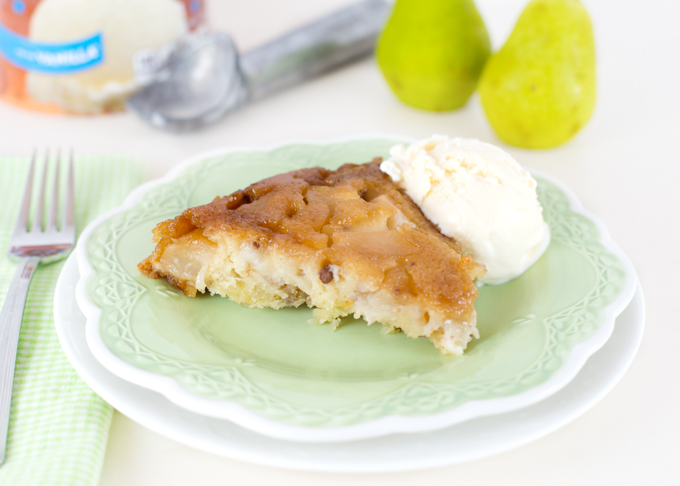 Please, if you make this cake, don't make the same mistake. Use an 8-9″ pan or double the batter recipe.
Caramelized Pear & Pecan Upside Down Cake
Ingredients
2

eggs

1

cup

sugar

1

tsp

vanilla

1

tsp

baking powder

recipe card says 1 rounding tsp

1/2

tsp

salt

1/2

cup

milk

1

TBSP

shortening

crisco

6

med pears

peeled and cubed, about 4 cups

1/2-3/4

cup

chopped pecan

1/4

cup

butter

2/3

cup

brown sugar
Instructions
For fun, I'm going to write this out exactly like my old recipe card. Good luck!

Place 2 eggs in bowl. Beat until thick. Add gradually 1 cup of sugar, beating constantly & add 1 tsp of vanilla. Sift flour once and then measure. Sift together these 3 times-1 cup of flour, 1 rounding tsp baking powder, 1/2 tsp salt. Add to egg mixture. Heat together to boiling point-1/2 cup milk and 1 TBSP shortening. Add all at one time to first mixture. Batter ver thin. Do not add more flour. Bake in greased 350* metal pan or skillet (cast iron) or 325* glass pan.
Here are a couple of links for Pineapple Upside Down Cakes that might prove more successful for you 🙂
Betty Crocker (good old fashioned baking)
Sally's Baking Addiction (I love this baking blog)
Martha Stewart (another go to favorite)