This Potato, Tomato, Squash Bake is the perfect side dish. It contains both your starch and veggies, it's simple to make, tastes delicious, and goes well with chicken or beef. And, if you truly eat with your eyes first, then this dish gets extra points! It's as beautiful as it is tasty!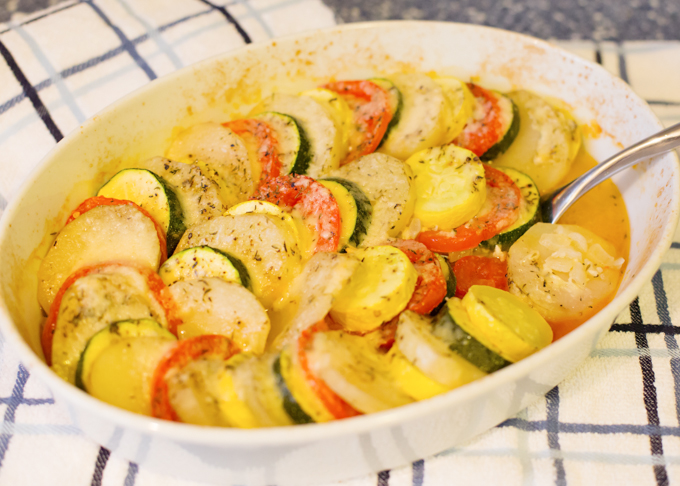 Fresh zucchini, yellow squash, vine ripe tomatoes, and potatoes sit on a bed of sautéed diced onions and garlic. Top it all off with a little salt & pepper and thyme, then bake for about 45 minutes. Bake for another 15-20 minutes after topping with lots of parmesan cheese. After baking, the vegetables are tender and sweet, and the onion "juice" at the bottom of the dish is delicious! You will definitely want to scoop that over the potatoes, tomatoes, and squash. Delicious!!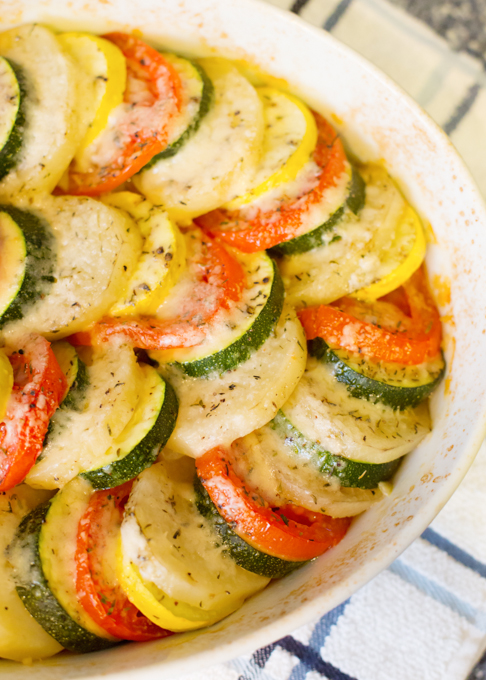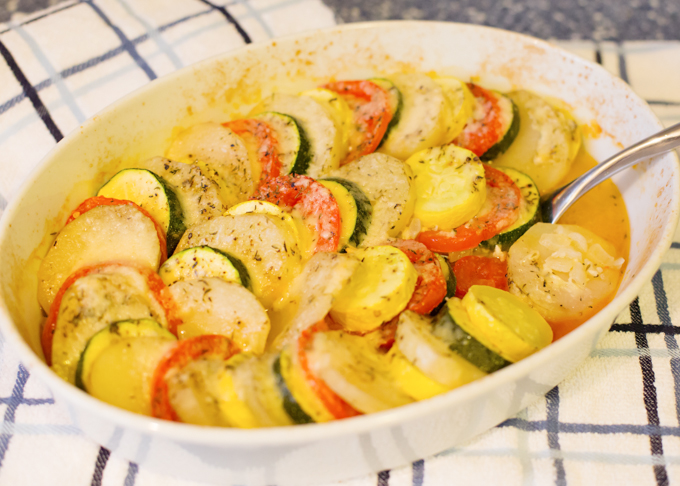 Here on the coast of CA, we can't seem to get out of our heat wave, so once again it was BBQ'd chicken (simply seasoned, and grilled with BBQ sauce) and this Potato, Tomato, Squash Bake dish for a meal that both the adults and kiddos enjoyed. We opted to sit inside, which was a huge mistake, we should have eaten outside (again). It's just too hot!! As much as I love sunshine and summer, I am more than ready for fall weather and fall recipes. I believe that tomorrow is officially the first day of fall, so bring on the soup, chili, and crockpot meals!!
This recipe is Pinterest inspired (I don't know the original source as it's been a few years). Thank you Pinterest for once again being a great inspiration for the perfect side dish!!
Potato, Tomato, Squash Bake
Ingredients
1

TBSP

olive oil

1

TBSP

butter

3

cloves

fresh garlic

crushed

1

med-lg yellow onion

diced

2-3

russet potatoes

peeled or unpeeled, your choice

2

zucchini

2

yellow squash

3 to

matoes

1

tsp

salt

1/2

tsp

pepper

1/2

tsp

dried thyme

Additional 1 TBSP olive oil

1/2

cup

parmesan cheese

grated
Instructions
In large saute pan, over med heat, add 1 TBSP olive oil and butter. When butter is melted, add diced onion and sauté until tender. Add garlic and sauté for another 2-3 minutes.

In large baking pan, pour onion/garlic mixture on bottom of pan.

Slice potatoes, zucchini, yellow squash, and tomatoes into 1/4" slices.

Arrange veggies on top of onion mixture.

Drizzle with 1 TBSP olive oil.

Sprinkle with salt, pepper, and thyme.

Cover with foil and bake at 375* for 45 minutes. Remove foil, top with parmesan cheese and bake for another 15-20 minutes.

**total baking time will vary on thickness of slices. Adjust as needed till fork tender.
This Potato, Tomato, Squash Bake would be delicious served with Grilled Lemon Dijon Chicken.