As I was chicken recipe browsing the other day, I found a recipe for Chicken Shawarma that looked so good. Whenever I find a new recipe or get an idea of something that I might like to make, I spend a few minutes googling recipes and looking on Pinterest. I look at ingredients, cooking style, etc. And then, more often than not, I pull ideas from multiple recipes and improvising as I go along, I create my own version. That is exactly what I did when I decided to make this Baked Chicken (Shawarma Style) and oh man, did it turn out tasty. So tasty in fact, that I made it twice in two weeks.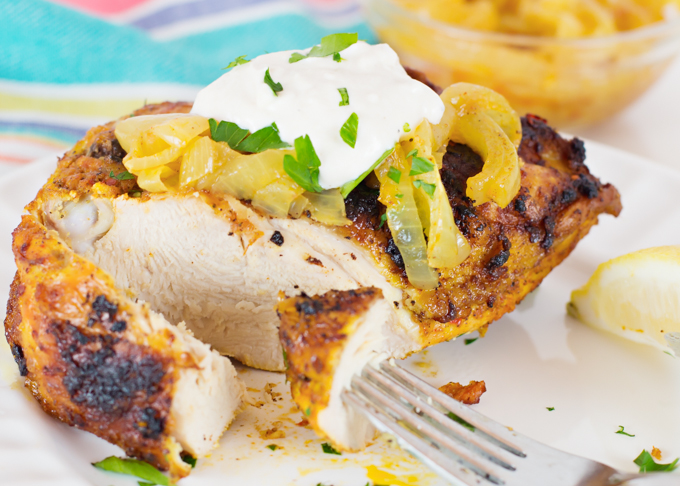 And, the best part, it was so easy!! Like seriously easy! Measure & dump marinade into large zip lock baggie, add chicken, let marinade. Bake.
Look at all the color on that beautiful Baked Chicken! It's perfectly baked and still juicy & tender inside.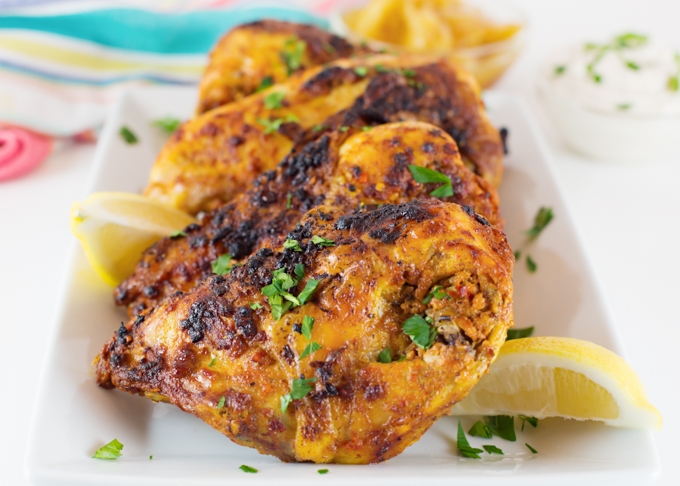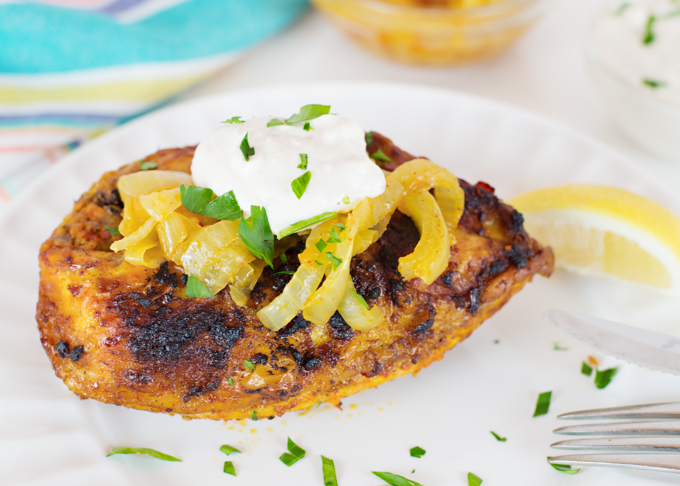 I've already decided that the next time my vegetarian daughter is home, that I'm going to make a cauliflower version of this recipe. It sounds equally as delicious as the chicken!
And, without the Garlic Tahini Sauce, the Shawarma Baked Chicken is W30 compliant!!
**Disclaimer, if you're following any of my recipes that I note as Whole 30 compliant, please check your ingredient labels first as they can vary.
Baked Chicken (Shawarma Style)
Ingredients
4

skin on

bone in, chicken breasts

1/2

cup

olive oil

6

cloves

garlic

crushed

2

tsp

smoked paprika

2

tsp

cumin

1/4

tsp

cinnamon

1

tsp

fresh cracked pepper

1

tsp

salt

1

tsp

red pepper flakes

3

large lemons

use juice from 2 for marinade, 1 wedged for serving

1

large yellow onion

sliced

Optional: fresh chopped parsley for serving

Garlic Tahini Sauce:

1/2

cup

plain Greek yogurt

or sour cream

2

TBSP

tahini

2

cloves

garlic

crushed

3-4

tsp

fresh lemon juice

1/4

tsp

salt

1/4

tsp

fresh cracked pepper
Instructions
In large zip lock baggie (or bowl), combine together: olive oil, garlic, smoked paprika, cumin, cinnamon, salt, pepper, lemon juice, and pepper flakes.

Place chicken breasts into marinade and place in 'fridge, marinade for at least an hour (preferably longer).

Peel and slice onions and place into large oven proof baking dish. Place chicken on top of onion slices. Pour any remaining marinade into baking dish. If needed add a drizzle of olive oil to make sure onions are well coated (so they don't burn).

Place baking dish into preheated 425* oven and bake for 50-60 minutes, depending on size of chicken breast. Chicken should be well browned.

For Sauce:

Combine all ingredients in small bowl and refrigerate for at least one hour. If sauce seems a little thick, add a little more lemon juice.

Serve chicken with roasted onions and a big spoonful of the Garlic Tahini Sauce. *Optional: top with chopped parsley and lemon wedges.

Enjoy!