Although I'm born and raised in CA, I often feel like I'm truly a "southern gal" at heart. And I don't mean Southern CA. I mean the South. As in where Shrimp & Grits, Biscuits & Gravy, Sweet Tea, and Chicken & Waffles are on all the menus. I can probably admit, that "ain't nobody makes it like my mama makes it," is not a true statement with these Chicken & Waffles. Were they good? Absolutely! We're they true southern food? Absolutely not! Would I make them again? I absolutely would!!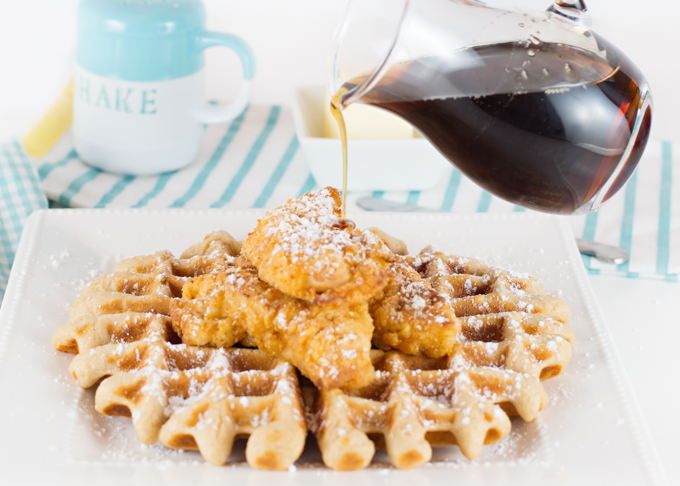 I started by marinating some chicken tenders in a spicy buttermilk marinade. I then pan fried them just long enough to get a crispy outside and finished them off in the oven. When the chicken tenders finished baking, I whipped up a batch of Kodiak Cake's Buttermilk & Honey Waffles. This post is not sponsored, however I do recommend their products. I first heard of them on Shark Tank and saw their original pancake mix one day while shopping at Costco and decided to give it a try. Both my husband and I were fans. When I was at my local grocery store, I noticed they also sold Kodiak Cakes and when I saw their Buttermilk & Honey Waffle mix, I knew I needed to finally give Chicken & Waffles a try. In hindsight, a skin-on chicken thigh or wing might have given me crispier southern fried chicken, but as I mentioned I'm a CA gal, which of course means a tad bit healthier and chicken usually means skinless white meat.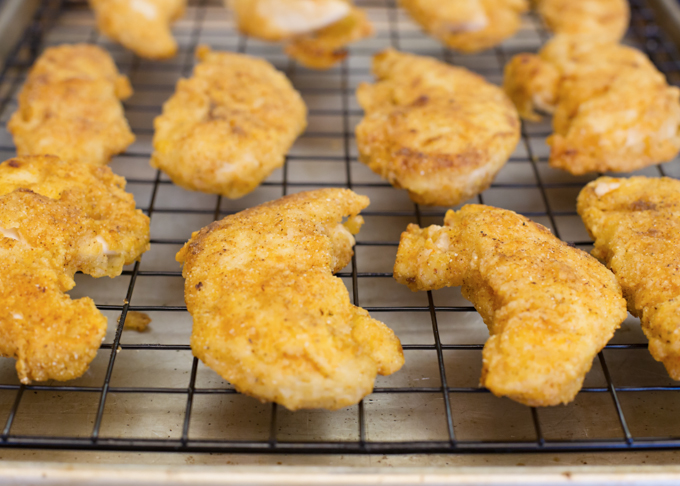 Above is the chicken after the quick fry. I drained them on paper towel, then placed them on a rack on my baking sheet to finish baking.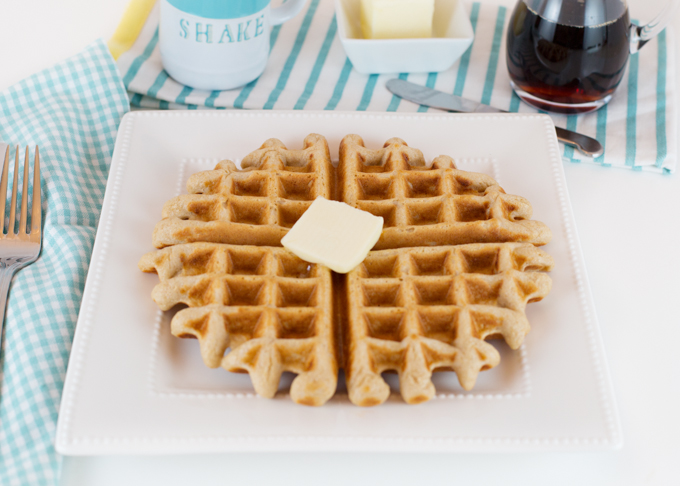 It was perfect timing, the waffles finished up right about time the chicken was done. Time to assemble. Waffle, then butter.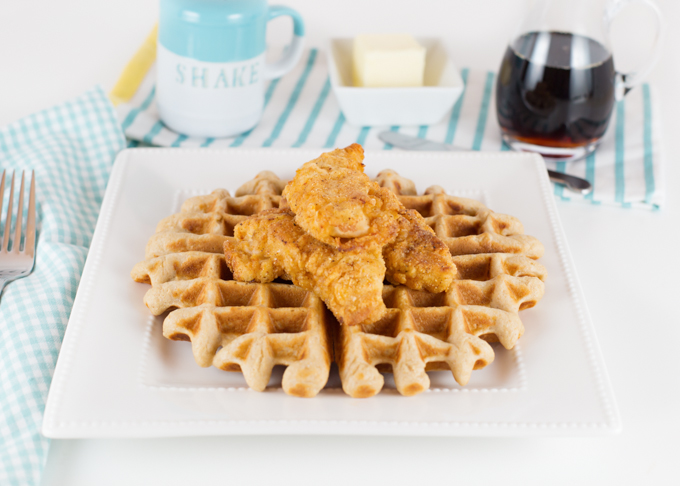 Next top the buttered waffle with 2-3 chicken tenders.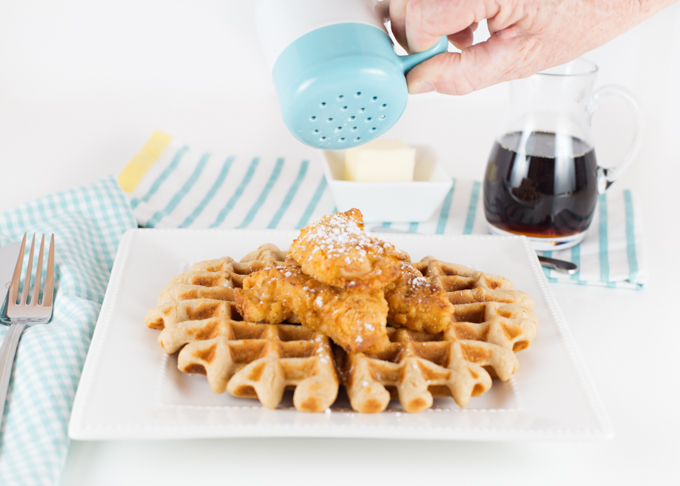 Now, give a few really good shakes of powdered sugar and a generous portion of real maple syrup!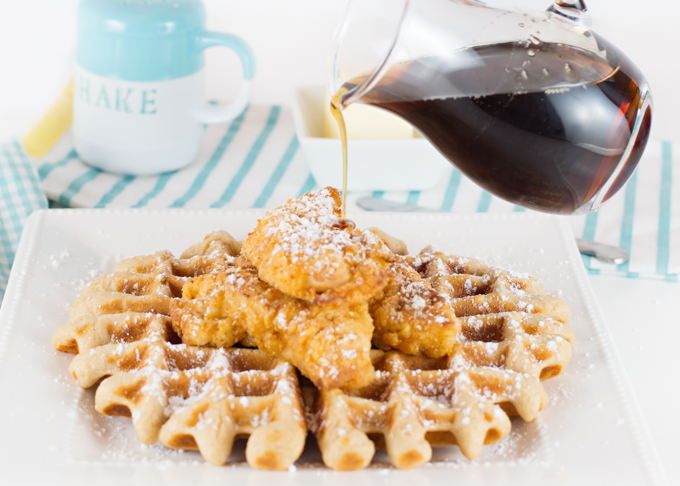 There's just something about the juicy tender savory chicken sitting on a warm fresh buttered waffle, topped with sweet powdered sugar and real maple syrup! It is seriously so good! If you've never had Chicken & Waffles, I recommend you get yourself to a Southern Cookin' Restaurant right now. If that's not an option, give my CA version a try. I think you'll be sweetly surprised!!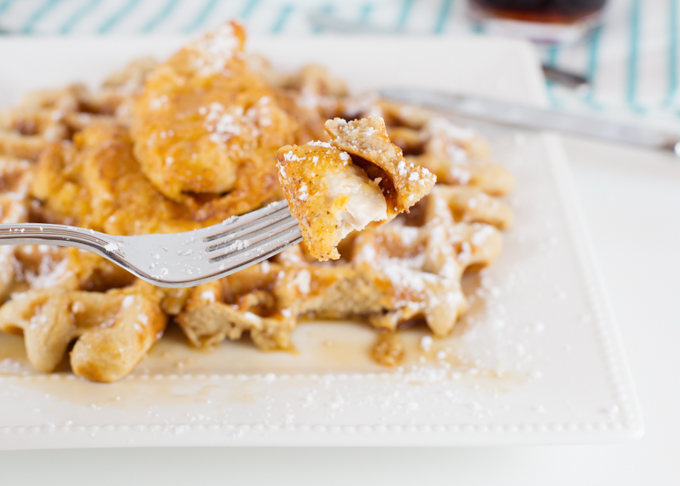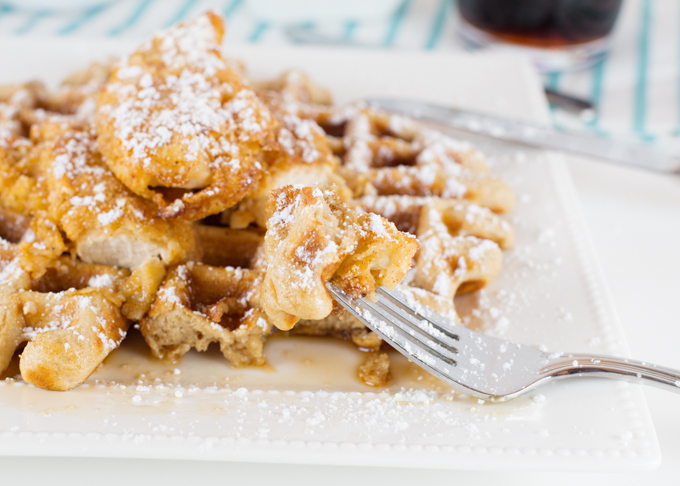 Chicken & Waffles
Ingredients
One recipe of your favorite waffles. I used Kodiak Brand Buttermilk Honey Waffle mix.

1 1/2

# chicken tenders

1

TBSP

Sriracha Hot Sauce

1

tsp

worcestershire sauce

2

cup

buttermilk

1 1/2

cup

all purpose flour

1/2

cup

cornmeal

3

TBSP

cornstarch

1 1/2

tsp

paprika

1

tsp

black pepper

1

tsp

garlic powder

1

tsp

salt
Instructions
Place chicken tenders, buttermilk, worcestershire, and Sriracha into large zip lock baggie. Mix together well and place in refrigerator to marinate for at least 2 hours.

When you are ready to cook chicken, add flour, cornmeal, cornstarch, salt, pepper, paprika, and garlic powder into shallow baking dish. Using a fork, combine well.

In a large skillet, add about an inch or two of canola oil. Heat over med/high. **To check if oil is hot enough, drop a tiny bit of flour into oil and if it sizzles, oil is hot.

Remove chicken from marinade, dripping off excess marinade, and coat well with flour mixture. Fry chicken in two batches, turning chicken once, until golden brown on both sides. Drain on paper towel, then place onto wire rack on rimmed baking sheet. After cooking all chicken, place into preheated 325* oven to finish cooking (about 15 minutes). If you aren't ready to serve at this time, reduce oven temp to 275* to keep chicken warm.

Cook waffles according to waffle directions. Keep warm in oven if necessary.

To plate: place fresh waffle on plate. Top with a pat of real butter. Top with 2-3 fried chicken tenders, a sprinkle of powdered sugar, and some real maple syrup.

Enjoy!