Set it and forget it! There's nothing better than coming home to Slow Cooker Beef Stew after being gone all day. A quick salad and some crusty french bread and dinner is served!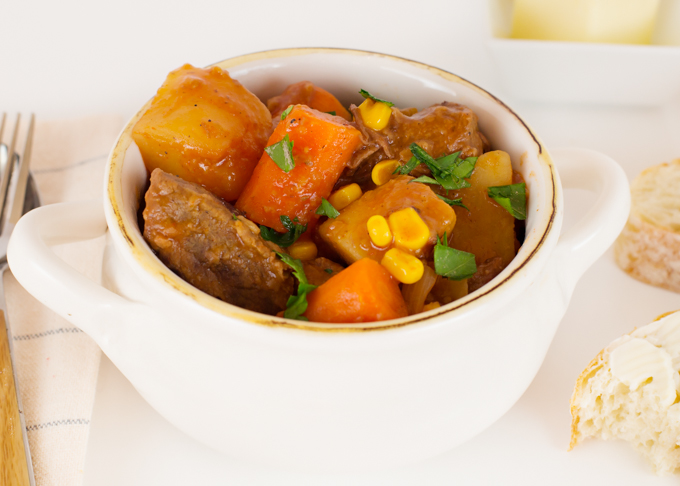 All day I've been back and forth with whether or not to call this Slow Cooker Beef Stew, Crock Pot Beef Stew, or just Beef Stew. Dang Google is messing with my head on this one!! I generically use the term Crock Pot for my slow cookers (one is Crock Pot brand, one is not). Uggh, what's a gal to do?? Whatever you decide to call this dish, I do recommend making it. There's nothing like coming home to a home cooked meal that is fuss free and delicious!
I always brown my stew meat in a skillet before starting the stew. If that sounds like one step too many when you're trying to get out the door in the morning, that's not a problem. Simply brown the meat the day (evening) before, then refrigerate. In the morning, simply prep the veggies and place all ingredients into the slow cooker. At the end of your busy day, you'll have a meal of Slow Cooker Beef Stew waiting for you.
I cooked my stew for approx. 7 hours on high, but I'm here to tell you that I've never messed up a slow cooker meal. If you need to be gone from the house, add a few hours to the cooking time and cook on low (or med if your slow cooker has that option). It really is hard to mess this up as long as there's enough liquid in the pot.
I like my Beef Stew on the thick side, so for the last hour, I cooked it uncovered and added in a little flour (mixed into softened butter). This step is totally optional, it's just my preference. I used 2 tablespoons of flour mixed into 1 tablespoon of soft butter. Mix it together until blended and stir in the stew. It will easily "blend" in without lumps and thicken it up nicely.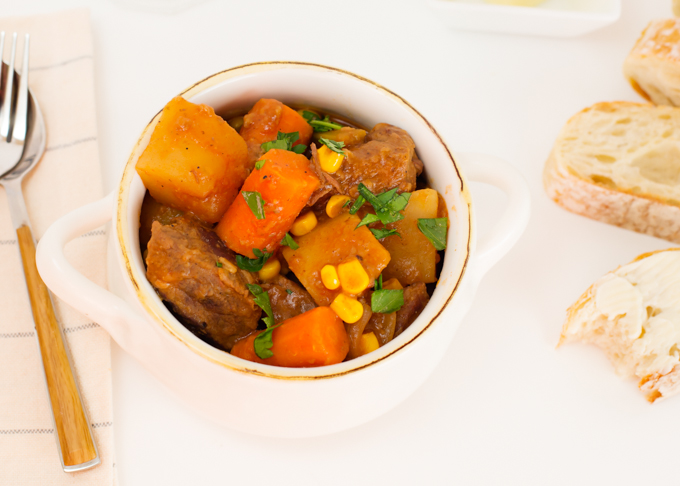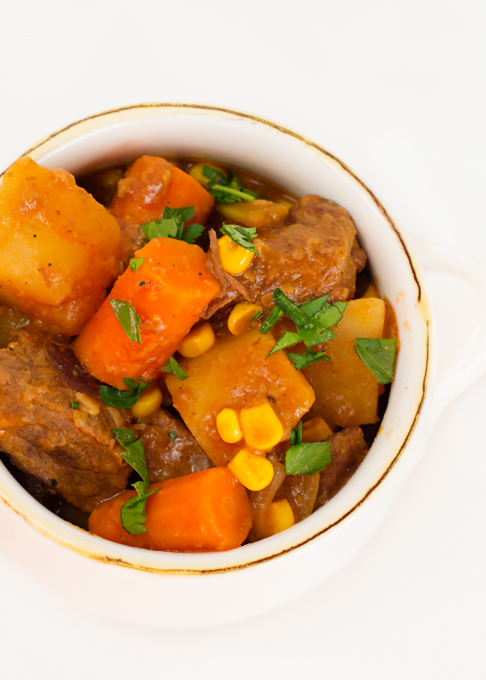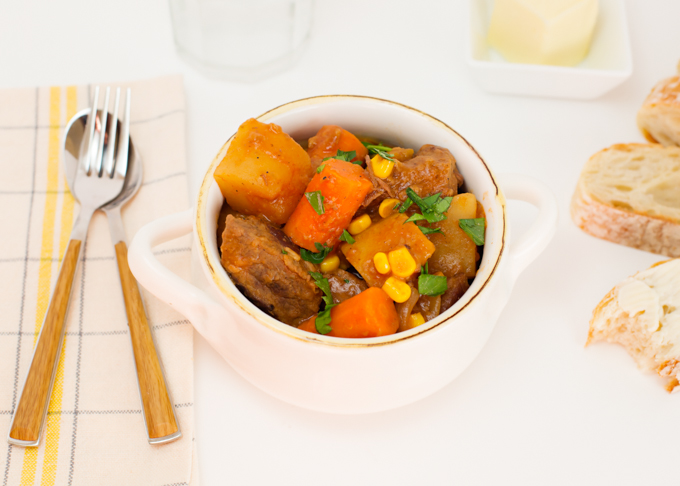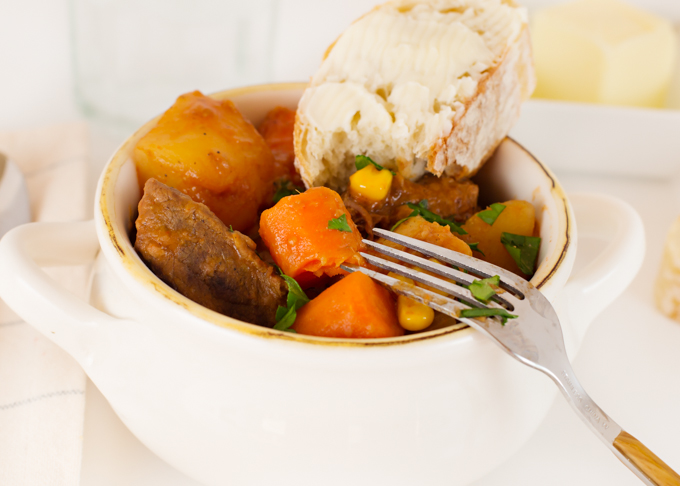 Slow Cooker Beef Stew
Ingredients
2

# stew meat

1/2

cup

flour

1

tsp

salt

1

tsp

pepper

1

tsp

garlic powder

1

tsp

onion powder

1

tsp

paprika

3

TBSP

olive oil

1

large yellow onion

peeled and large cubed

4

carrots

peeled and large cubed

3-4

potatoes

peeled and large cubed

3-4

celery stalks

large cubes

1

cup

frozen corn

1

small can tomato paste

4

cups

beef stock

1

tsp

worcestershire sauce

2

cloves

garlic

crushed

1

large bay leaf
Instructions
Place flour into large zip lock baggie. Add in: salt, pepper, garlic powder, onion powder, and paprika. Mix together.

Add in stew meat. Seal bag and shake until meat is well coated with flour mixture.

Heat 3 TBSP olive oil in large skillet over med/high heat. Add meat (cooking in batches if necessary), and brown well on all sides. Remove from pan.

Prep veggies (peel and chop into equal size cubes, approx. 1 1/2" in size).

Place cooked beef cubes, potatoes, onion, carrots, celery into large slow cooker.

In separate bowl, mix tomato paste into beef broth until blended.

Add broth, crushed garlic, worcestershire sauce, and bay leaves to slow cooker. At the time everything except for corn should be in slow cooker.

At the last hour of cooking, add in frozen corn.

Set to high and cook for approx. 6-7 hours or until veggies are all tender. On low temp, cook for approx. 10 hours.