French Onion Soup is such a simple, yet flavorful soup, full of caramelized onions, topped with a thick slice of toasted french bread, then topped with a mound of Gruyere cheese until it's melted and golden. It's pretty much a cup of deliciousness! It's, without a doubt, one of my husbands favorites!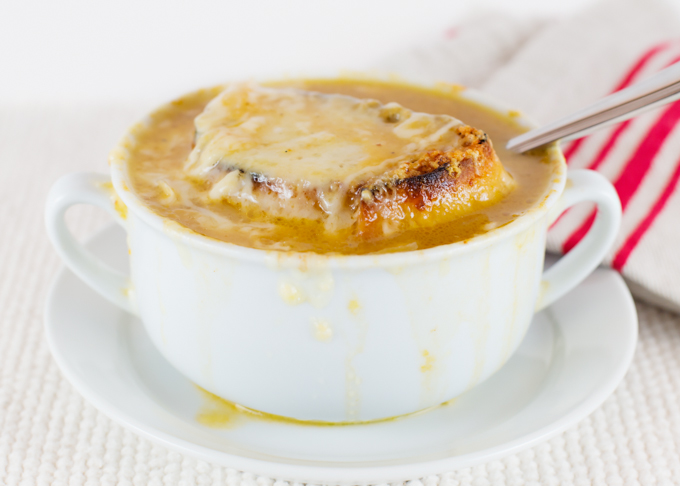 Please don't tell him how simple it is to make French Onion Soup. He seems to think it's a "fancy restaurant" kind of soup. In reality, it's made from such simple ingredients. It does however take about an hour and a half to make. You want to give the onions time to caramelize slowly, so they become creamy and sweet. After that's done, it's as simple as adding some broth along with a few other pantry ingredients and let it simmer for about 20 minutes. Right before serving, toast some bread, grate some cheese and place under the broiler. Make sure to use a broiler proof soup bowl. If you don't have one, you can toast the bread on a baking sheet, top with cheese and place under the broiler. When the cheese is melted, use a spatula and carefully place the cheesy toast on top of the bowl of soup.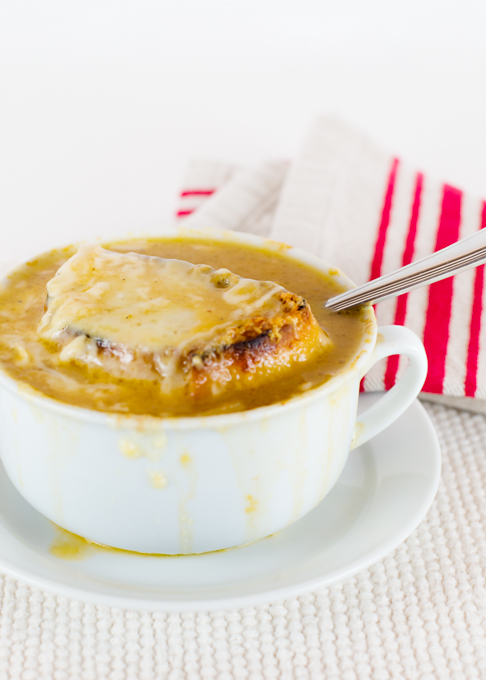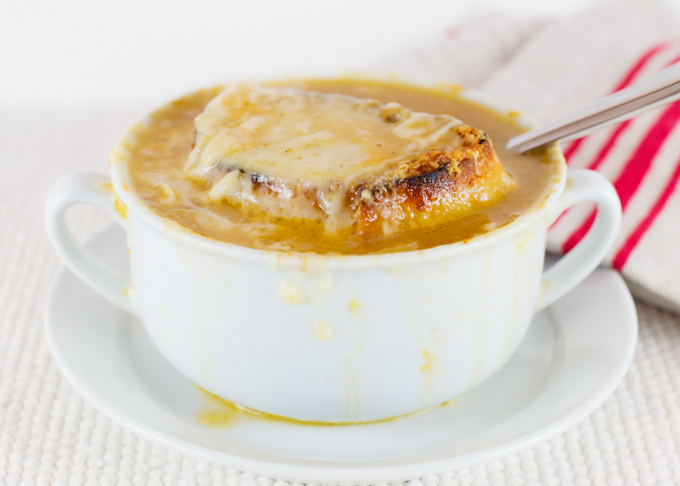 The night I made this French Onion Soup, we had been to a late afternoon movie and weren't overly hungry, so a hot bowl of soup was all we needed for a light dinner. Typically, I would have served it with a side Caesar Salad for the perfect soup/salad combo.
For more great recipe ideas, make sure and head over to Southern Plate's Meal Plan Monday!
French Onion Soup
Ingredients
4

lg or 6 med yellow onions

thinly sliced

6

TBSP

real butter

3/4 of a cube

2

bay leaves

2-3

cloves

garlic

crushed

1/2

tsp

kosher salt

1/4

tsp

fresh cracked pepper

2

TBSP

flour

4

cups

beef broth

4

cups

chicken broth

3/4

cup

white wine

1

TBSP

worcestershire sauce

a couple good dashes

loaf french bread

cut into 3/4 inch slices/one per bowl

1

block gruyere cheese

grated
Instructions
Melt butter over med/low heat in heavy stock pot.

Add onions and cook, stirring often, until soft and caramelized, for approx. 30-40 minutes.

Add garlic, bay leaves, salt, and pepper and continue to cook for another 10-15 minutes.

Stir in flour and cook for 10 minutes.

Remove from heat, stir in wine.

Place pot back over med heat, add beef & chicken stock, and worcestershire sauce. Bring to low boil, then reduce to simmer.

Once soup is simmering, slice bread into 3/4" slices and place on sheet pan. Bake for 10-15 minutes, turning over to toast both sides.

Grate cheese and set aside.

Ladle soup into broiler proof bowls and top with toasted bread slice. Top with a mound of grated cheese and place under broiler until cheese is melted and begins to brown.

Use caution when removing hot bowls from broiler.