I finally made Homemade Refried Beans and I might not ever go back to opening a can! It takes a while to make them, starting with cooking 2#'s of dried beans, but it's worth it. Just check out the oozing melty cheese.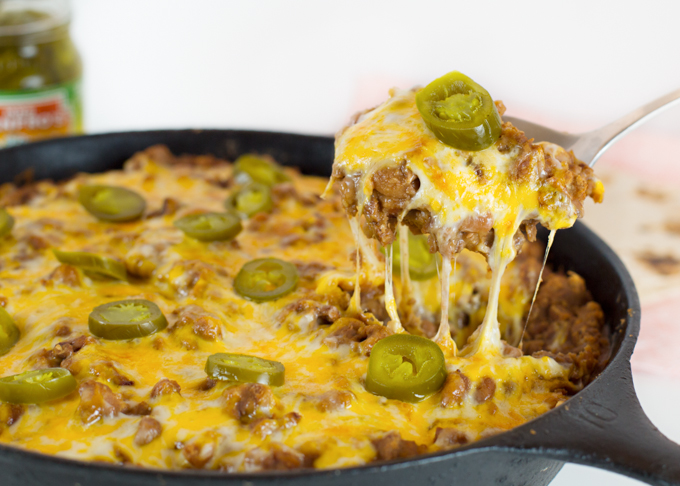 I'm here to say, that you need hours to make these, but they really are worth the time. What I really like, is that you can flavor them however you'd like. I added bacon, onion, and fresh garlic, and of course topped them with lots of cheese and spicy jalapeños.
Start by rinsing your dried beans and placing them in a large pot. Cover with water by 2-3 inches. Bring to a boil, then cover and reduce heat. It takes 2-3 hours of simmering to get the beans soft. If needed, add in extra water during this cooking process.
In a separate frying pan (I used my large cast iron), cook up some bacon and onions in a little olive oil. When bacon is about done to desired crispiness, add in garlic. These Homemade Refried Beans are easily vegetarian. Simply omit the bacon. I'd probably add in some bell pepper with the onion for extra flavor and texture. That's the great thing about cooking homemade, you can swap out ingredients and adapt spice levels and flavors to suit your taste. You can't get that out of a can!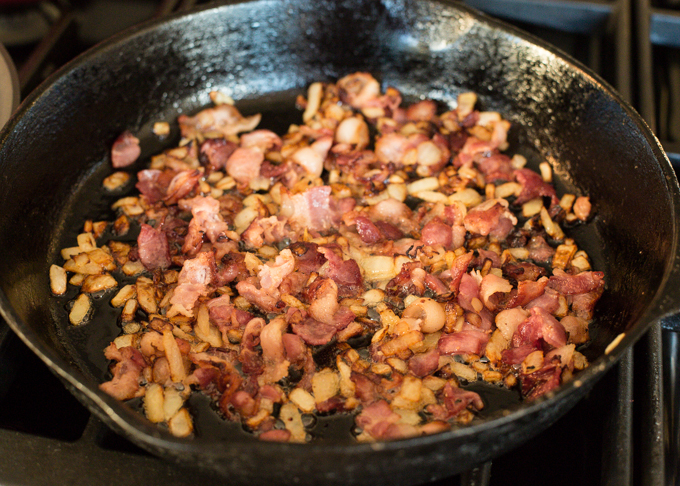 Once the beans are cooked through and tender, using a large slotted spoon, spoon them (reserving the bean water) into the bacon pan. Heat should be on med/high. Add spices, and begin to smash the beans using a potato masher. I guess this is the refried part, since you're mashing and essentially frying them in the bacon grease. Add bean water as needed until they are the desired consistency. Don't worry if you run out of bean water, you can always add a little plain water or even chicken broth.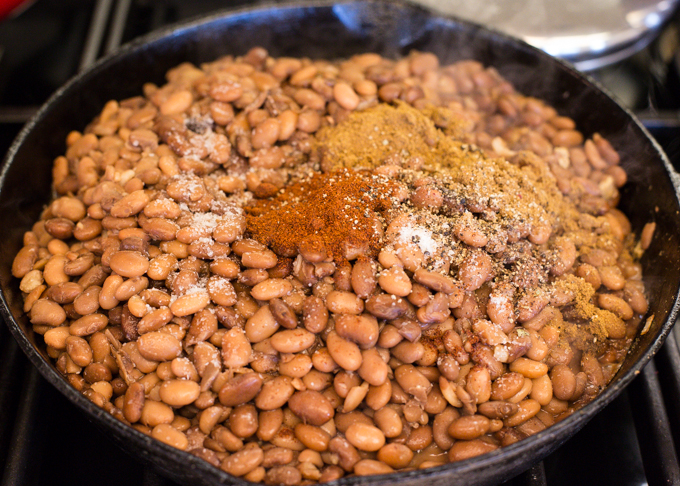 I apologize, I didn't get a picture of the mashing process. Once I got them mashed and to the thickness I wanted, I topped them with plenty of shredded cheese and lots of jalapeños and placed them in a hot oven until beans were hot and the cheese was bubbling and melted.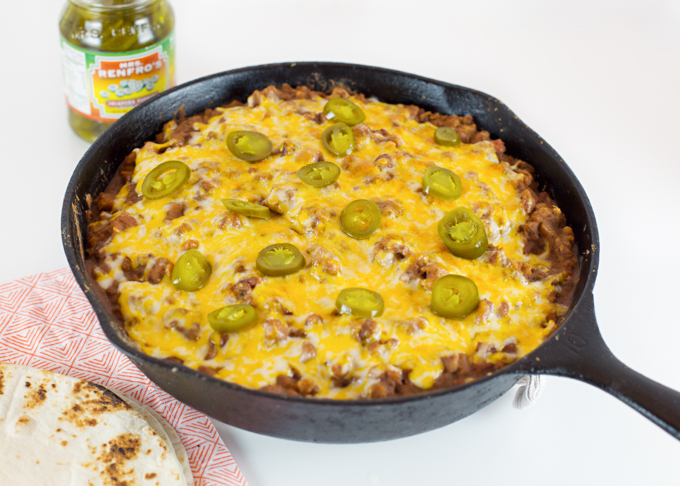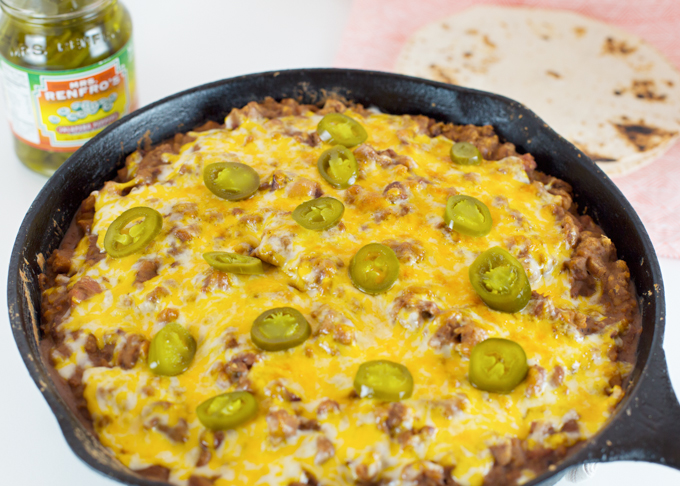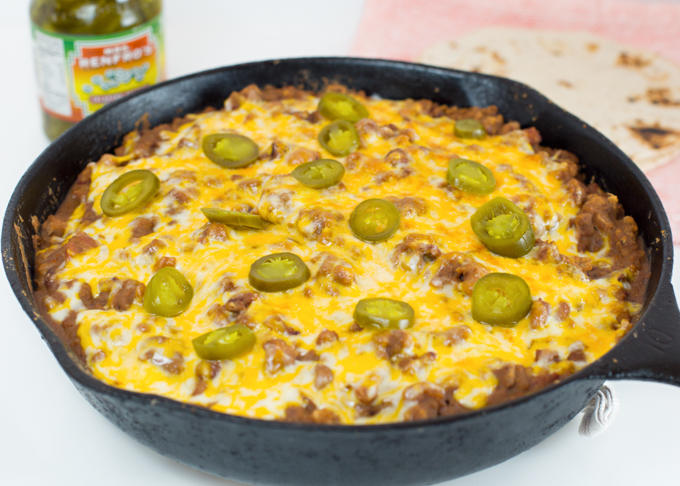 Seriously, just look at this oozing melted cheese!! Don't you just want to grab a tortilla chip and dip it in???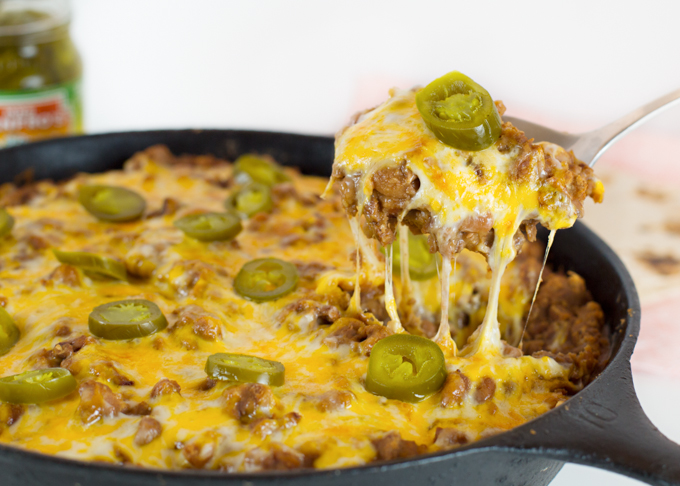 I made these beans for burritos, but we also enjoyed maybe a little too much before I even got the burritos made. What can I say, the flour tortillas were just sitting there and the beans did need to be taste tested 🙂 How would you enjoy a big skillet of Homemade Refried Beans??
It's a good thing that refried beans freeze well, because as you can tell, this recipe makes a lot! I'll be freezing the rest in portion sized servings in zip lock freezers bags. Another idea is to actually make up some burritos and wrap them individually for freezing. Since we always have flour tortillas in the 'fridge, I'm opting for freezing just the beans. However, if I still had teenagers at home, a bag full of homemade burritos just waiting to be heated up would be awesome to have in the freezer!
Don't forget to share onto FB and Pin 🙂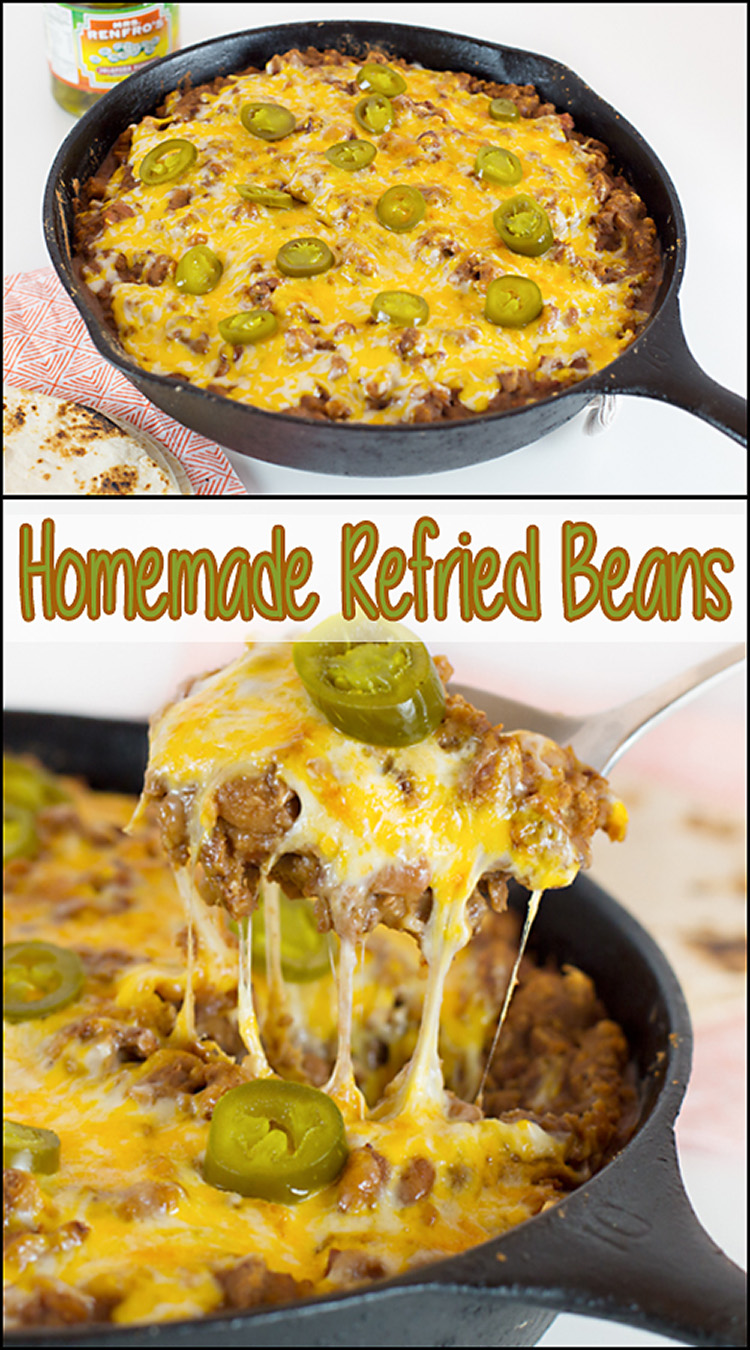 Homemade Refried Beans
Ingredients
2

lbs

dried pinto beans

rinsed

6

slices

bacon

cut into 1" pieces

2

TBSP

olive oil

1/2

large yellow onion

peeled and chopped

2-3

cloves

garlic

crushed

1

TBSP

chili powder

2

tsp

cumin

1

tsp

salt

2

tsp

black pepper

1-2

cups

grated cheese

cheddar or jack

Jarred jalapeño rings

optional, to taste
Instructions
Rinse beans and place in large pot covered with about 3" of water. Bring to a boil, then reduce heat to simmer and cover.

Cook until beans are are fork tender, approx 2 1/2 hours.

Add more water as needed to beans.

In a separate large ovenproof skillet (I used cast iron), fry bacon in 2TBSP olive oil. Add onions about half way through bacon cooking time. When bacon is just crisp enough and onions are tender, add garlic.

When beans are tender, using a large slotted spoon, spoon beans into bacon pan. **Reserve bean water. Heat should be at med/high.

Add chili powder, cumin, salt, and pepper.

Smash beans, using a hand potato masher, adding bean water as needed, until desired constancy. I like mine fairly chunky, but keep mashing if you like them smoother.

Top with grated cheese and jalapeños and place skillet into hot 350* oven. Bake until hot, bubbly, and cheese is melted.
I love posting up my recipes over at Meal Plan Monday!! Go pay them a visit, grab a few new recipes, and tell them I say "hi!"
Once you have these beans made, you're going to want to make a big batch of Beef & Bean Baked Burritos!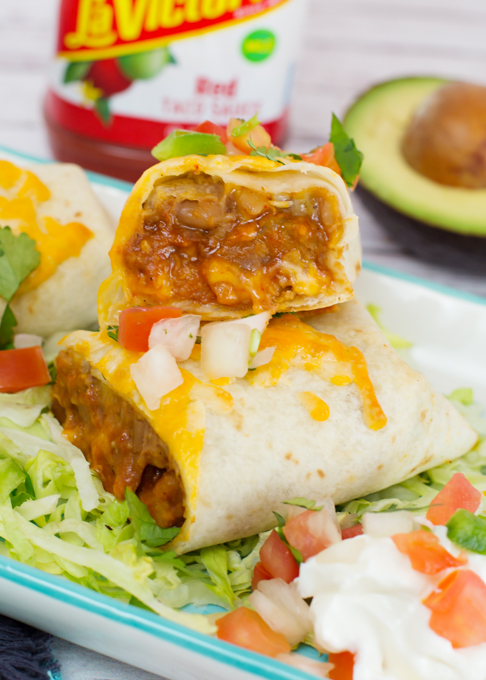 And, nothing to do with refried beans, but you might also like this Turkey Chili Spaghetti.