Occasionally I'll be posting ideas that I hope serve an as inspiration for you to get dinner on the table. I remember all too well what's it like to be a busy mom with kids going in all different directions all at the same time. I think that quesadillas are the perfect quick dinner idea that is sure to please the entire family. Some days it is impossible to sit down together for a meal, and these are perfect. Simply do the prep earlier in the day (grate cheese, sauté veggies, prep chicken, dice tomatoes, avocado, etc), and then whenever someone is ready to eat, simply assemble and grill.
I decided to "gourmet" ours up a little, since I was making them for my husband & I. I have no doubt the sautéed veggies would have been left out if I was feeding little ones, but since I wasn't…..
I did however still take a shortcut. I used a rotisserie chicken from the grocery store. Some days just need a short cut here or there, whether you're cooking for two or ten.
I simply sautéed bell pepper (yellow, red, and orange), sliced red onion, a couple cloves of pressed garlic, in a little olive oil. Then added in the shredded chicken. I topped with some fresh diced tomato, cilantro, and avocado and added some sour cream and guacamole for dipping. I also used a combination of colby jack and pepper jack cheeses.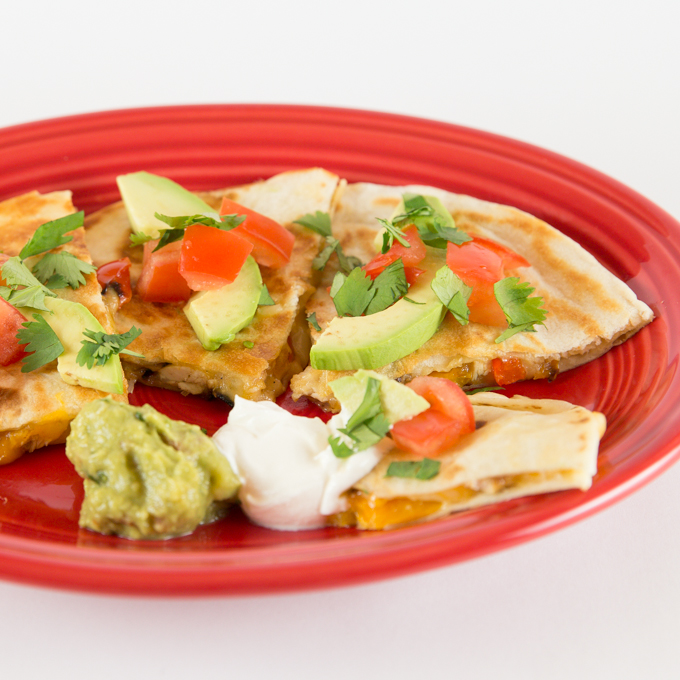 There is no recipe included, because I believe that everyone can make a quesadilla, however, PLEASE, DO NOT put some bagged shredded cheese between two tortillas and place in microwave. Take the time to grate your own cheese and grill them. I always melt a little butter on my hot griddle (or large frying pan) for a slightly crispy tortilla. Heat slowly so the cheese has time to melt before the tortillas burn.