This Lemon Buttermilk Pound Cake is the first dessert I've posted. What is wrong with me?? I love dessert. I love pound cake. I love anything lemon. And, I had some buttermilk that I needed to use up, so this was the perfect recipe. You can find other buttermilk recipes here and here.
The recipe called for a glaze on the top, but I opted to stick with just a dusting of powdered sugar. That way you don't even need a plate and fork, it's kind of a grab and go dessert.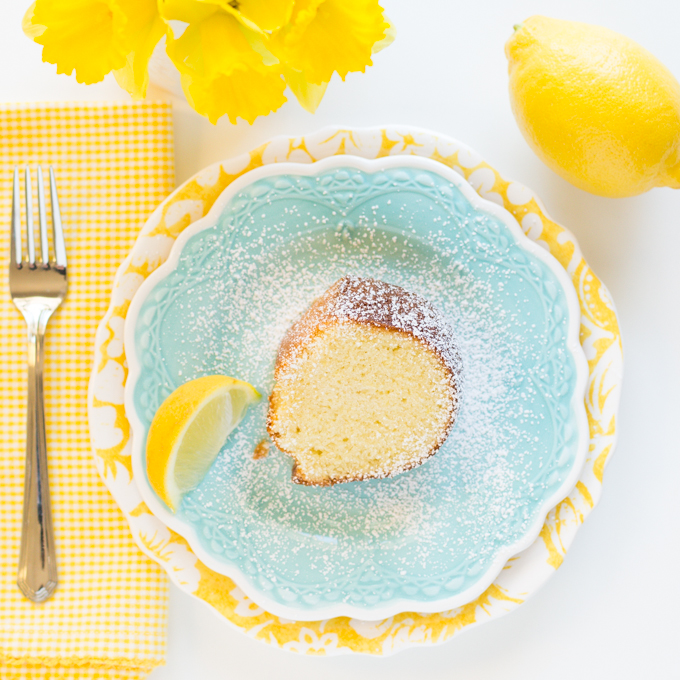 I've been photographing most of my images in the evening when it's a little too dark to shoot natural light, but I shot this early enough in the afternoon with the sun streaming through my kitchen door. From now on I'm cooking dinner early in the day so I can shoot natural light. I forgot how much I love it!! Of course, maybe the freshness of the lemon and daffodils helped to make this extra cheery! I'm seriously ready for summer and bbq's and lemonade after these pictures. 
Lemon Buttermilk Pound Cake
Ingredients
1/2

lb

butter

2 cubes (room temp)

2

cups

sugar

2 1/2

cup

all-purpose flour

2

tsp

baking powder

4

large eggs

3

egg yolks

1/2

cup

buttermilk

1

TBSP

freshly grated lemon zest

1 1/2

TBSP

fresh squeezed lemon juice

1

tsp

vanilla extract
Instructions
Preheat oven to 325*

Butter and flour a 10" bundt pan.

Using a Kitchenaid or hand mixer combine butter, sugar, vanilla, and 4 whole eggs until well creamed.

Slowly add in flour and baking powder.

Whisk the egg yolks, zest, and buttermilk together, then slowly add mixture to rest of batter.

Mix until well blended.

Pour batter into prepared bundt pan.

Bake at 325* for 1 hour or until thin knife inserted into center of cake comes out clean.

Cool in pan on wire rack.

Remove from pan and dust with powdered sugar.