One of my favorite restaurants, is Maggiano's. Unfortunately I don't get to one very often as we don't have one in our town and even though the closest one isn't very far, it is always busy. Every time that I have gone, I get their house salad. It is delicious!
I decided to try re-create their salad. I started by googling Maggiano's salad and up popped lots of copycat recipes. I found the one that I thought seemed most like it and tweaked it to make my version. It isn't exactly the same, but it's pretty close.
*Disclaimer-when you crisp up the prosciutto, be careful! It goes fast and can get quite smokey if you aren't careful. Now, I'm not saying that I know this from experience, and I'm not saying that I may or may not have set off the fire alarm that is attached to our alarm system. And that I didn't know the code to turn it off. I'm not saying, any of that happened, I'm just saying to keep your eye on the prosciutto!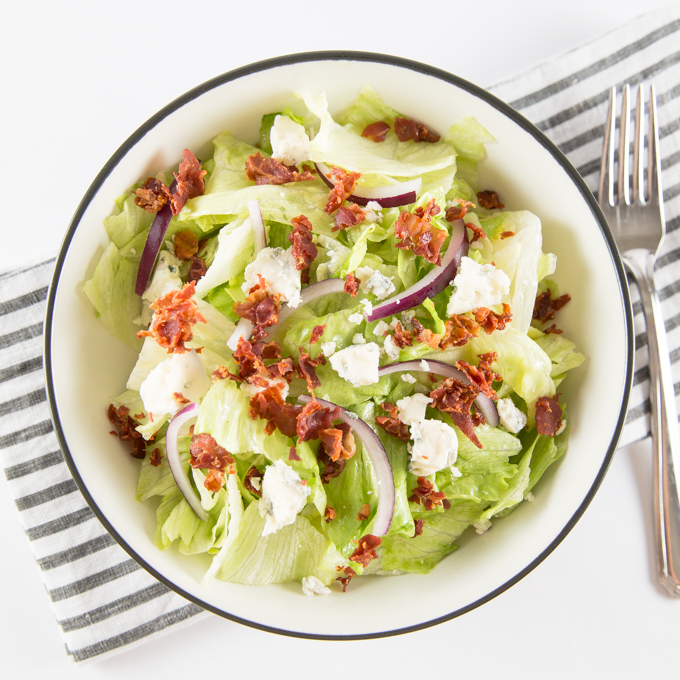 This salad is the perfect combination of slightly salty from the prosciutto and gorgonzola and a little sweet from the dressing all on top of crunchy iceberg (or romaine) lettuce.
My Maggiano's Salad
Ingredients
1/3

cup

red wine vinegar

1

TBSP

dijon mustard

1

TBSP

white sugar

1/2

cup

water

2

tsp

minced garlic

1

& 1/2 tsp kosher salt

freshly ground black pepper to taste

1

cup

light olive oil

or vegetable oil

1

tsp

dried oregano

5

cups

chopped iceberg or romaine lettuce

or combination of both

3

oz

gorgonzola cheese

1

package thin sliced prosciutto

1

small red onion

thinly sliced

1/4

cup

olive oil

for cooking prosciutto
Instructions
To prepare dressing:

Combine all ingredients except for oil & oregano in blender. Blend until smooth.

With blender running, stream in olive oil.

Add oregano and blend till mixed.

Heat oil in large skillet over med heat. Add prosciutto and cook until brown and crispy. Remove from pan with slotted spoon and drain on paper towel. Set aside.

In large bowl, toss the lettuce, onions, gorgonzola cheese, and crispy prosciutto bits. Lightly drizzle on dressing (start with a little, you can add more to your taste preference) and toss to combine.