When a soup gets a little thick, but it's not quite a stew, it's a "stoup." This Veggie Lentil Soup Stoup was thick, extremely flavorful, and healthy!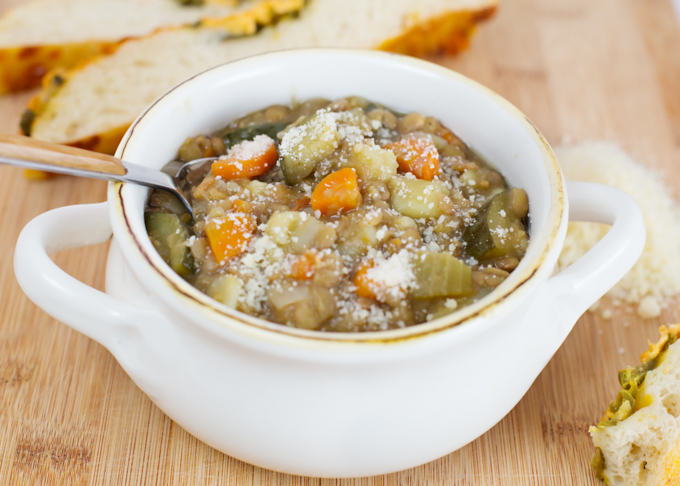 I get so much inspiration from my friend Rosemary at An Italian in My Kitchen. She's Canadian, married an Italian, and lives in Italy. Our lifestyles are nothing alike, but we have a great food blogger friendship. I hope some day to meet her! As soon as she posted her Italian Lentil Soup, I knew I needed to make it. And, oh my gosh, you need to head over to her site. Besides her inspirational lentil soup, she posted a picture of her mother-in-law, sitting outdoors picking olives. They say a picture is worth a thousand words, and that one truly is!!
I had just about everything I needed to make a variation of her soup, except for the lentils. A quick run to the store for some lentils and zucchini and I was home pulling out my grandma's big soup pot. Ok, it wasn't really a quick run to the store, to be 100% honest, I got a little detoured. I stopped at Starbucks, picked up a few Christmas ornaments (70% off) at one of my favorite little boutiques, and got a pedicure. Fortunately this is a really quick cooking meal, but with a flavor of a soup that has simmered all day.
I used chicken broth, since it's what I had in my pantry, but by switching to veggie broth, you've got yourself a healthy, delicious, and hearty vegetarian meal.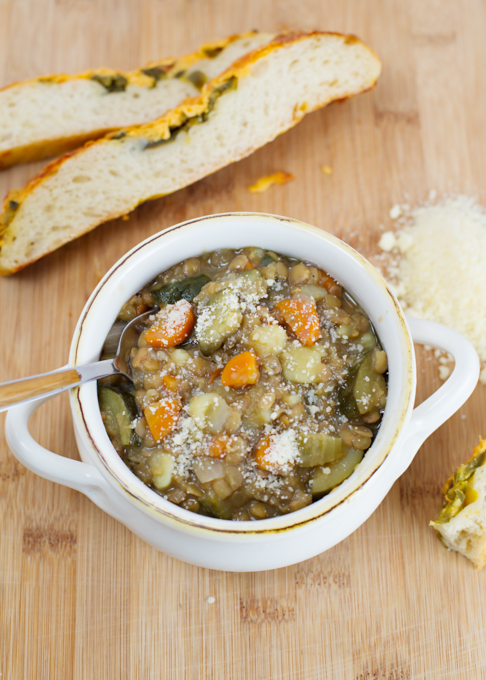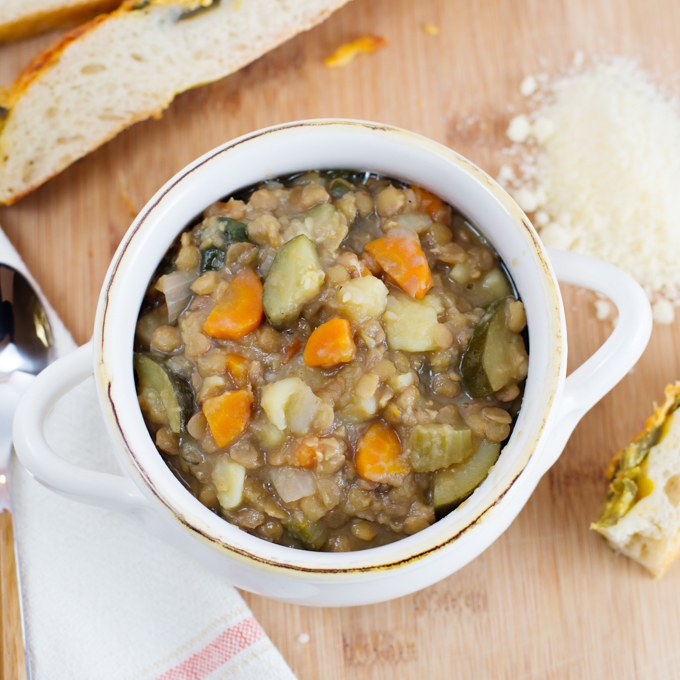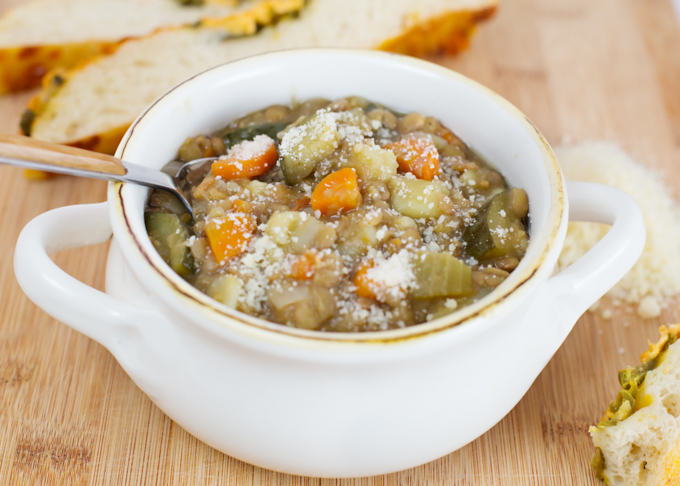 And, since you've enjoyed such a healthy meal, how about heading over to An Italian in my Kitchen and choose a dessert recipe? Check out her delicious Yogurt Cake or maybe her Italian Fresh Cream Lemon Cake.
Veggie Lentil Stoup
Ingredients
1

# dried lentils

1

med/large white sweet potato

peeled and cut into small cubes

1

med yellow onion

chopped

2

carrots

peeled and sliced

2

celery stalks

sliced

2

zucchini

sliced

2

cloves

garlic

crushed

1 5

oz

bag baby spinach

4

cups

organic chicken broth

or veggie broth I used Trader Joes.

2

cups

water

1/2

tsp

salt

1/2

tsp

pepper

1/4

tsp

thyme

1

tsp

oregano

2

TBSP

olive oil

1/2

tsp

red pepper flakes

optional

Grated parmesan cheese

optional for topping
Instructions
Soak dried lentils in luke warm water for 20-30 minutes.

While beans are soaking, prep all veggies (potato, carrot, onion, celery, zucchini, and garlic)

In large soup pot, heat olive oil over med heat. Add onions and sauté for 3-4 minutes.

Add all other veggies and cook, stirring occasionally until they just start to become tender (about 10 minutes).

Drain and rinse beans. Add to soup pot.

Add broth, water, and spices. Increase heat to high and bring to boil.

Reduce heat to simmer, cover, and cook for about 45 minutes.

When soup is finished cooking, add in baby spinach.

Optional: serve with a topping of parmesan cheese