Before I talk about this Strawberry Tomato Jam, let me share a little about my past weekend.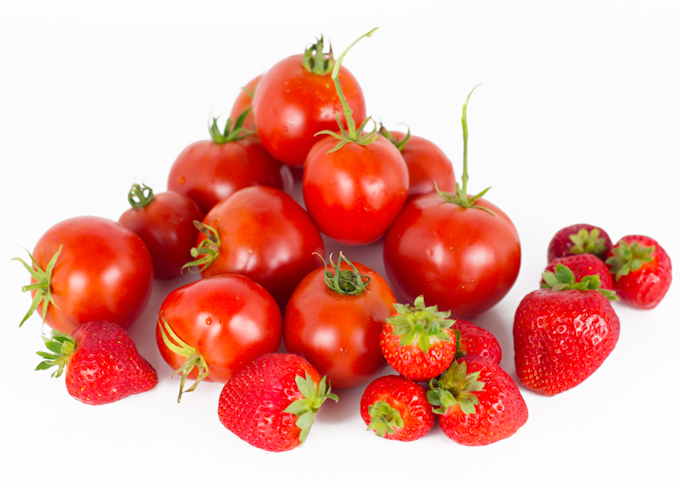 We hosted a family reunion here in Santa Cruz for my husbands side of the family. It wasn't large (30-ish) with our SC family making up half of that. My husband is one of 8 kids and we all live here in town. It was a reunion with his first cousins on his Mom's side of the family. None of the cousins live in SC anymore, but they're all close in age and grew up spending a lot of time together. Since many of the generation before had passed, we knew that we all needed and wanted to spend time with Aunt Rita (and get reconnected with the cousins). Oh my goodness, let me tell you, that at 87 years young, Aunt Rita was the life of the party!!! The local families (my husband & his 7 siblings) all contributed with the planning, cooking, events, etc. Like the saying goes, "many hands makes little work." I feel like I got off pretty easy. I helped with table decor for the Saturday dinner and we also hosted the Sunday morning brunch.
Here's the gang!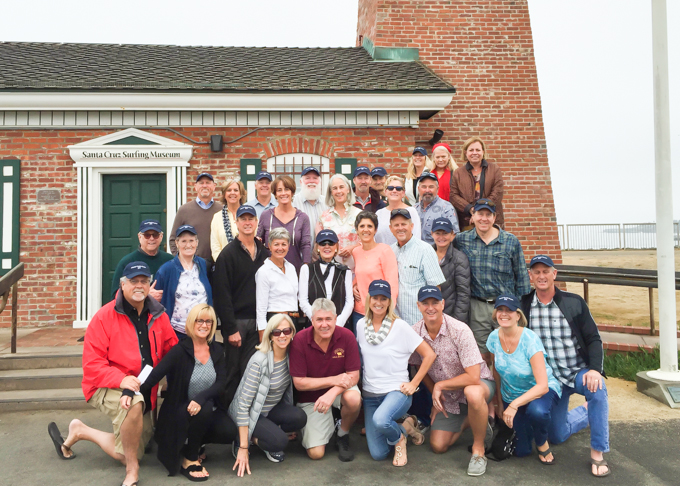 Enough about the family reunion, back to why I had to make this Strawberry Tomato Jam.
At the Saturday evening gathering, my sister-in-law was in charge of hor d'oeuvres. Keep it simple she was told. Well, simple is not in her vocabulary. She is one of the most amazing cooks I know! Seriously, on a moments notice she could have a homemade dinner for 50 ready to go. Well, in her "simple" appetizers, was a little bowl of homemade tomato jam. It was nestled amongst about 12 kinds of cheeses, crackers, flatbreads, and fresh cut veggies. It almost went unnoticed until word got out. Try it with the flat bread and goat cheese she said. And I did! Me and that little bowl of tomato jam became great friends that night. I couldn't get enough. When I was still thinking about it a few days later, I knew I needed to make some. So, like any sister in law would do, I called to see if she happened to have any extra homegrown tomatoes. I said I didn't need many, but I wanted to make her jam. I was delivered a box of fresh ripe garden tomatoes!! I could also go on and on about her amazing garden, but think I'll just stop with her kitchen talent.
Did I mention my sister in law, doesn't really use recipes? She said she added some brown sugar, cumin, red pepper flakes, and let it cook for hours. Ok, thank you.
Funny thing is, I happened to have the Food Channel on after having her Tomato Jam, and Giada was cooking up some Strawberry Tomato Jam. Ok, that sounds good, let's add some strawberries, which I happened to have a basket of. I googled a couple of recipes, which really varied and decided just to go for it.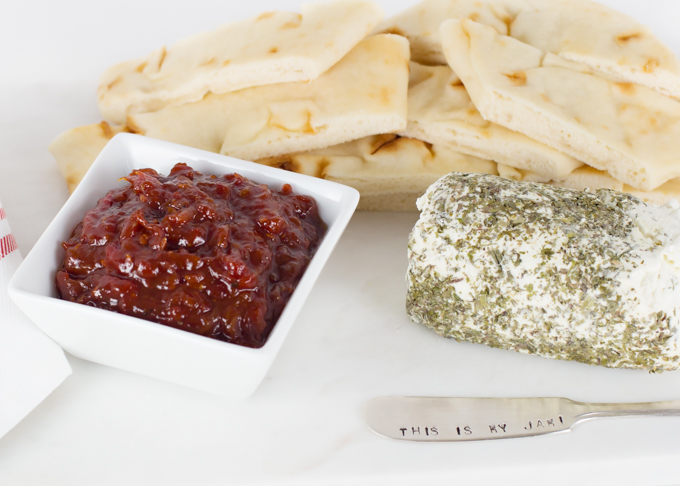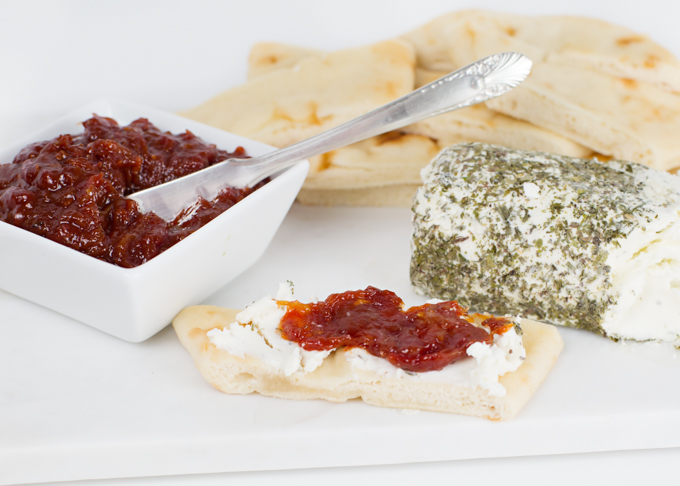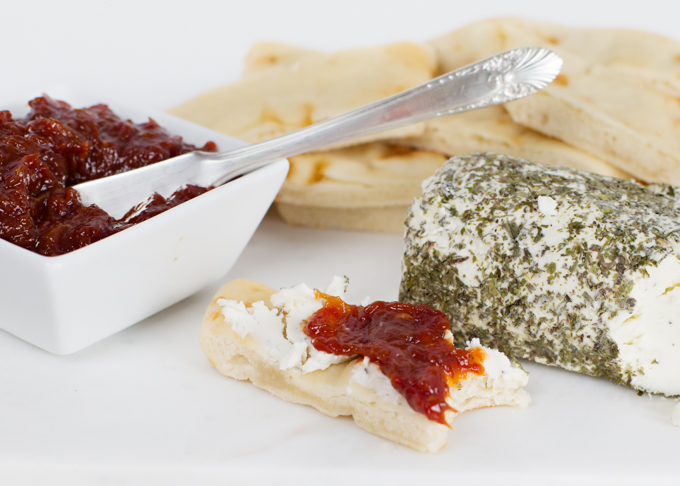 I'm so glad I did. Amazing!! On flat bread, with a spread of goat cheese!
If you don't have all day to babysit your pot of Tomato Strawberry Jam on the stove, this recipe isn't for you. It took hours for the jam to reduce and get nice and thick and rich. After 2+ hours of low heat, I turned it up to medium and stood by the stove stirring it every few minutes. It only took about 10-15 minutes at the higher heat to reach the consistency that I wanted.
Tomato Strawberry Jam
I did not peel the tomatoes, but as it cooked I occasionally pulled out a piece of tomato skin and discarded. Most of them broke up as they cooked, so I wasn't too worried about them. If desired, you can take an immersion blender and give it a quick blend at the end of cooking.
Ingredients
2-3

#'s fresh ripe garden tomatoes

rinsed, cored, and cubed

1

# ripe strawberries

rinsed, stemmed, and halved

1/2

cup

brown sugar

1/2

cup

granulated sugar

1/4

cup

apple cider vinegar

1

tsp

salt

1/2

tsp

pepper

1/2

tsp

cumin

1/2

tsp

red pepper flakes

add more if you like it spicy
Instructions
Prep tomatoes and strawberries.

In a large heavy pot (such as a dutch oven), add tomatoes, berries, sugars, salt, pepper, vinegar, cumin, & red pepper flakes.

Bring to a boil.

Reduce heat to med/low and continue to cook for approx 2-2 1/2 hours. Stir often.

Cook until reduced and thick.