Wikipedia: "Independence Day, commonly known as the Fourth of July or July Fourth, is a federal holiday in the United States commemorating the adoption of the Declaration of Independence on July 4, 1776, declaring independence from Great Britain."
I LOVE everything about the 4th of July! First and foremost, to celebrate our patriotism to our country. Secondly, I am nuts about red, white, and blue. Third, I love to throw 4th of July parties! And, lastly, I love fireworks!! What's not to love???
I'll be doing another 4th of July post soon, but in the meantime, as I'm finishing up my decorating,  I think I'll take some time out to enjoy a little fresh Strawberry Smoothie!!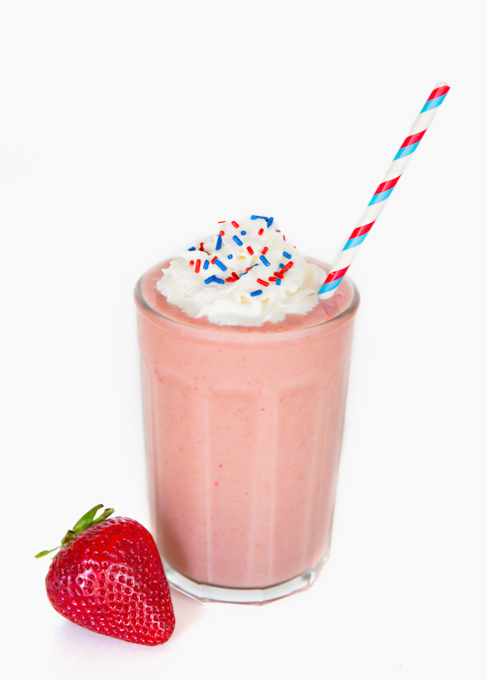 I know that a recipe is certainly not needed for making a smoothie, but I wanted to share a tip with you………….FREEZE THE FRUIT! That's right. Anytime I have any fruit that is a little too ripe, I put it into zip lock freezer baggies and stick it in the freezer. I love never wasting fruit. I even freeze leftover fruit salad. You name it, I'll freeze it. Frozen fruit (especially bananas) make a smoothie extra creamy!!
I have to admit that I love my Vitamix Blender, but it's certainly not essential to making a good smoothie. However, if you ever want a really, really, good blender, this is it. I can blend frozen fruit in seconds!
Depending on what fresh fruit I have on hand, I'll make my smoothie using both fresh and frozen fruit.
It's currently berry season around here, and I had some delicious fresh strawberries.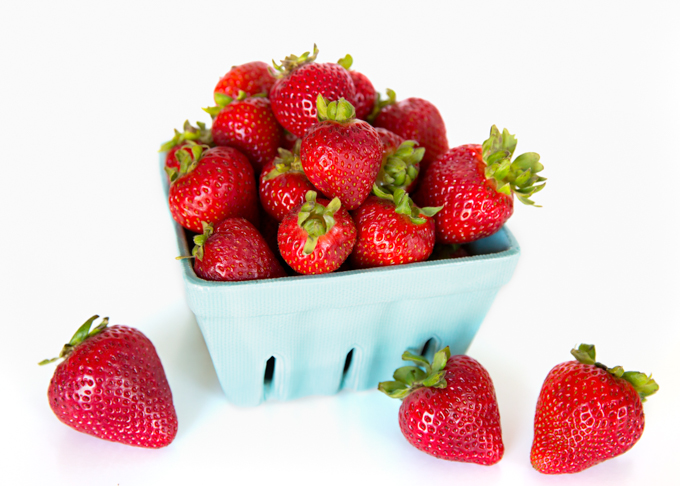 **If you like this recipe, please feel free to share onto your Facebook page, Pinterest, and don't forget to hit the YUM & Stumble buttons (below)!!
4th of July and a Strawberry Smoothie
Feel free to use any fruit you'd like, using a combination of fresh and frozen.
Ingredients
1

cup

coconut water

1/2

cup

vanilla Greek yogurt

1

cup

fresh strawberries

1

frozen banana

1

cup

frozen strawberries
Instructions
Add all ingredients to blender and blender on high speed until well mixed. If smoothie is too thick, add a little more coconut water.