Homemade Strawberry Ice Cream is a delicious ice cream treat, made with fresh sweet strawberries. This no cook version is simple to make and the entire family will love it! Did you know it only takes 5 ingredients to make ice cream?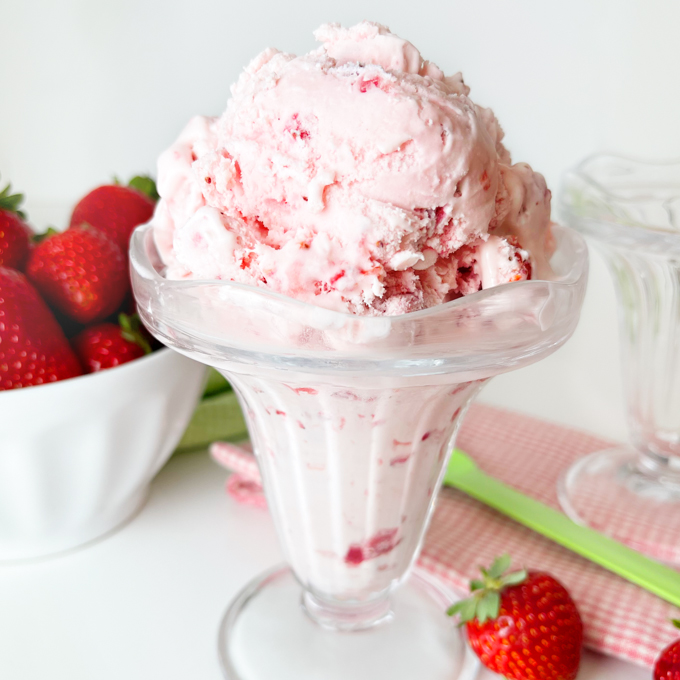 I can't believe that I've waited until the end of summer to make my own. There's no stopping me now, my family is already talking about what flavor to make next! Hopefully next summer my blog will be full of delicious flavors that you'll want to make and enjoy. This homemade strawberry ice cream was a "no cook" version, but up next I'll be making a cooked "custard" style. The custard style sounds like it will be creamier, but I'm not sure you can beat the creaminess of this strawberry ice cream.
This recipe called for fresh strawberries, heavy cream, milk, sugar, vanilla, and a pinch of salt. And of course, an ice cream maker. It really was as easy as mashing the strawberries with the sugar, then adding in the remaining ingredients. I then refrigerated the mixture overnight to get it nice and cold. In the morning I poured it into the ice cream maker (freeze the bowl overnight), and mixed for 15-20 minutes. When it's finished it's the consistency of soft serve. I opted to transfer it into an ice cream lidded container and save it for dessert.
Homemade Strawberry Ice Cream
Sweet and creamy Strawberry Ice Cream is easy to make with only a few ingredients.
Ingredients
2

cups

fresh strawberries

washed and halved

3/4

cup

whole milk

2/3

cup

granulated sugar

1 1/2

cups

heavy cream

1

tsp

pure vanilla extract

pinch

salt
Instructions
**Don't forget to freeze the ice cream canister prior to making ice cream. Check your manual for instructions.

In a bowl, add halved strawberries and 1/3 cup of the sugar. Mash (with potato masher), until strawberries are well chopped. You could also use a food processor if you prefer. Set aside.

In a medium bowl, use a hand mixer (or whisk well) to combine the heavy cream, milk, remaining sugar, and vanilla. Once it's well mixed, add in strawberries (with juices). Cover and refrigerate until well chilled (1-2 hours or overnight).

Follow your ice cream maker's manual for it's specific instructions, mine went like this:

Place frozen ice cream canister onto machine and turn on machine. Slowly pour ice cream mixture into canister and mix until thickened (15-20 minutes). The ice cream should have a soft serve consistency. For a firmer consistency, transfer the ice cream to an airtight container with a lid and place in freezer (for about 2 hours). Remove from freezer 10-15 minutes prior to serving.