We've all seen the traditional berry shortcake, but I thought I'd put a little twist on it and do a semi-homemade, quick, Pizzelle Lemon Berry Shortcake. Who doesn't love whipping up an easy and impressive dessert?
I have a Pizzelle Maker similar to this Cuisinart model, but I picked up my pre-made pizzelles from Marshalls (of all places). My first thought was to do a chocolate berry something, but when I realized I had a jar of lemon curd in my pantry, I decided to go lemon berry. Of course, you can certainly make your own pizzelles and your own lemon curd, but then it wouldn't really be semi-homemade, or quick and easy. Sometimes it is definitely ok to take a short cut!!
This is definitely an inspiration recipe, meaning there is no recipe posted below and you can put your own twist on it by switching up the ingredients to suit your taste. My layers went something like this: pizzelle, a good heaping of sweet lemon curd, fresh mixed berries (slightly sweetened with a little sugar), homemade whipped cream, another pizzelle, whipped cream, and more fresh berries. I topped it all off with a dusting of powdered sugar and some fresh lemon zest. Now tell me, is this or is isn't it, a dessert worthy of serving to company? I think yes!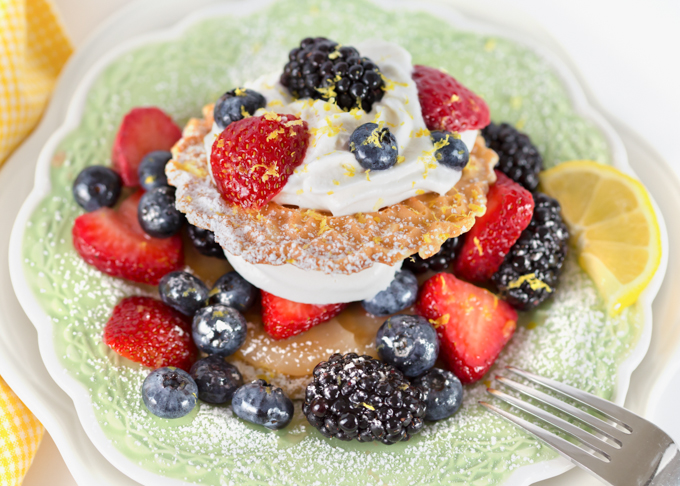 Fortunately I have a few more of these pizzelles left. My next plan is chocolate and berries or maybe making an indoor s'more with them. I'm pretty sure, they'll all be good!