I love Frosted Sugar Cookies!! They are fun to make, make a pretty table decoration, and are a yummy dessert!
I've been making Frosted Sugar Cookies for years, but was recently inspired to up my game a little, and learn how to really decorate a cookie. I have Make Bake Celebrate to thank. She has such a "happy site" full of color and fun desserts. Her cake pops, cookies, and cupcakes are adorable! I've been a fan of hers and following her on Instagram for quite some time, and every time she posts, I want to get in my kitchen and bake. So I did!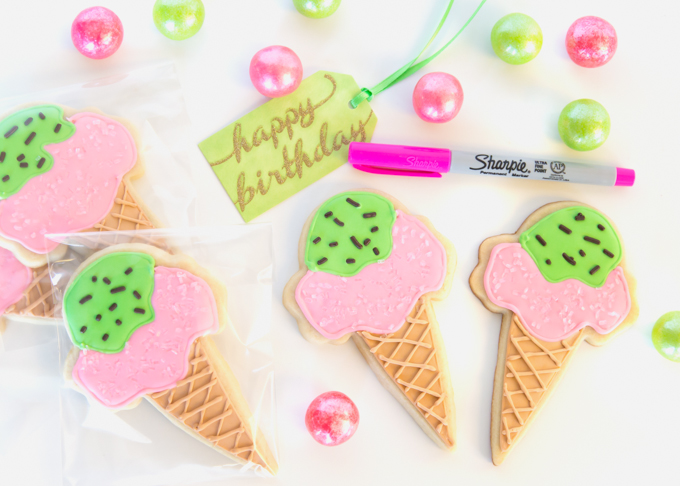 I don't think my Ice Cream Cones and Shamrock Cookies turned out too bad for a first timer. Ok, I'm not truly a first timer, I do make frosted cookies every year for holidays, but this time was different. I tried multiple recipes until I came up with my favorite. I tried a couple of different frosting recipes, and learned about the different consistencies of frosting to use. I used a thick piping frosting and also a softer flood icing (sometimes called run sugar icing). I used piping bags and squeeze bottles, multiple tips, a scribe, and lots of patience. It's not as easy as it would seem and I have a lot of learning still to do.
Another inspiration came from Design Eat Repeat and her love of anything bright and colorful. She posted about a bucket list of hers where she linked Flour Box Bakery and this decorating tutorial on Craftsy (link can found in sidebar ad).  I was sold. I knew I wanted to be better at this.
I brought the Ice Cream Cookies to my sister-in-laws birthday dinner, and got a thumbs up on both taste and cuteness!
I am in love with my new rolling pin. If you enjoy baking rolled cookies or pie crusts, this Joseph Joseph Rolling Pin  is a must have!! As you can see I rolled out my dough to the "red" setting (6mm, which is just slightly less than 1/4″).
Frosted Sugar Cookies
Ingredients
3/4

cup

real butter

soft

3/4

cup

sugar

1

egg

large or extra lg

2

tsp

vanilla extract

2

cup

plus 2 TBSP all purpose flour

1/2

tsp

baking powder

1/4

tsp

salt
Instructions
Using electric mixer, cream together softened butter and sugar.

Add egg and vanilla and continue to cream on high until light and fluffy.

Sift together flour, baking powder, and salt.

With mixer on low, slow add in dry ingredients.

Mix until just combined. DO NOT over mix.

Remove from bowl and hand knead a few times, adding in another TBSP or two of flour if dough seems too sticky.

Divide into two and wrap in waxed paper.

Refrigerate for one hour (or up to overnight).

Preheat oven to 350*

Remove dough from 'fridge and roll when still slightly chilled. Roll to 1/4" and cut with your favorite cookie cutter.

Place on Silpat or Parchment line baking sheet and place in freezer for 5-10 min.

Bake for 8-9 minutes, or until cookies just barely start to brown around bottom edges. DO NOT over bake!!

Cool on baking sheet for 2-3 minutes then transfer to rack to finish cooling.

Decorate with Royal Icing.
**I have a very old and temperamental oven, so I have a thermometer placed inside the oven, and check it often to try to maintain a 350* oven. It's quirky I tell you. I found I can only bake cookies on the center rack, which is okay. As one pan is baking I roll out the next pan of cookies and place in freezer to chill. I continue this one pan routine until I finish.
Since I can't add two recipe cards to my post, I'm going to give you my quick recipe for Royal Icing, but I recommend you go and check out the Royal Icing from MakeBakeCelebrate. She does a great job and really explains the step by step process and the different consistencies of icing.
My Royal Icing:
4 TBSP Meringue Powder, 1/2 tsp cream of tartar, 2/3 cup water, 8 cups sifted powdered sugar.  Using and electric mixer (preferably a stand mixer), mix together water, meringue powder, and cream of tartar on low speed. Increase mixer speed to high and beat until peaks form. In separate bowl, sift powdered sugar. With mixer on slow speed, slowly add in sifted sugar, scraping bowl occasionally. Turn mixer on high and beat until frosting is thick, bright white and stiff peaks have formed. The frosting will be extremely thick. You will thin to different consistencies depending on whether you're piping or flooding.
**Post contains an Amazon affiliate link. My discloser policy can be found here.