Brightly colored SpRiNkLeS are what make these Gooey Sprinkle Cookies (a.k.a. Gooey Butter Cookies) so much fun! Not only are they sweet and delicious, but they're made to match any holiday or occasion! How fun is that!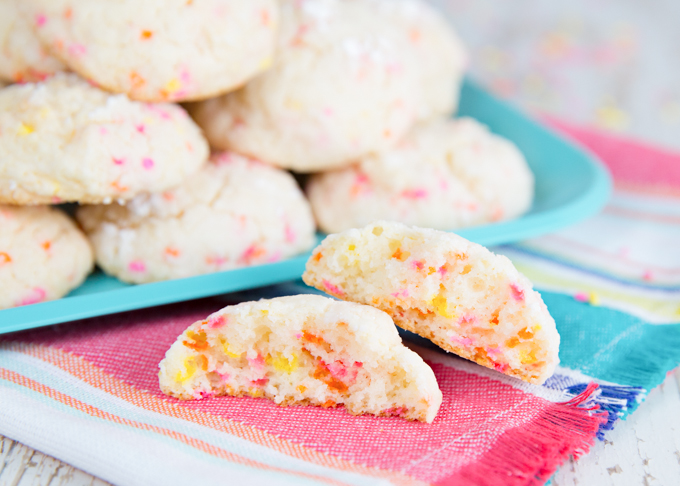 I've been making Gooey Sprinkle Cookies for years and years. In fact, they're about as basic as a chocolate chip cookie. Most everyone has this recipe! I remember getting my copy of this recipe from a friend of my daughters, who said she's been making them for years. I'd love to give credit where credit is due, but I have no idea where or when this recipe originated.
With only a few basic ingredients, this cookie batter is ready for the oven in a matter of minutes! The magic of mine is the sprinkles! I mean come on, why make them without a little fun ever again?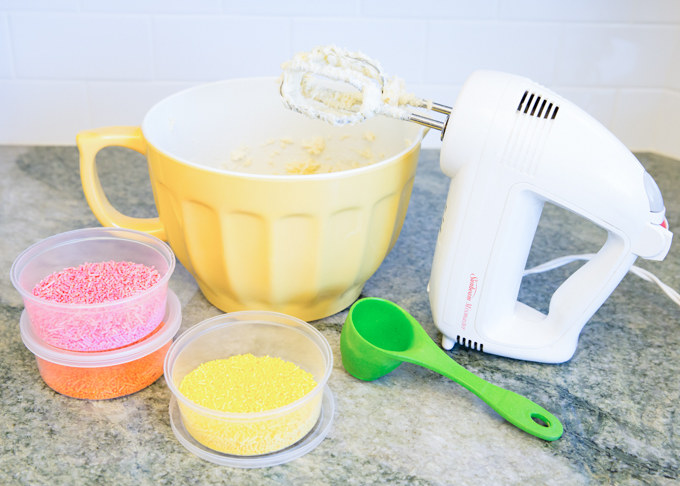 I choose pink, orange, and yellow for two reasons. First, we were delivering these cookies to some new neighbors that moved in down the block and they have two little girls (and what little girl doesn't love these fun colors), and second, it was HOT here today and these colors reminded me of a hot sunny summer day!! I made these same cookies for the 4th of July, and you guessed it, the sprinkles were red, white, and blue.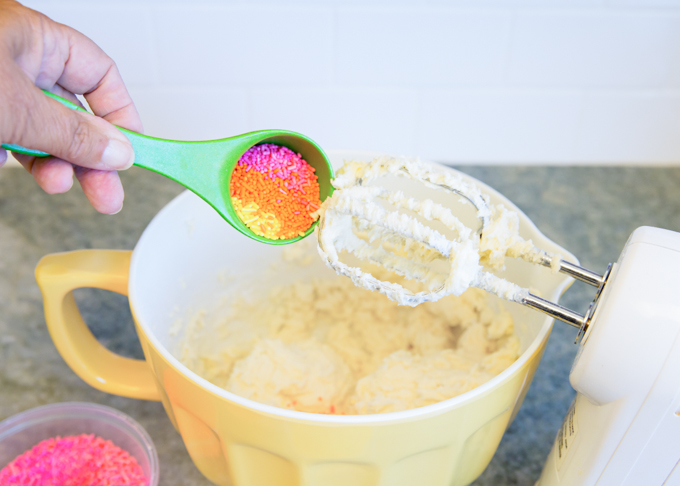 After mixing the cookie batter, I measured out 1/4 cup of sprinkles and stirred them into the batter using a spoonula. I apologize this picture is a bit deceptive, but I neglected to move my mixer until I began to hand stir the sprinkles.
Two things about cookie baking that I've learned over the years, is to always use a Silpat (silicone liner) on my baking sheet and I always use a cookie scoop to keep the cookies uniform in size. After the dough was scooped I rolled them in a very generous amount of powdered sugar.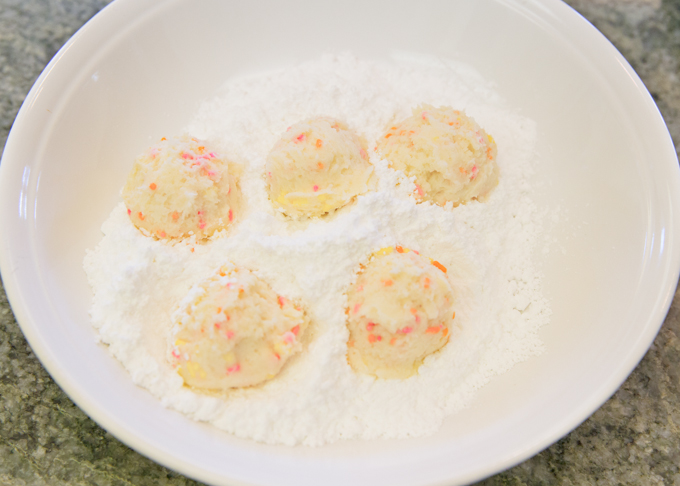 Here they are ready to go into the oven.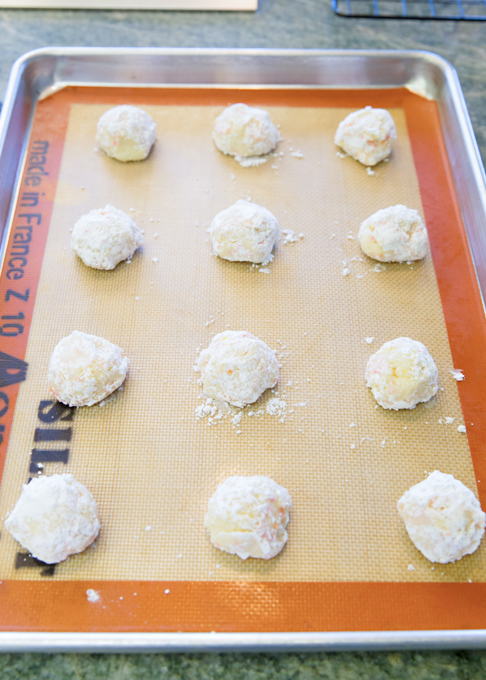 I baked mine for about 11 minutes (but actual time will depend on the size of your cookie and also the exact temp of your oven). Bake until they're just barely golden brown on the bottom.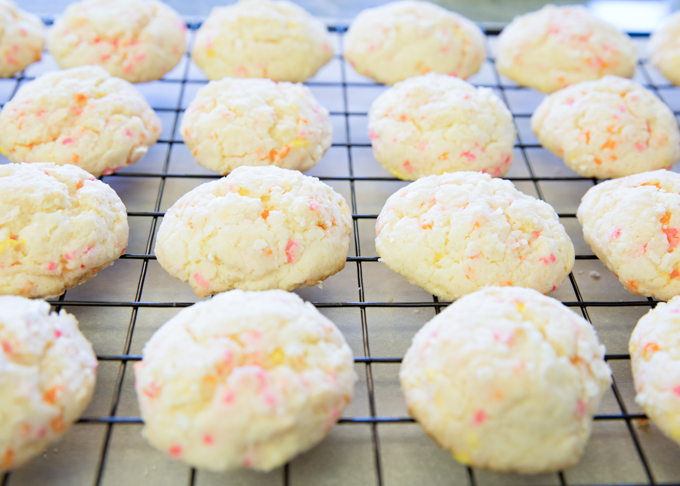 Cool on a wire cooling rack. I guess this is the third thing I always do when I bake cookies. Use a cooling rack.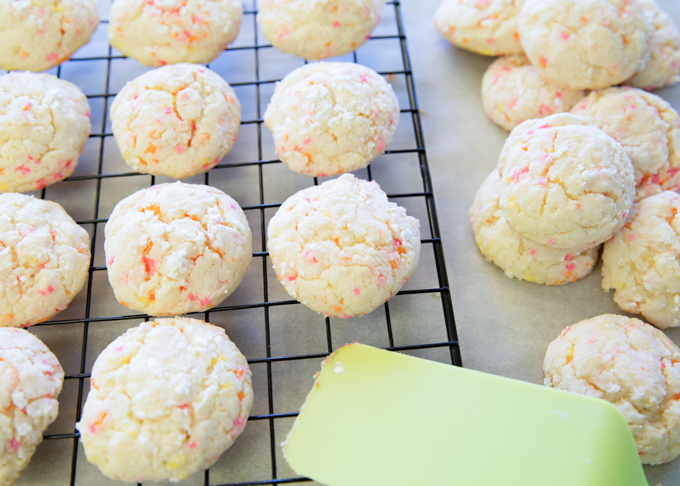 Pretty cute little cookies if you ask me!!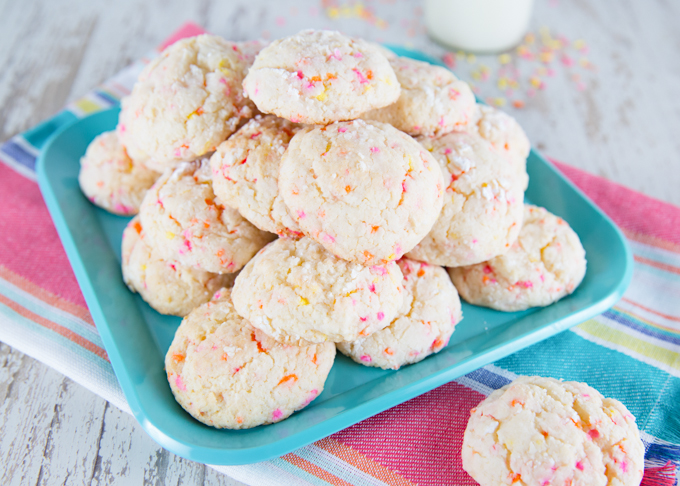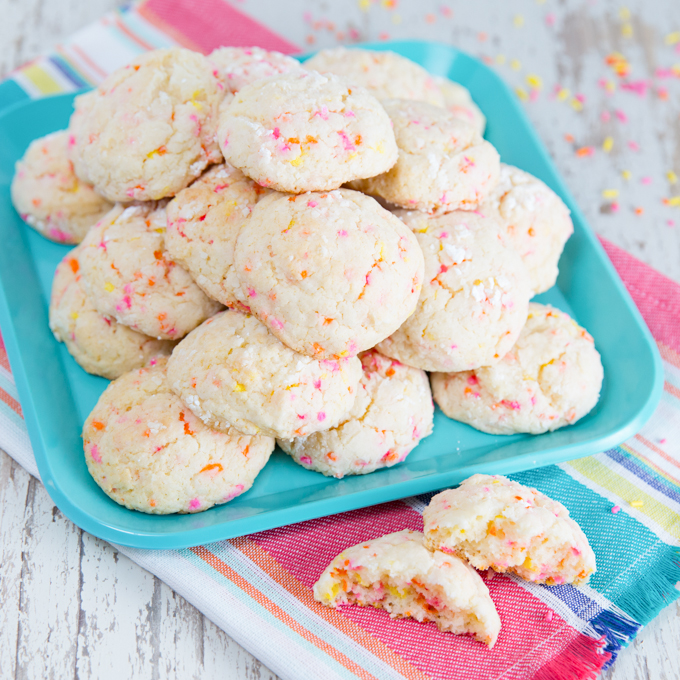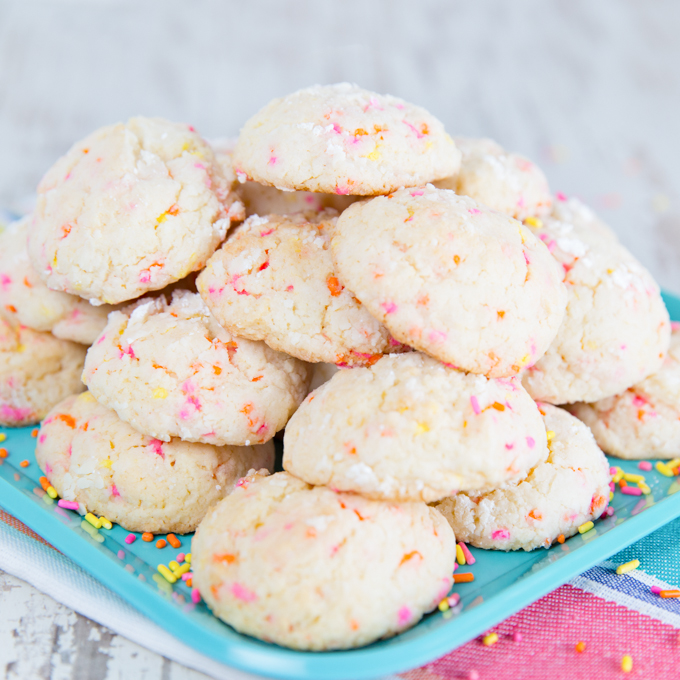 If you love cookies as much as the Cookie Monster does, please pin and don't forget to share on Facebook!
Gooey Sprinkle Cookies
Ingredients
1

8oz package cream cheese (softened to room temp)

1/2

cup

butter

softened to room temp

1

egg

1/4

tsp

vanilla extract

1

box white cake mix

1/4

cup

colored "jimmie" sprinkles

have fun and mix & match those colors

1/2

cup

powdered sugar
Instructions
In a medium bowl, cream together cream cheese and butter.

Mix in the egg and vanilla.

Add cake mix and mix until well blended.

Hand stir in colored sprinkles.

Use a cookie scoop (or roll dough into 1" balls). Roll each cookie dough ball in powdered sugar and place on lined cookie sheet (I use a silicone liner), but parchment is fine.

Baked in preheated 350* oven for 10-13 minutes, or until bottoms of cookies are light golden brown. Cool on wire racks.

Enjoy!!
Love cookies??
Peanut Butter M&M Cookies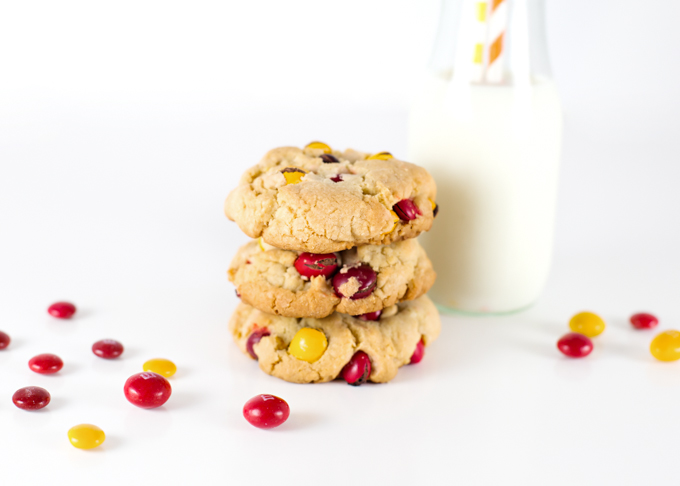 Frosted Sugar Cookies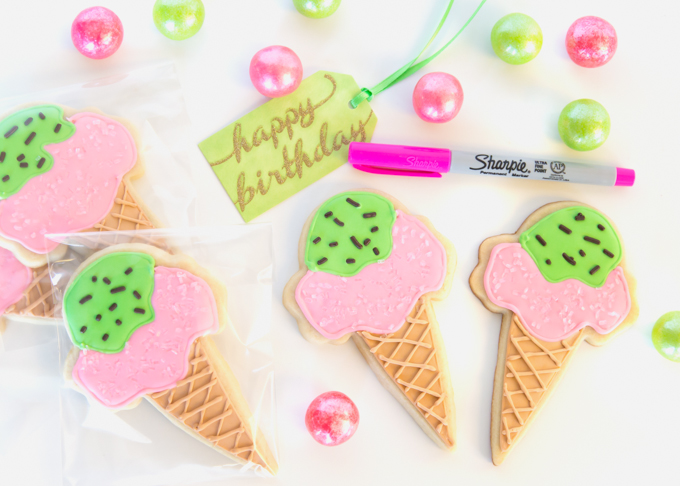 Potato Chip Cookies