What do you do when you have left over chicken? Make Chicken Caprese Pasta Salad of course! So quick and easy and so delicious!! And, quick and easy even includes a homemade Honey Dijon Dressing!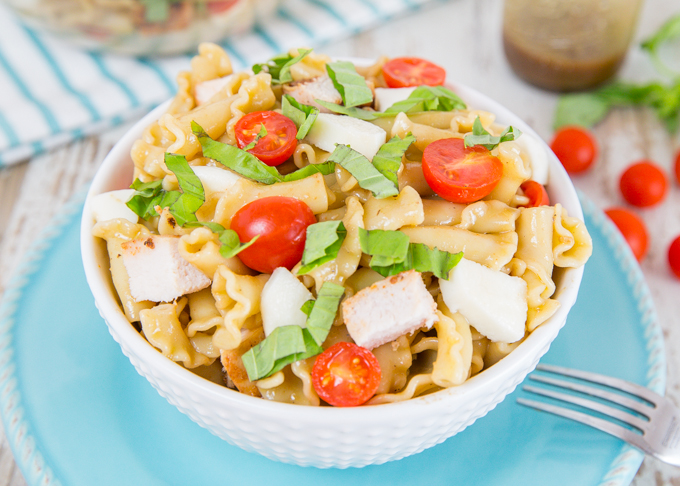 I found this Chicken Caprese Salad the perfect use for a few leftover pieces of grilled chicken, but you can certainly take a shortcut and use a rotisserie chicken, or bake off a chicken breast or two. Fresh cherry tomatoes, fresh mozzarella, and fresh basil went perfect with the chicken, pasta, and delicious Honey Dijon dressing.
Making the dressing was as easy as putting a few pantry ingredients into a mason jar, putting on the lid, and giving it a few good shakes! Doesn't this look fresh and delicious?!?
As you can tell I made a fairly big bowl of pasta salad. I used a box of Barilla Campanelle. It's one of my favorite pastas to use for pasta salad because I feel like it's a sturdy pasta and holds up to adding lots of other ingredients. Also, the twisty shape holds extra dressing!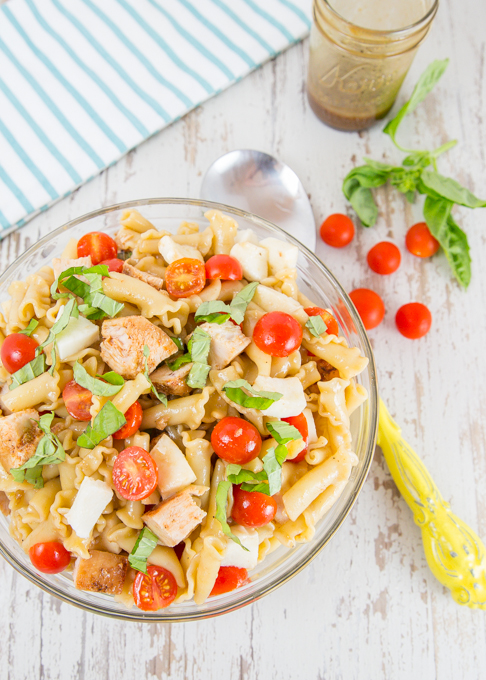 We enjoyed this salad as our main course, which was perfect for a warm summer evening!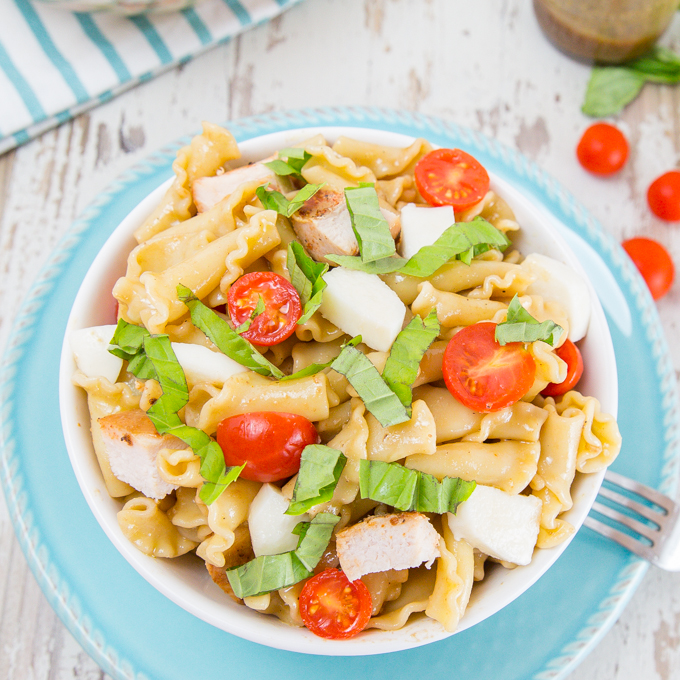 I hope you'll enjoy this Chicken Caprese Pasta Salad as much as we did! FYI, my husband is already requesting that I make it again!
Please pin 🙂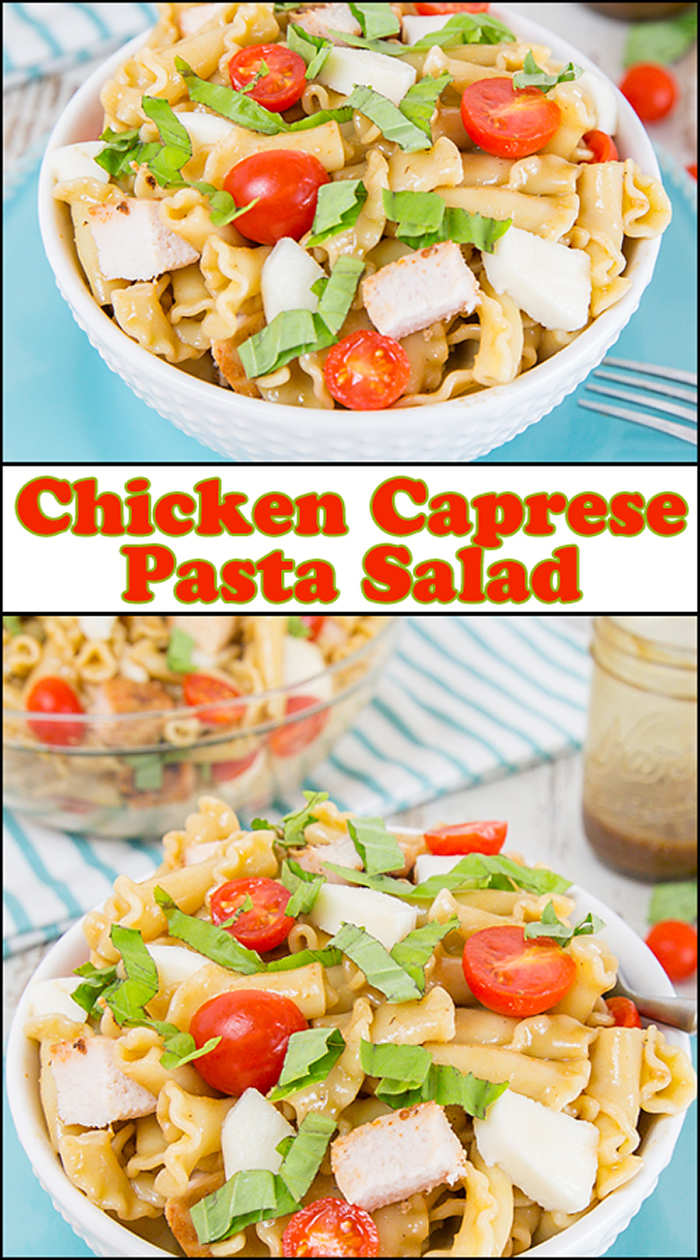 Chicken Caprese Pasta Salad
Measurements are approximate. Please add as little or as much chicken, tomato, mozzarella, and basil as you'd like.
Ingredients
I box Barilla Campanelle pasta

or your favorite pasta

2

cups

cooked chicken

cubed into bite size pieces

1

cup

cherry tomatoes

cut in half

1

cup

fresh mozzarella

cubed

1/2

cup

fresh chopped basil

Honey Dijon Dressing *see recipe in instructions
Instructions
Cook pasta according to package directions. Lightly rinse with cold water and drain.

While the pasta is cooking, cut chicken into bite size cubes, cut cherry tomatoes in half, and cube mozzarella.

Make the Honey Dijon Dressing **see recipe below.

In a large bowl, add pasta, chicken, tomatoes, mozzarella.

Top with about 3/4 of the Honey Dijon Dressing and lightly toss until well mixed. Refrigerate for 30-60 minutes. Before serving top with fresh topped basil.

Add additional dressing, and salt & pepper to taste.

Honey Dijon Dressing: 2 cloves fresh crushed garlic, 1 tsp salt, 3/4 tsp fresh cracked pepper, 4 tsp dijon mustard, 4 tsp honey, 1/4 cup balsamic vinegar, 1/2 cup olive oil. Combine all ingredients in lidded mason jar and shake, shake, shake. Dressing will thicken slightly.
If you love a delicious main course salad, you might also want to try:
Grilled Steak Salad w/Creamy Blue Cheese Dressing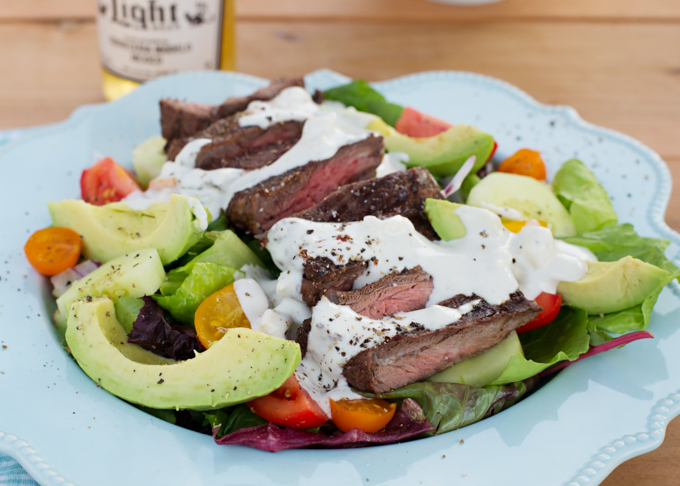 Seared Ahi Salad w/Ginger Sesame Salad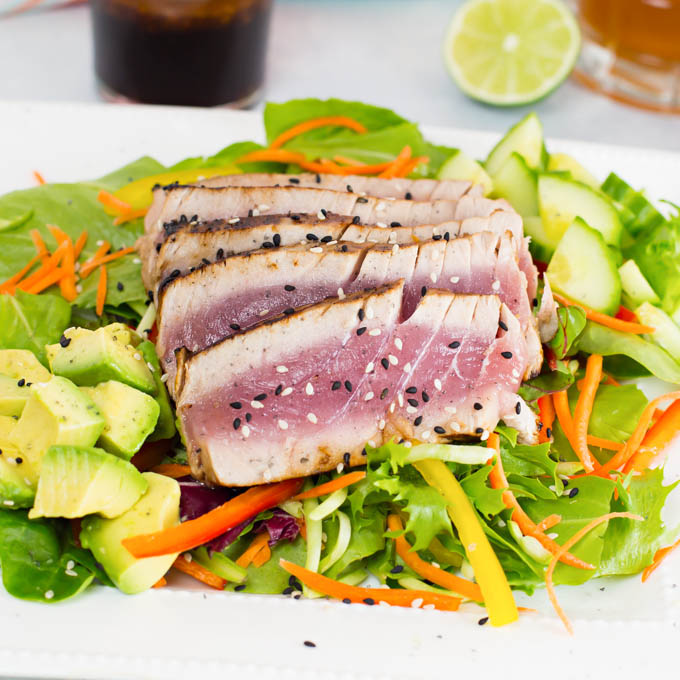 Chicken Caesar Salad