Absolutely amazing! If you love Seared Ahi Salads and only thought you could get them at a restaurant, then I'm here to prove you wrong. You can easily make this Seared Ahi Salad with Sesame Ginger Dressing at home!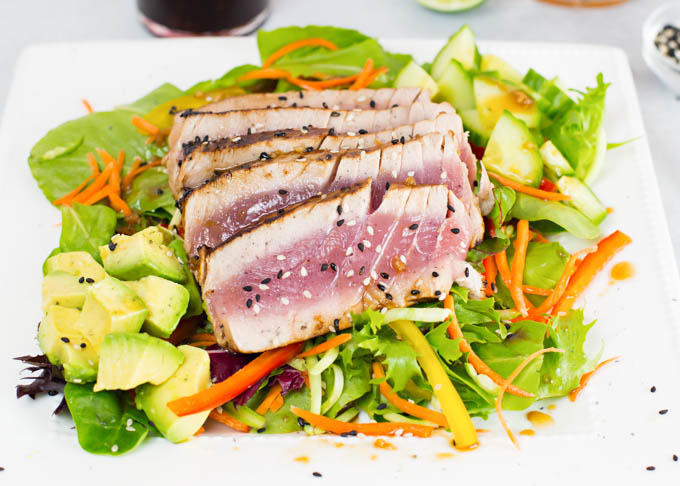 I love meals that are easy to prepare, but don't skimp on flavor. This Seared Ahi Salad is one of those meals. I made a quick marinade (that I used for both marinating and the dressing) and let the Ahi marinate for about an hour. The salad came together in a matter of minutes: mixed greens, cucumber, carrots, bell peppers, broccoli cole slaw mix, and avocados.
The light dressing, which I also used as the marinade, was full of flavor. A few simple ingredients (all of which I had at home), was as quick to make as the salad. I mean, how can you go wrong with the flavors of fresh ginger, lime, garlic, soy sauce, and sesame oil? A good pinch of red pepper flakes would even kick it up a notch, although it was delicious as is.
I had thought about grilling the ahi, but it was pouring down rain, so I used my cast iron skillet. I cooked the ahi steaks for about 7 minutes. Being that this was my first time cooking ahi, I was very pleased with how they turned out. A little crusty on the outside, and rare in the middle.
In northern CA, where I live, we've had a very wet and rainy winter. We're thankful to be out of the five year drought, but I am done with wet, and so ready for the sunshine. This Seared Ahi Salad will be the perfect "eat outdoors on a warm summer evening" kind of meal.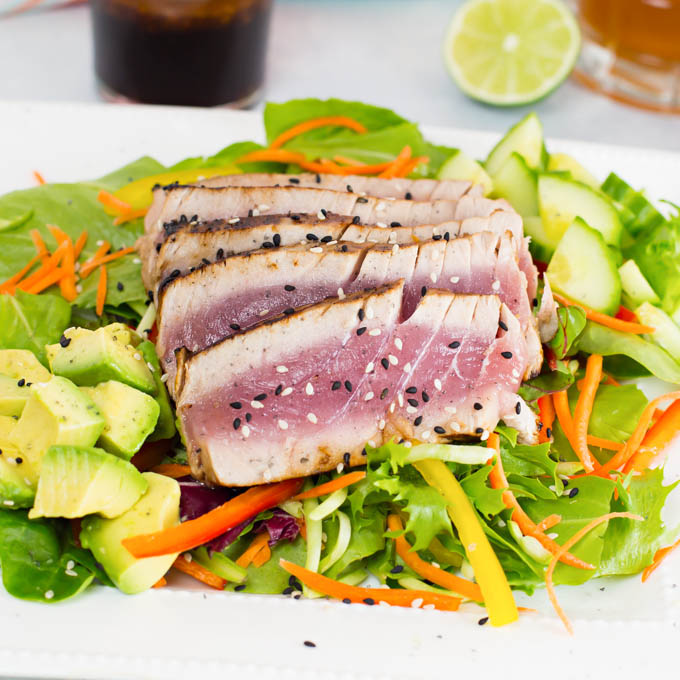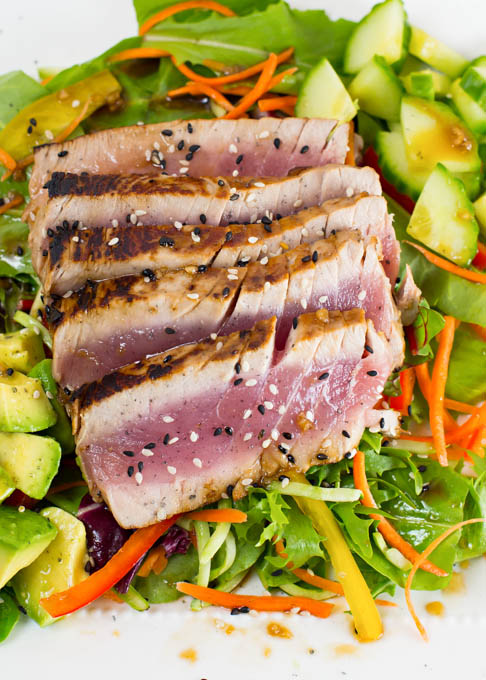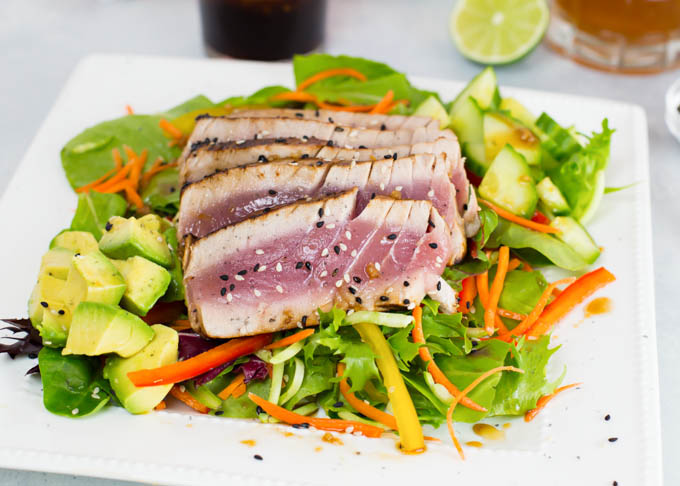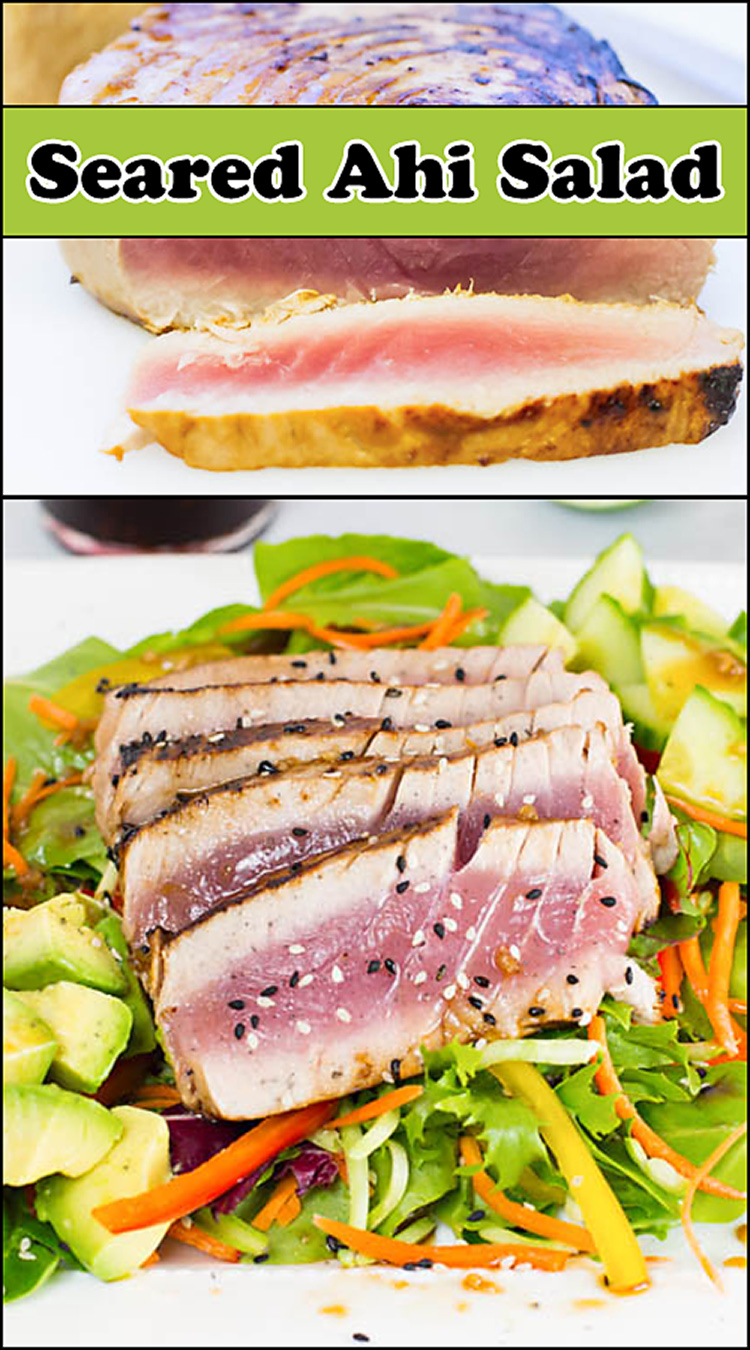 Seared Ahi Salad with Ginger Sesame Dressing
**Tip... to prevent avocado from turning brown after it's cut, squeeze a little fresh lime juice on it.
Ingredients
Large Ahi steak

about 1 lb

1

TBSP

coconut oil

1/4

cup

soy sauce

3

TBSP

sesame oil

2

TBSP

honey

3

TBSP

rice vinegar

2

tsp

fresh ginger

grated with zester

2

cloves

fresh garlic

crushed

1

lime

juiced

Sat & pepper to taste

*Optional: red pepper flakes to taste

1

lime for serving

sesame seeds for serving

For salad:

mixed baby greens

carrots

shredded

red bell pepper

yellow bell pepper

english cucumber

broccoli cole slaw mix

purchased bagged in the produce section

avocado
Instructions
Combine in med sized bowl: soy sauce, sesame oil, honey, rice vinegar, ginger, garlic, juice of 1 lime. Whisk together. Add salt & pepper to taste. If you want it a little spicy, add about 1/2 tsp red pepper fakes.

In large zip lock baggie, add ahi tuna steak. Pour in 1/4 cup dressing. Marinate for 30 minutes (or up to a couple hours). Reserve remaining dressing to use as salad dressing.

Prepare salad. Layer lettuce on platter or shallow bowl, top with grated carrots, thinly sliced bell peppers, sliced cucumber, broccoli cole slaw mix, and cubed avocado.

In cast iron skillet over medium heat, heat pan and add coconut oil. Remove ahi tuna steak from marinade (pat or shake off excess marinade), and cook for approximately 3-5 minutes per side. Cooking time will depend on thickness of ahi steak and how rare you want it. I cooked mine for about 7 minutes total.

Thinly slice ahi tuna steak and place onto salad. Drizzle with the remainder of Ginger Sesame Dressing (or to your liking), then top with a sprinkle of sesame seeds and a squeeze of lime.

Enjoy!