They say you eat with your eyes first, and it's very true with this Blackberry Spinach Salad. It's almost too pretty to eat. ALMOST!!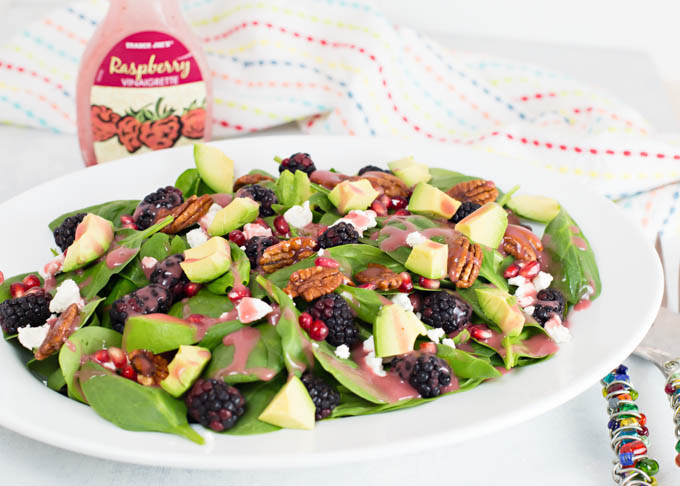 We enjoyed this delicious and beautiful salad with a little grilled skirt steak on our anniversary. It was a perfect meal to celebrate 36 years of marriage to my best friend. If anyone tells you that marriage is hard, I'd have to disagree. If you're married to the right person, it's not so hard. And if you realize that each and every day is a gift, it's even easier. We've honestly been so blessed!
This Blackberry Spinach Salad is also made every Christmas and Thanksgiving. It's so delicious and just too pretty not to be on our holiday table!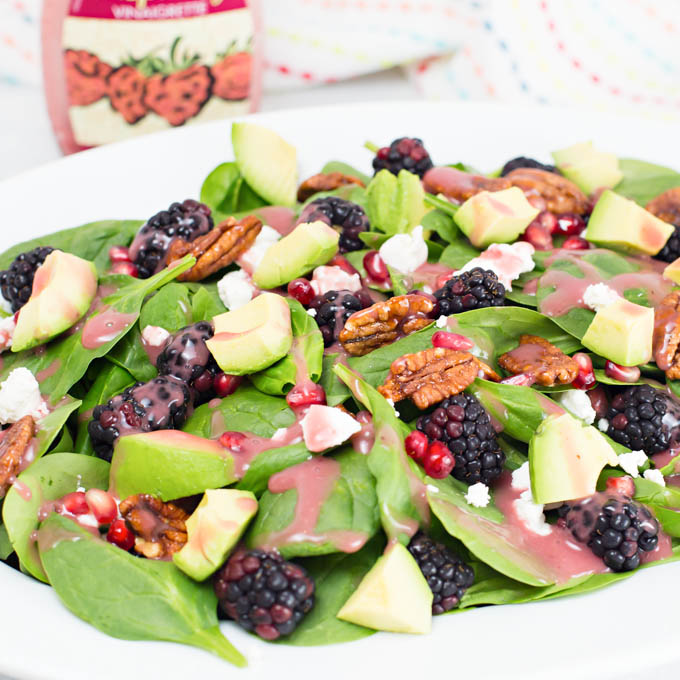 Even without the dressing, it's so pretty! And, it tastes as good as it looks! I've made this salad a number of times now and I'm always asked for the recipe.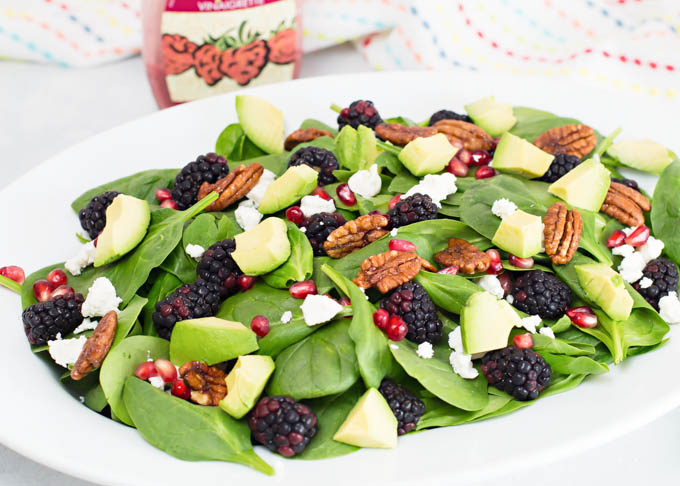 As delicious as it looks without the dressing, a light drizzle of Raspberry Vinaigrette really makes the salad. You could use a simple balsamic dressing, but there's something about the subtle sweetness of the Raspberry Vinaigrette that is perfect mixed with the spinach, berries, creamy avocado, and tangy goat cheese.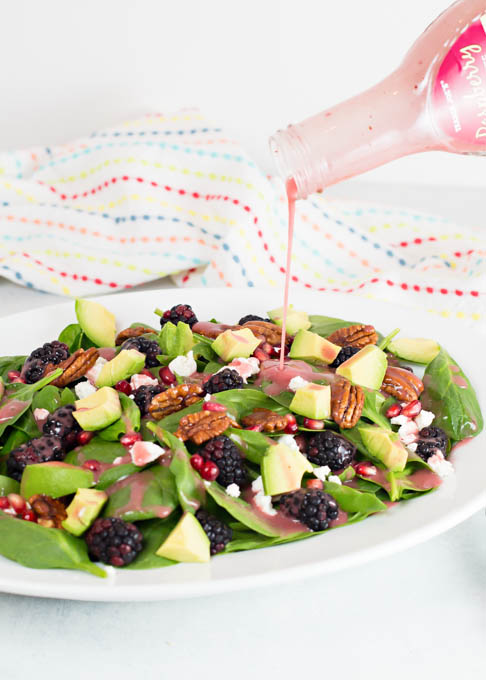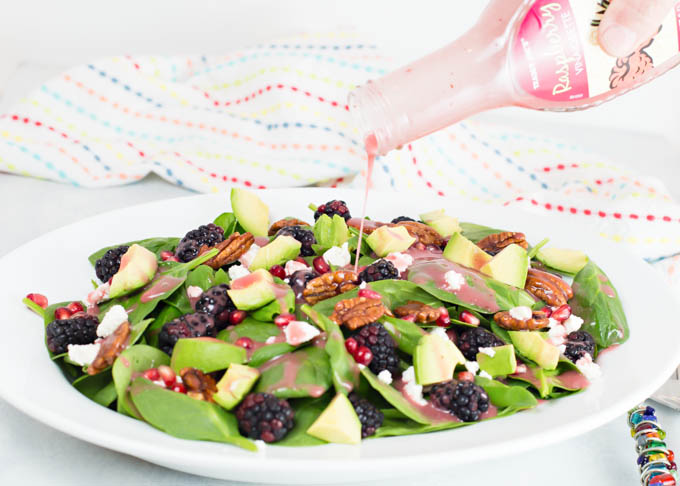 I typically make my salads on a large platter as I did above, but I wanted to show how it looked if it were plated individually. Isn't is gorgeous? I mean, if a salad can be gorgeous, this one is!
I really hope you'll give this salad a try. I think you'll love it!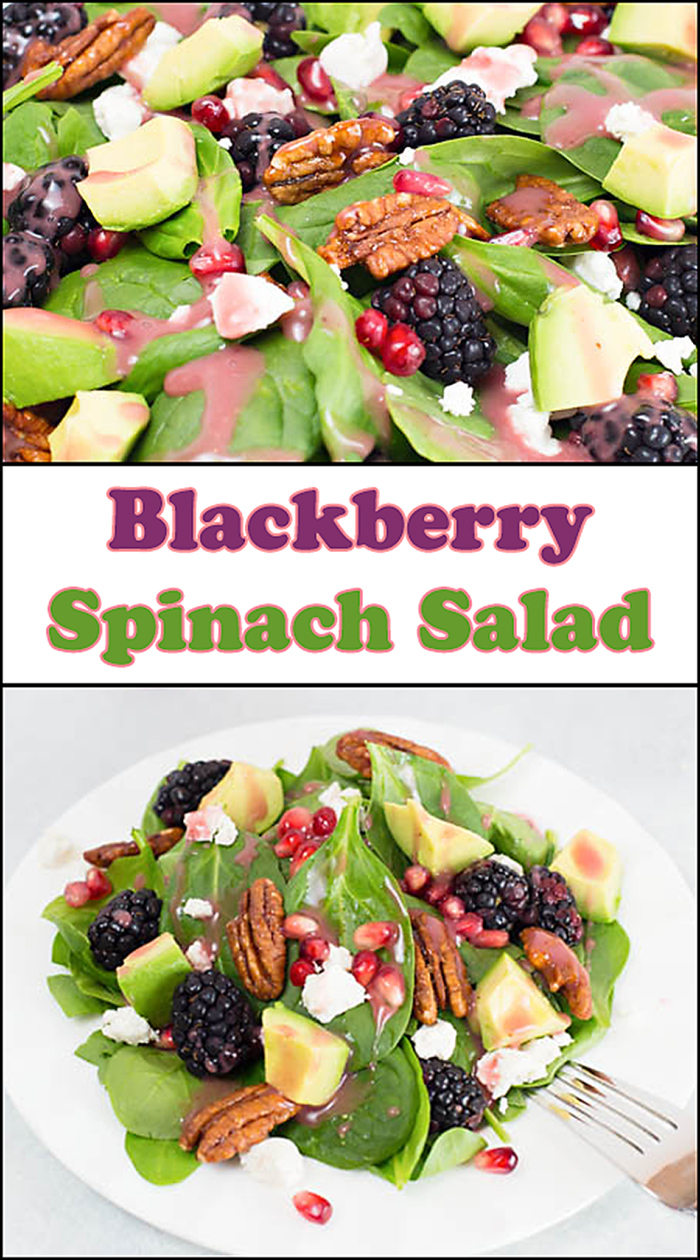 Blackberry Spinach Salad
No real directions or exact quantities are needed to make a salad. It all depends on how much you need to make.
Ingredients
Baby spinach

Blackberries

Avocado

Pomegranate seeds

*optional

Candied Pecans

Goat Cheese

Raspberry Vinaigrette
Instructions
Layer fresh baby spinach on rimmed platter. Top with cubed avocado and fresh blackberries. Add crumbled goat cheese and top with candied pecans and pomegranate seeds. Drizzle with raspberry vinaigrette and toss lightly.
Here's a few more salads you might enjoy!
Grilled Nectarine & Burrata Salad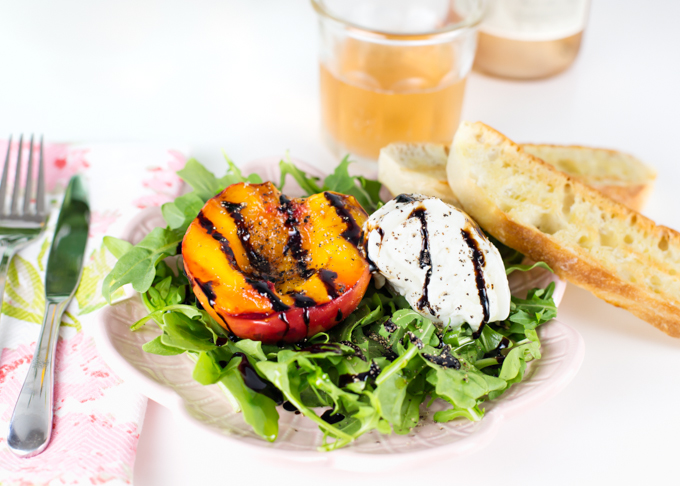 Broccoli Salad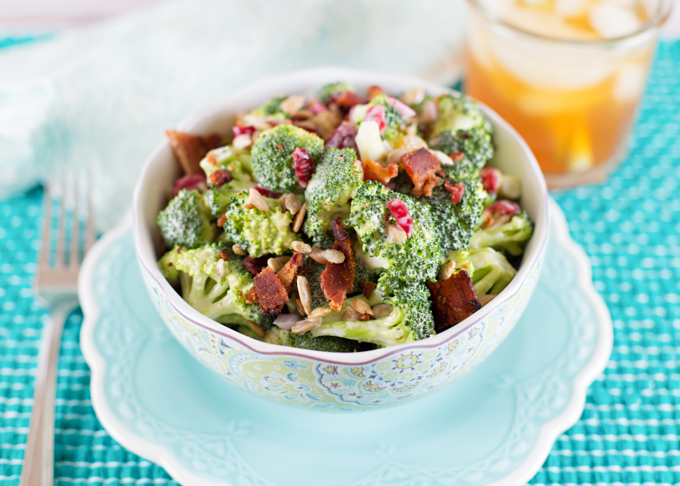 Chicken Caesar Salad