I love a main course salad and a Chicken Cobb Salad is one of my all time favorites! As we're moving into longer sunny days, I begin to crave BIG salads. A Chicken Cobb Salad is packed with everything that makes a salad right!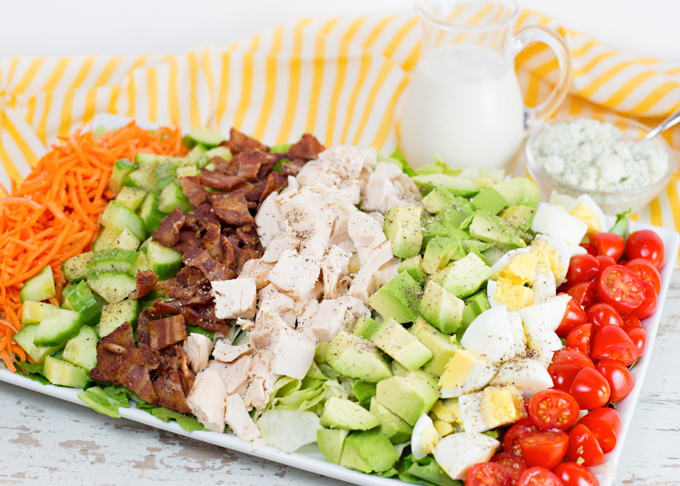 I love that Wikipedia has a Cobb Salad definition: "The Cobb salad is a main-dish American garden salad typically made with chopped salad greens, tomato, crisp bacon, boiled, grilled or roasted chicken breast, hard-boiled eggs, avocado, chives, Roquefort cheese, and red-wine vinaigrette." With just a few changes, mine is almost dictionary perfect!
Just look at all the delicious ingredients:
Ripe cherry tomatoes, hard boiled eggs, creamy avocado, tender rotisserie chicken, salty crispy bacon, cucumbers, and shredded carrots.
Plate it up, then drizzle (or pour on) ranch dressing and lots of crumbled blue cheese!!! Often a blue cheese dressing is used, but I've found, that there are a lot of folks who don't care for blue cheese, so I've started serving my Chicken Cobb Salad with a creamy ranch dressing and serving the blue cheese on the side. Everyone is always happy and loves this salad!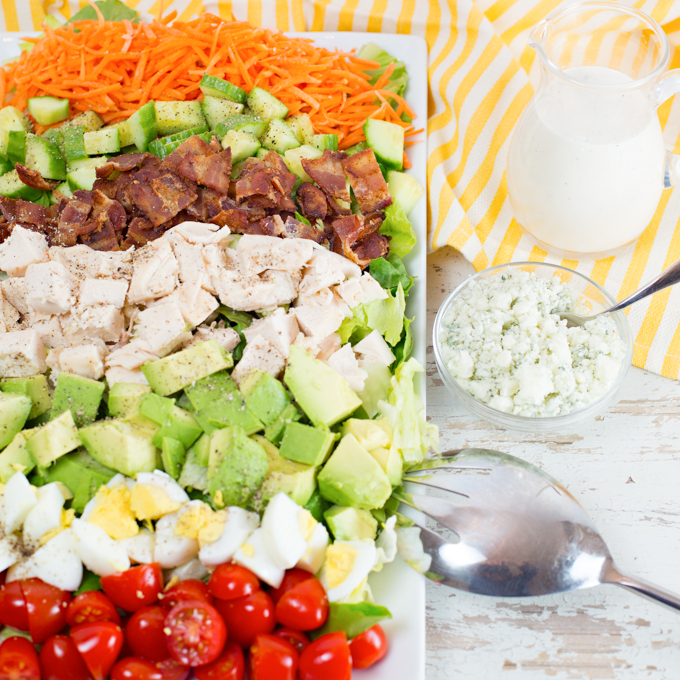 And now, hiding head in shame, I have to tell you that I didn't get any pics of this plated. I guess my husband and I were just too hungry, because before I knew it, we'd devoured just about all of this!
I don't think you'll have any problem though….. just imagine… we served in shallow bowls (pretty good sized because after all, this was our main course) and piled on some of the lettuce (it's under all the delicious topping on the platter, you just can't see it because for me, it's about all the toppings). After we served the lettuce, we each loaded on our favorite toppings! A little of this and a whole lot of that, all topped with a drizzle (or in my husbands case a lot of dressing) and plenty of blue cheese crumbles. Another round of fresh cracked pepper and we sat down and enjoyed this very delicious and filling Chicken Cobb Salad.
If you prefer, you can serve it all in a large salad bowl, toss with with the ranch dressing and call it done. I just like serving a layered salad where it's easy to pick and choose what you like/dislike.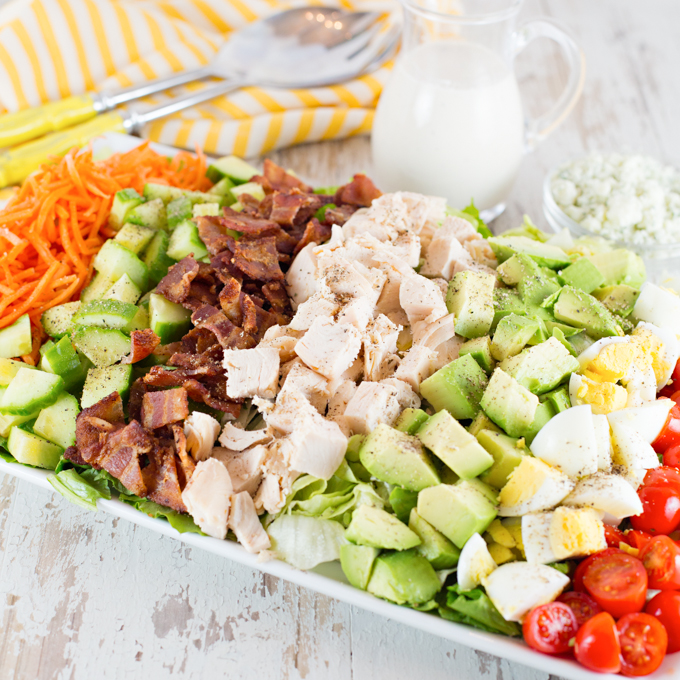 Cobb Salad
I'm not posting amounts, just use enough to make the amount you need. I've made this salad to feed two, but also to feed 25. Just adapt the amounts.
Ingredients
Iceberg and romaine lettuce

or mixed greens if you prefer

Rotisserie Chicken

cubed

Hard Boiled Eggs

peeled and sliced

Cherry tomatoes

halved

Avocado

cubed

Cucumber

peeled and sliced

Carrots

grated

Bacon

fried crispy and chppped

Ranch Dressing

I used Hidden Valley

Blue Cheese

use a good quality, not the packaged pre crumbled
Instructions
Layer lettuce on platter or in shallow large serving bowl.

Topped with cubed chicken, chopped crispy bacon, diced hard boiled eggs, halved cherry tomatoes, grated carrots, sliced avocado, and cubed avocado.

Top with a little kosher salt and lots of freshly cracked pepper.

Serve with your favorite Ranch Dressing and Blue Cheese crumbles.
If you love salad as much as I do, you need to check out the following recipes!
This Chicken Caesar Salad is one of my all time favorites!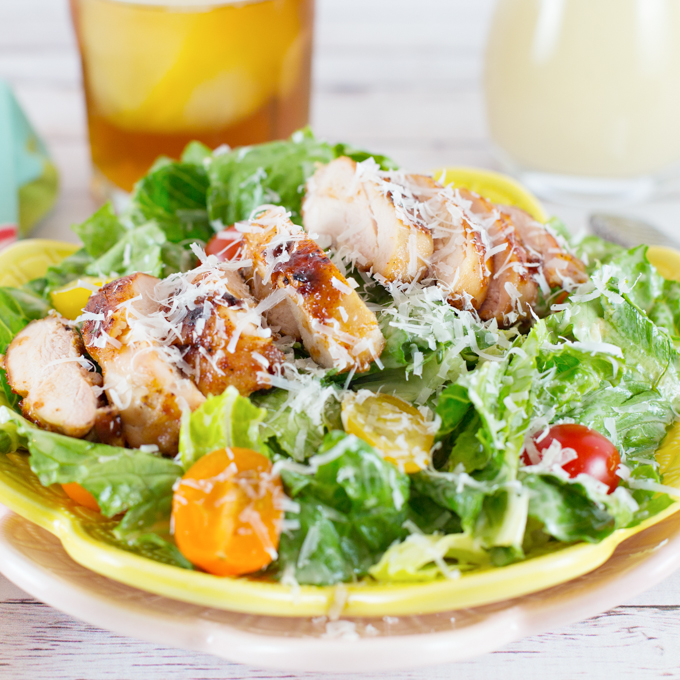 Asian Coleslaw is another great main course salad and makes great leftovers too!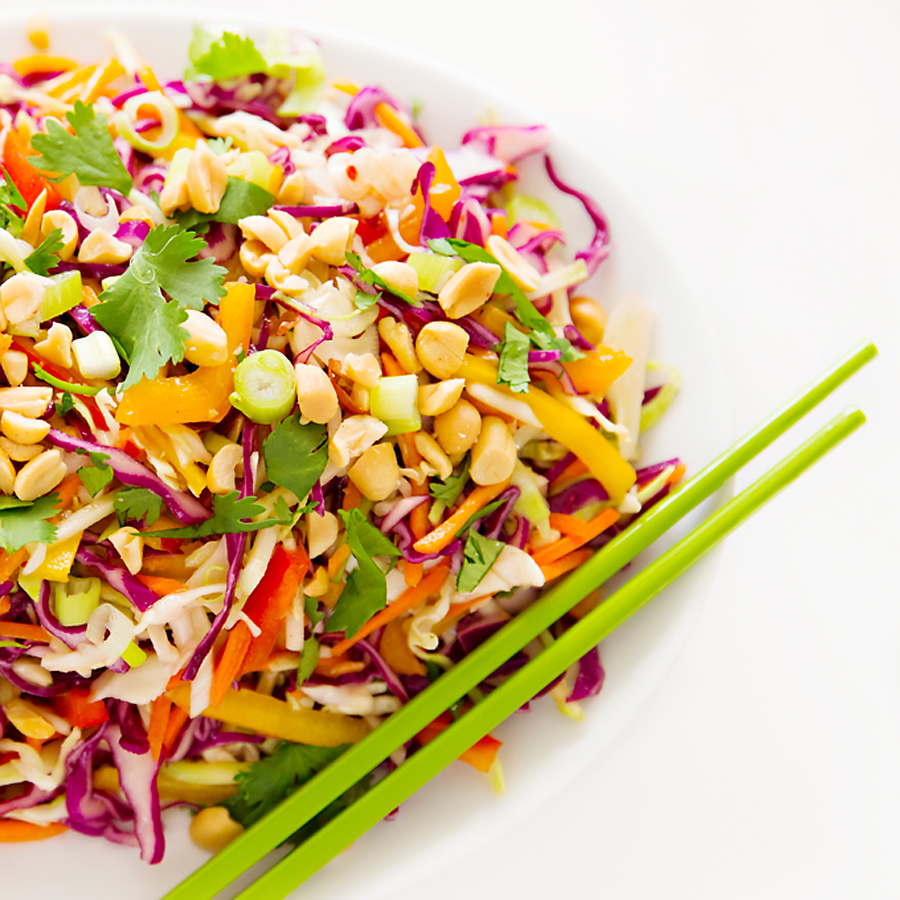 One more main course salad that we can't get enough of is my Seared Ahi Salad w/Ginger Sesame Dressing.