Words cannot describe the simplicity and deliciousness of this salad. A grilled nectarine, creamy burrata, peppery arugula, and a drizzle of balsamic glaze make this Grilled Nectarine & Burrata Salad indescribably delicious! I served it with a slice of grilled Pan Rustica bread and ended up by eating it atop the bread! As my six year old grandson (who has quite the palate for good food), would say, "oh the flavors!!"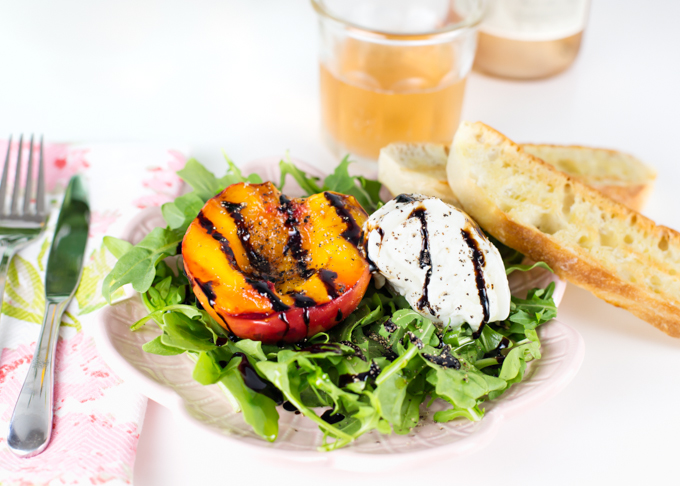 Kind of a funny story, but I made a salad similar to this a few days ago, but we had company for dinner and I didn't have the opportunity to take photos. However, it was a blessing in disguise that I had to remake it. Last time, I had to substitute mozzarella for the burrata because after going to two different stores and company arriving soon, I was running out of time. Today's salad DID NOT compare!!! Do not, do not, do not, ever substitute burrata! Never!!
As I was plating todays salad, my first thought was, wouldn't this be perfect to serve at a lunch with your girlfriends?? Not only is it delicious, but it's a pretty salad. They'd love you for it, I promise!! Saying that, I also know that my husband would love it!!
I feel like a spokesman for Trader Joe's, but I need to brag on their Balsamic Glaze and also their Pan Rustica bread. Both of those items are go-to's for me. And, it's also where I ended up finding the burrata! For those of you that have never had burrata, it's a fresh Italian cheese made from mozzarella and cream. The outer shell is solid mozzarella, while the inside contains both mozzarella and cream, giving it a delicious soft creamy center.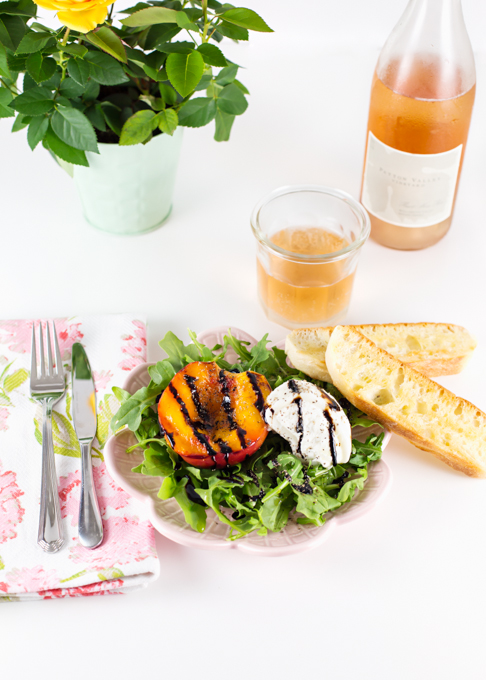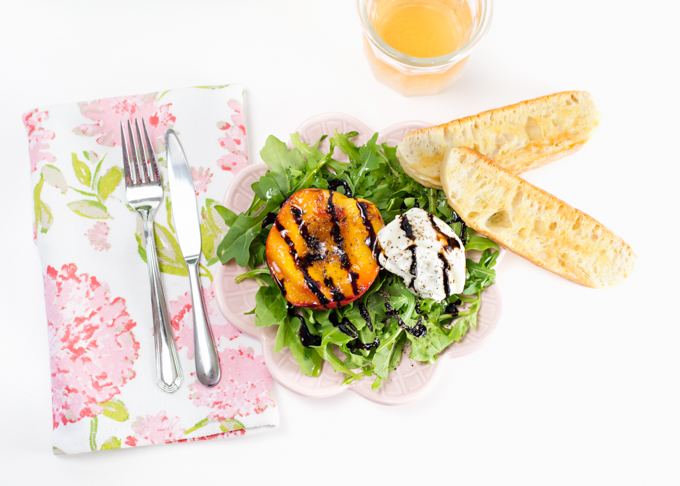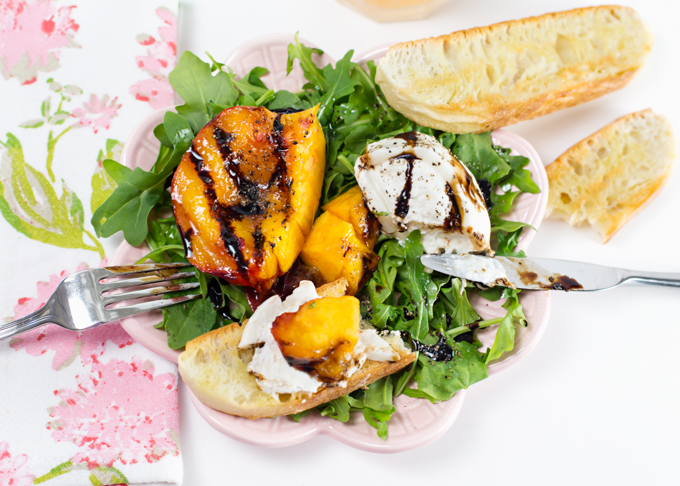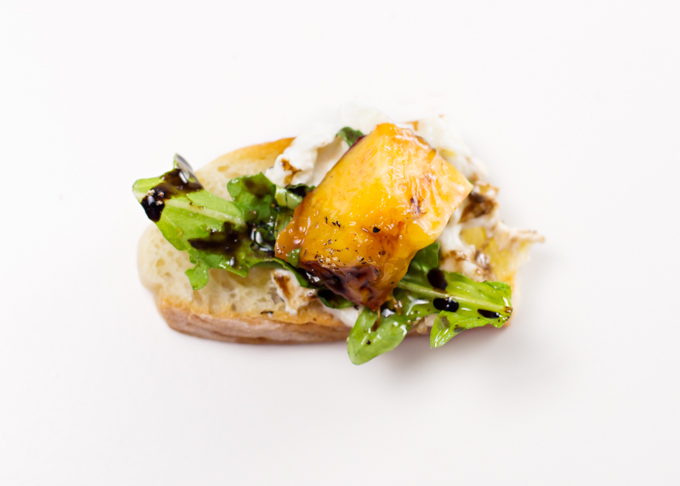 As always, if you like this recipe, please share it for me!!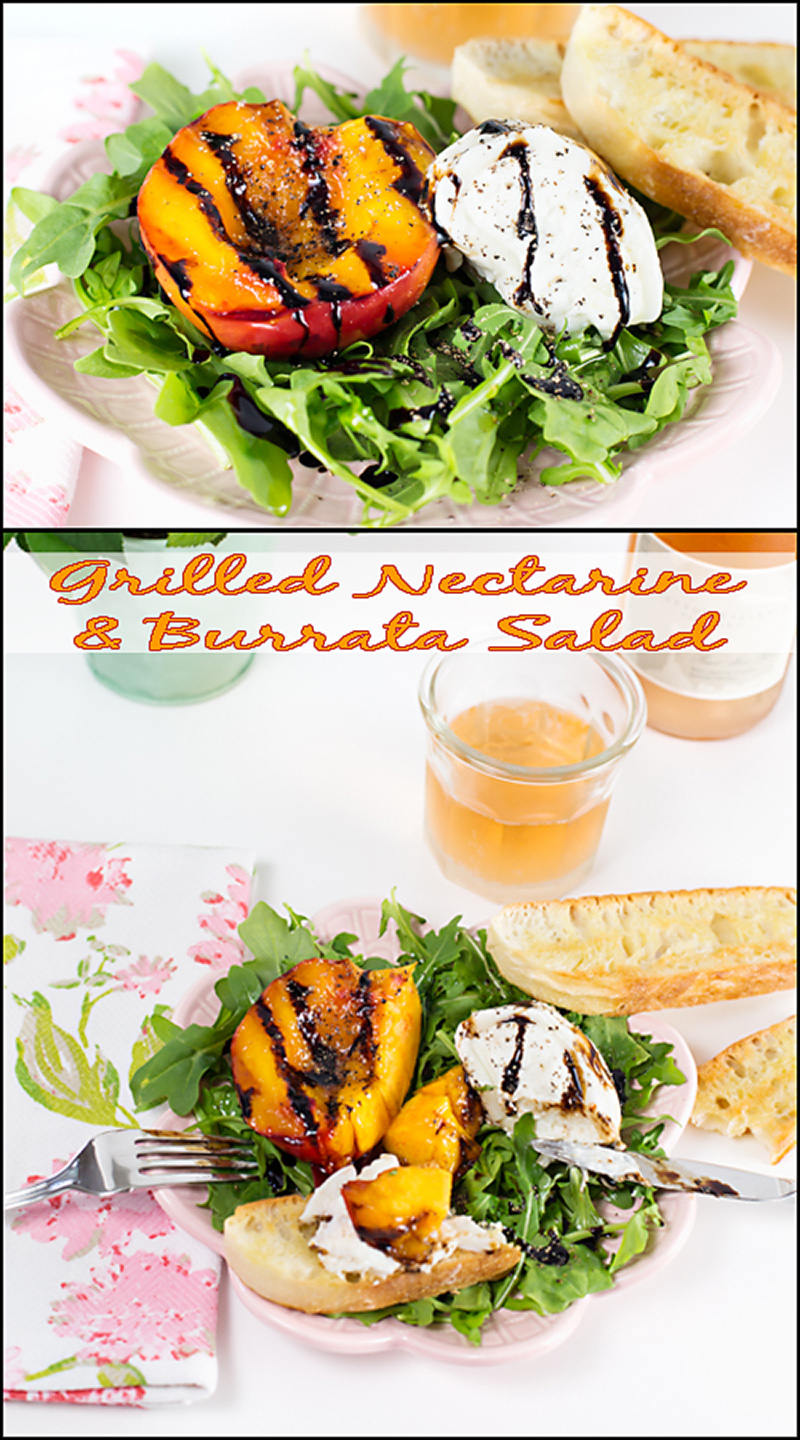 Grilled Nectarine & Burrata Salad
Ingredients
For four servings:

2

ripe nectarines or peaches

halved and pit removed

olive oil drizzle

2

burrata balls

cut in half

4

cups

arugula

1/4

cup

balsamic glaze

I used Trader Joes', but you can make your own if you prefer

olive oil drizzle

fresh cracked pepper
Instructions
Cut nectarines (or peaches) in half and remove pit. Lightly drizzle olive oil over cut side of fruit. Place on med grill (I used my outdoor gas grill, but a grill pan would also work) and grill for about 5 minutes or until warmed with nice grill marks.

Cut burrata balls in half (mine were large, so 1/2 was plenty).

Plate arugula and top with grilled nectarine half and burrata.

Slighly drizzle a little olive oil on plated arugula.

Drizzle all with balsamic glaze.

Top with fresh cracked pepper.

I served mine with sliced, grilled Pan Rustica bread. Brush bread with a little olive oil and grill over med heat grill pan. Immediately rub with fresh garlic.
Make sure and check out this round-up of more than 30 Delicious Summer Salads!