This Roasted Corn Salad is a go-to and you'll see it often served alongside any BBQ dinner at my house. One of the first times I served it, I was told, "This is so good, it's like a de-constructed salsa. I could eat it all with a bag of tortilla chips."
It's been said that you eat with your eyes before you taste, and if that's the case, this salad is DELICIOUS!! It is so fresh and flavorful and colorful!
Don't be thrown off by the steps in the recipe. Yes, you need to grill the corn, and prep the veggies, and make a dressing, but it is worth every step. The slightly sweet lime dressing is perfect with the roasted corn, tomatoes, cilantro, and the creamy avocados.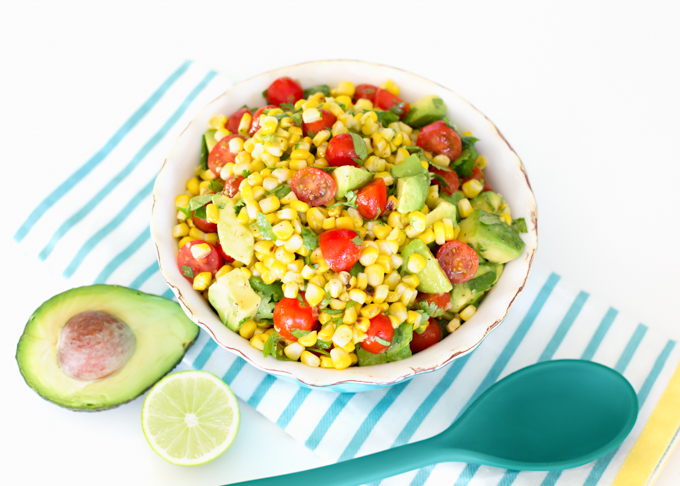 We got a new grill recently and I was so excited that we BBQ'd every part of our dinner that night. We had grilled chicken, grilled artichokes (recipe coming soon), and this Roasted Corn Salad. I have no idea how many years we had our old grill, but I've never seen one so worn out. We knew it wasn't heating evenly, but when it refused to light one evening, I decided to take it apart and inspect it a little. Oh my goodness, there were holes in the gas line, which literally broke in half at the slightest touch. Time for a new one! haha, can you tell I'm excited? I literally could have done a whole post on my shiny new Weber.
Back to the salad…. and as with many of my recipes exact measurements are not very important. A little more of this, a little less of that, no big deal. It's still going to be delicious!!
The first step is to clean the corn, drizzle it with olive oil, and season with my BBQ Spice Blend. Grill it, turning it often, for about 15 minutes.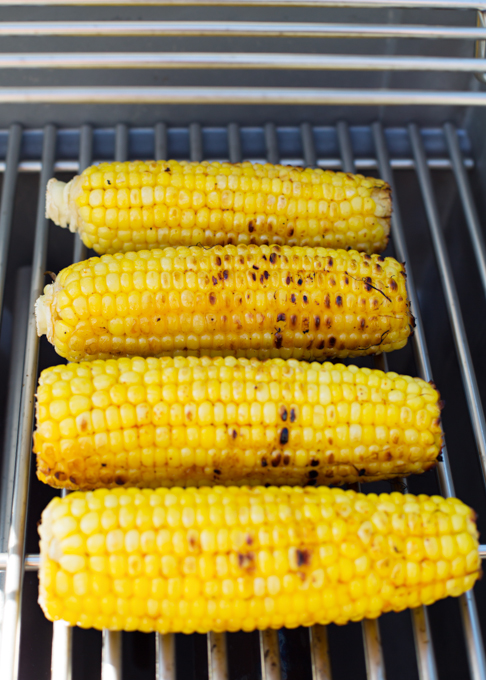 When the corn is grilling, prep the veggies and make the salad dressing.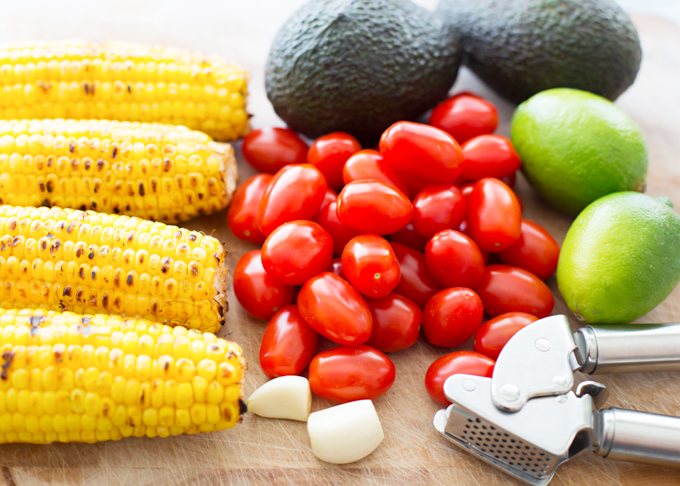 YUM! Isn't this a pretty salad??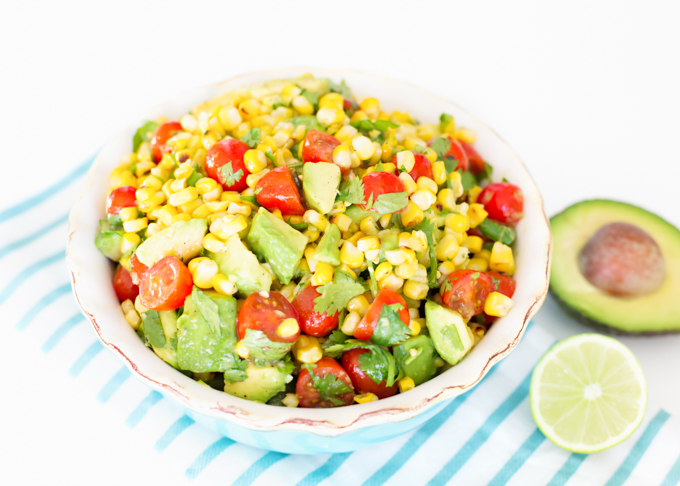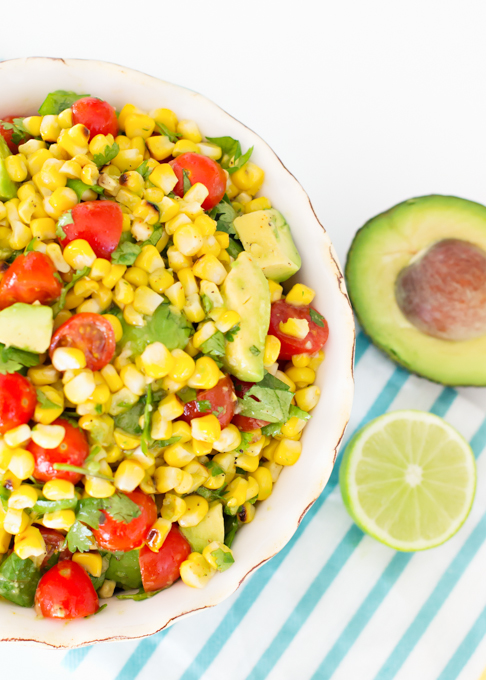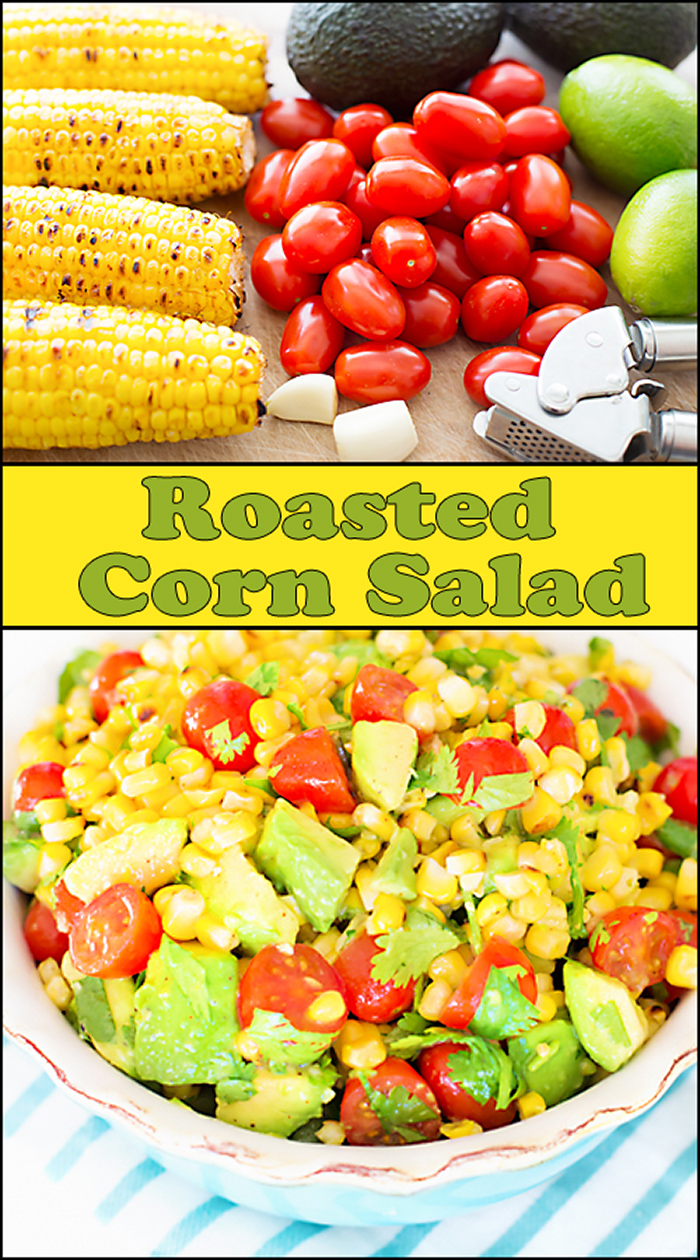 Roasted Corn Salad
This is a great make "earlier in the day salad." The longer it sits, the better the flavors develop.
Ingredients
1

pint

cherry tomatoes

halved

2

avocados

peeled and cubed

4

ears fresh corn on the cob

1/4-1/2

cup

cilantro

rough chopped

Olive oil

for drizzling on corn

1

TBSP

BBQ spice blend

1

lime

For dressing:

2

limes

juiced

1/4

cup

vegetable or canola oil

3

TBSP

honey

2

cloves

garlic

crushed

1/4 - 1/2

tsp

cayenne pepper

to taste

salt and pepper

to taste
Instructions
Clean and rinse corn.

Drizzle with olive oil and sprinkle with BBQ spice blend.

BBQ corn over med heat for approx 15 minutes or until corn becomes tender and you get a few grill marks.

Let corn cool and cut from cobs.

While corn is BBQ'ing, add cherry tomatoes (cut in half), avocados (peeled and cubed), and chopped cilantro to med bowl. Squeeze juice of one lime over veggies. This prevents avocado from browning. Set aside.

Make dressing: combine lime juice, oil, honey, garlic, salt, pepper, and cayenne in small bowl (I use a glass measuring cup). Whisk thoroughly until well mixed.

Add corn to bowl (that contains tomatoes, avocados, etc). Top with dressing and mix gently. Taste and adjust seasoning as needed. Refrigerate.
I found this recipe years ago on Pinterest. I have no idea who's original recipe it is. If it's yours and credit is due, please let me know. I'd love to give you credit and link you.
**If you like this recipe, please feel free to share onto your Facebook page, Pinterest, and don't forget to hit the YUM button!
I have quite a few salads on my site, but this Caesar Salad is definitely my go-to salad!
Another favorite of mine is this Blackberry Spinach Salad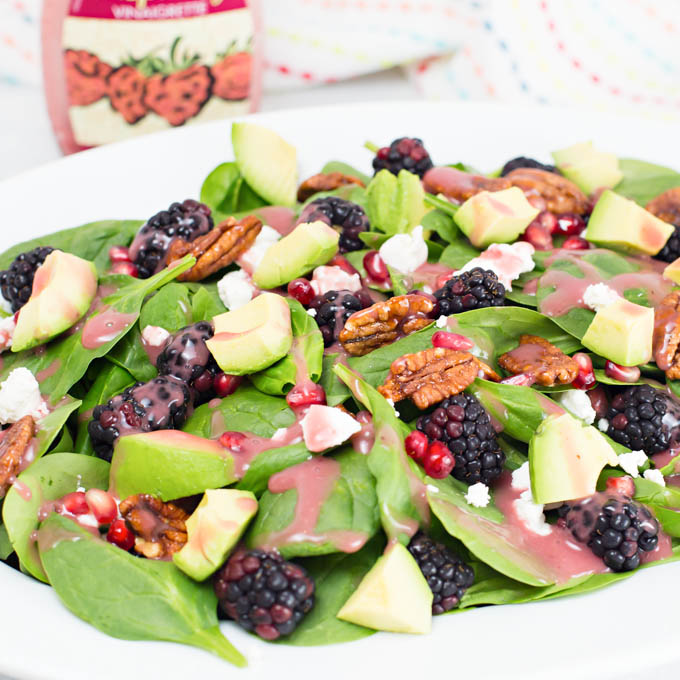 And, here's a round-up of 30+ Delicious Summer Salads!