Fiesta Corn (or maybe you know it as Confetti Corn or Corn Dip) is made from roasted fresh corn, lots of fresh veggies, and gets a tangy zest from fresh lime juice. It can be served as a dip with tortilla or corn chips, a side salad, or even as a salsa served with grilled meat. How would you serve your Fiesta Corn??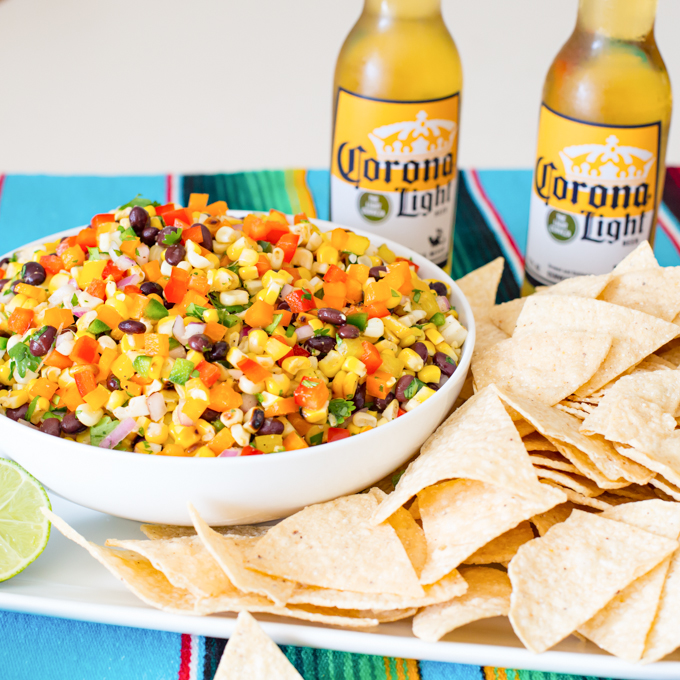 I make mine with fresh grilled corn, but if you prefer, or don't have the time to grill the corn, you could substitute with frozen corn. Simply heat a large skillet, drizzle a bit of olive oil, and "toast" the corn to lightly char the kernels. Given the choice, I always will choose to grill fresh corn. In fact, it's the only way we eat our corn on the cob now!!
All husked, seasoned and ready for the grill: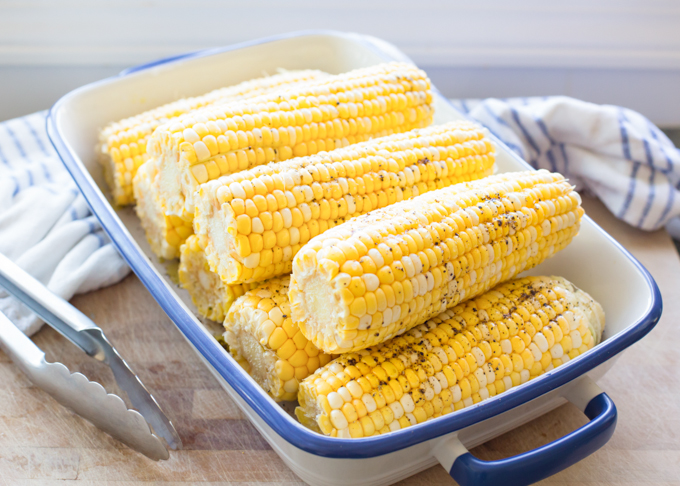 Grill the corn over med/high heat, turning it often, for approximately 15 minutes. Cooking time will vary based on the heat of your grill.
Just look how delicious this corn looks!!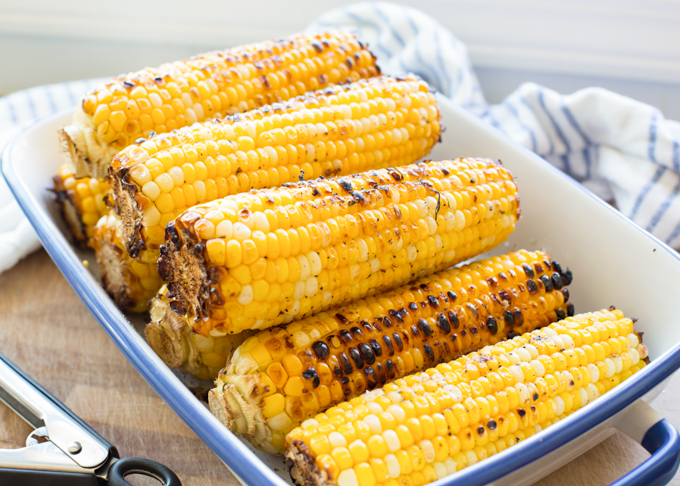 While the corn is grilling, prep your veggies. Give them all a small dice, especially the jalapeño.
red bell pepper
orange bell pepper
yellow bell pepper
red onion
jalapeño
fresh cilantro (not pictured)
fresh garlic
fresh lime juice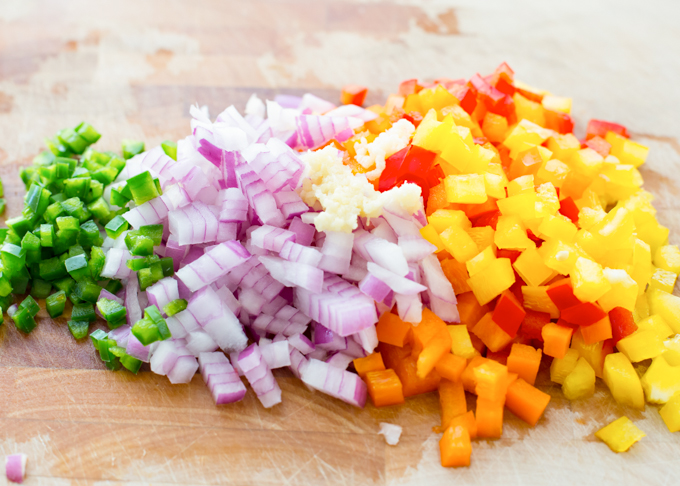 After the corn is grilled and the veggies are chopped, it's as simple as stirring them all together!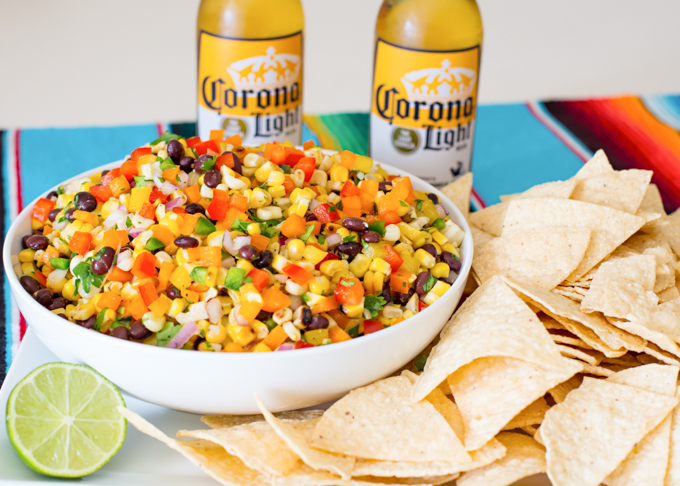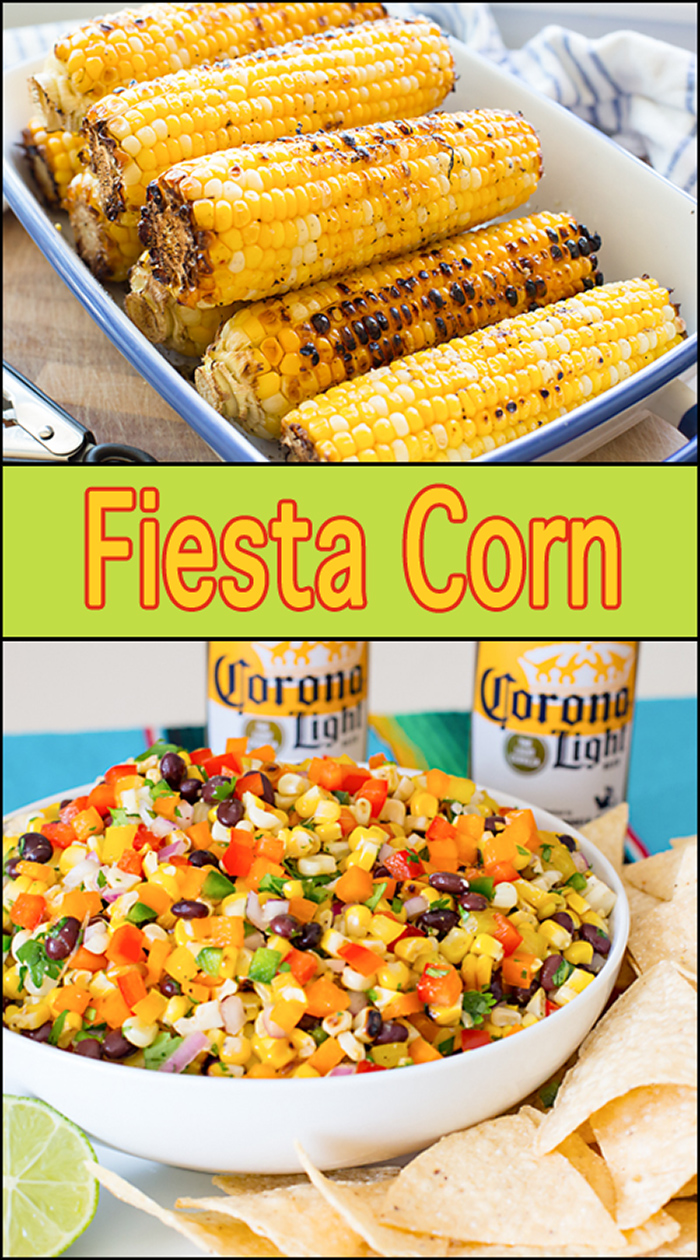 Fiesta Corn
Ingredients
6

med ears fresh corn

or you may substitute with frozen corn. I used 8, but they were small.

1

can black beans

rinsed

1/2

red bell pepper

small dice

1/2

orange bell pepper

small dice

1/2

yellow bell pepper

small dice

1/4-1/2

red onion

small dice

1/4-1/2

jalapeno

very small dice

2

cloves

fresh garlic

crushed

chopped cilantro

approximately 3/4 cup chopped

1/2

tsp

salt

or to taste

1/4

tsp

black pepper

or to taste

2

tsp

cumin

1/4

cup

fresh squeezed lime juice

Seasonings for grilled corn:

Drizzle of olive oil

salt, and pepper.
Instructions
Clean corn by removing husk and silks. Rinse.

Lightly drizzle corn with olive oil and season with salt & pepper.

Preheat outdoor grill to med/high heat.

Place corn directly on grill and grill for approximately 15 minutes, turning often. Corn should be tender and lightly charred.

While corn is cooling, prep veggies.

Red/yellow/orange bell peppers: rinse, deseed and remove membrane, dice small.

Red onion: peel and dice small.

Jalapeno: rinse, deseed, and dice very small.

Garlic: peel and crush.

Cilantro: rinse and chop.

Rinse black beans.

Once corn is cool, cut kernels from the husk. Place in large bowl.

Add in rinsed beans, chopped bell pepper, jalapeño, garlic, red onion, cilantro, cumin, fresh lime, salt and pepper.

Adjust amount of lime juice and seasoning to taste.

Chill and serve!

Enjoy!
Here's another corn salad recipe that I think you'll love!!
Roasted Corn Salad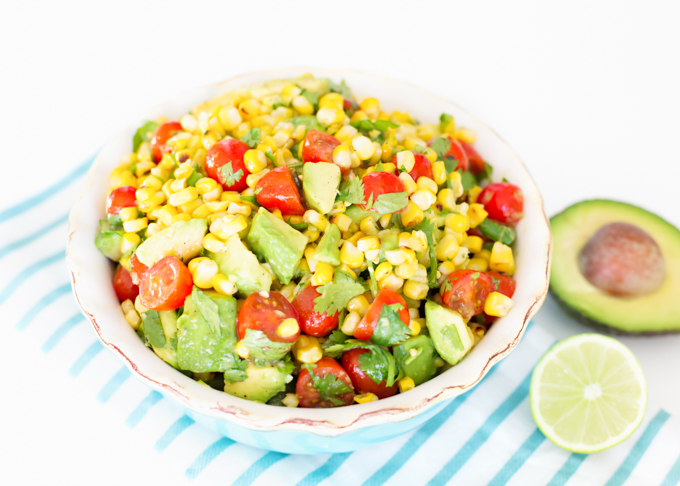 And, a few more delicious salads…..
Chicken Caesar Salad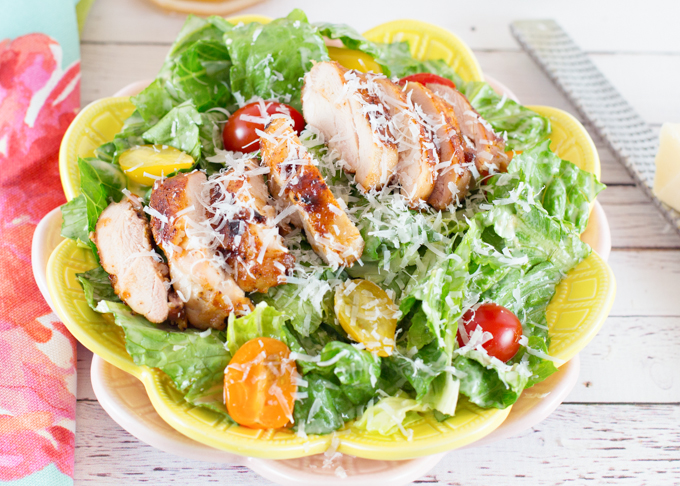 Taco Salad w/Salsa Lime Dressing