I love artichoke season! I also love that we live in CA and artichokes grow throughout the state. In fact, if you google "Artichoke Capital of the World" up pops Castroville and it's only a 30 minute drive from us.
I know that not everyone likes artichokes, and I can understand that. They're kind of weird to eat. But if you can make it through enough of the leaves and get to the heart of the 'choke, oh my gosh, it's delicious!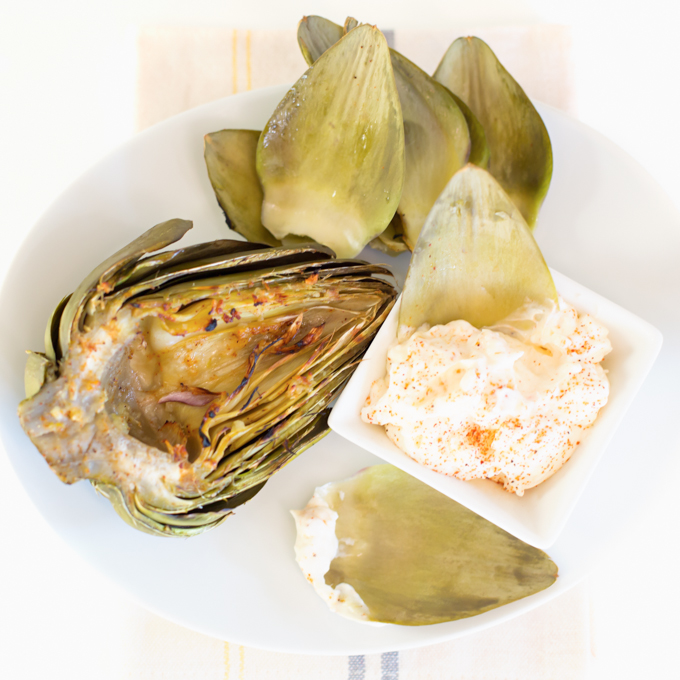 Even though I titled this post Grilled Artichokes, I did start off  by boiling them until just tender. I love just a plain boiled/steamed artichoke, but seasoning and grilling them brought them to a whole new level. Once they were just tender, I cut them in half, seasoned them with melted butter, crushed garlic, and my BBQ Spice Blend, and placed them on the grill.
My plan was to serve them with a lemon aioli, but I was out of lemons, so I opted for some plain mayonnaise with a dash of BBQ Spice on it. It was perfect!! Do you like mayo with your artichokes??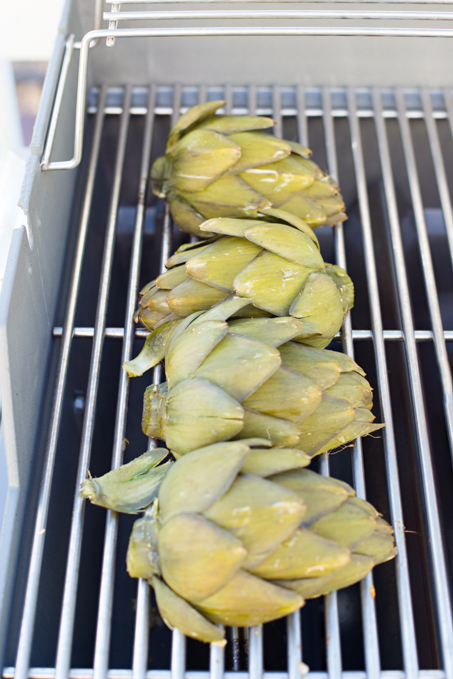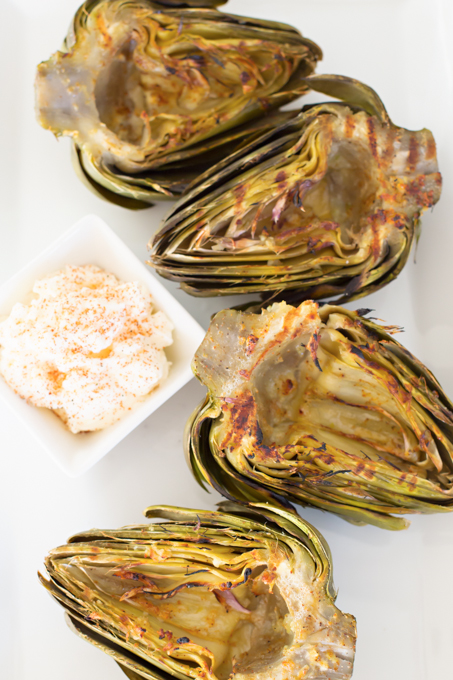 I hope that next time you're in the mood for artichokes that you'll try grilling them. If you do, I'd love to hear what you think.
Grilled Artichokes
Ingredients
Artichokes

rinsed and stem trimmed

1

TBSP

butter

per artichoke

1

clove

garlic

crushed per artichoke

BBQ Spice Blend

Mayonnaise
Instructions
Rinse artichokes and trim stem. Cut off a few of the small outer small leaves.

Place artichokes in large pot, covered with salted water. Cover.

Bring pot to boil, then reduce to simmer.

Cook for about 30 minutes or until knife easily inserts into center of artichoke. Time will vary depending on size of artichoke.

When artichokes are just tender, remove from pot, drain, and slightly cool. Cut in half lengthwise and remove the middle section right above the heart.

Melt butter with crushed garlic. I used 2 TBSP and 2 garlic cloves for two large artichokes. Measurements are approx.

Brush butter and garlic liberally onto cut side of artichoke.

Season with BBQ Spice Blend.

Place artichokes, cut side down onto med/high grill.

Grill for 10-15 minutes or until they get golden with a few grill marks.

Enjoy your artichoke with mayo, melted butter, or fresh lemon.
How to eat an artichoke:  To eat, pull off a leaf and scrape the meat off the tender end with your front teeth. Dip the ends of the leaves in lemon juice and melted butter if desired.
**If you like this recipe, please feel free to share onto your Facebook page, Pinterest, and don't forget to hit the YUM button!