Is it a Grilled BBQ Chicken Pizza? Or a BBQ'd BBQ Chicken Pizza? Or just a BBQ Chicken Pizza? I have no idea. What I do know is that it turned out delicious!
I'm a huge fan of BBQ Chicken Pizza from just about any pizza restaurant, and I'm a huge fan of making our own BBQ'd pizza. Have you ever made a BBQ'd pizza? If not, you need to give it a try! They're fun to do as "make your own" with the kids, but tonight I made one large one for my hubby and I.
I'm never ashamed to admit to taking a few short cuts. Today I used Trader Joe's pizza crust and also their BBQ sauce. I had the cooked chicken in the freezer, so this turned out to be a quick meal.
I'm also not ashamed to say that I wasn't into styling and propping this meal. We had a basketball game on TV that we wanted to watch, I had a pizza to BBQ, and honestly, I just didn't feel like it. However, I knew that if it turned out really good and I wanted to share the recipe, that I needed some pictures. So I grabbed my camera and snapped a quick shot of each step. The pizza turned out perfect and definitely share worthy, the pictures are okay, but our basketball team lost tonight. Oh well, I'll settle on 2 out of 3 (as long as they win tomorrow night)!! Excuse the overload of pics, but I wanted to include a few of the steps (I don't usually do that, but felt I needed to with this recipe).
I started by stretching out the dough, working on a floured surface. Once I got it into the shape I wanted, I carefully transferred it onto a sheet pan lined with waxed paper and a good drizzle of olive oil. Since I already had the chicken cooked, I just heated it quickly with a little BBQ sauce and a crushed garlic clove. I then prepped the rest of the toppings: bbq sauce,mozzarella cheese, red onion, cilantro, cashews, and jalepenos (be careful, they bring a lot of heat).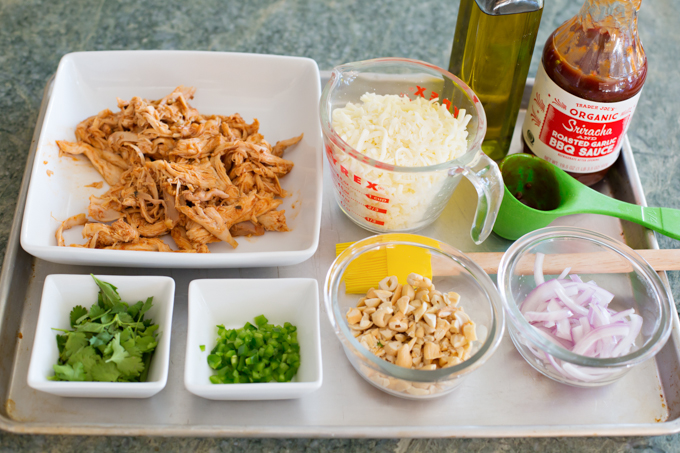 We waited until half time, then headed out to the preheated grill (500*-ish). Carefully transfer the dough onto the hot grill, olive oil side down. I picked up the dough on the wax paper and flipped it onto the grill (then peeled off the wax paper).  Drizzle more olive on top at this time. Don't be afraid to put your dough straight onto your grill (just make sure you clean it well and use some olive oil on the dough. Shut the lid and within about 2 minutes, you can easily flip the dough.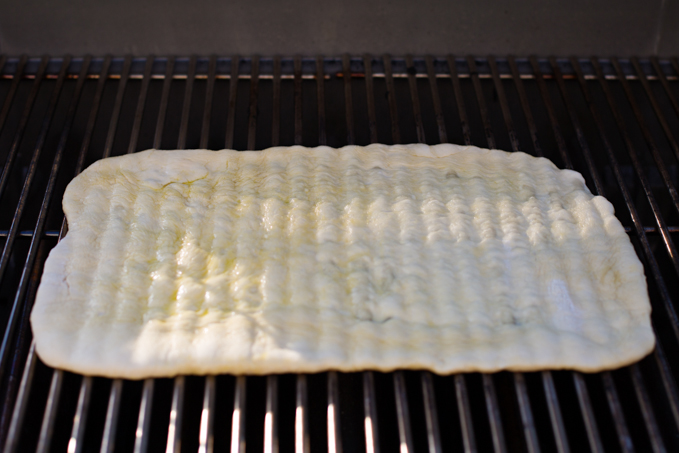 Have the rest of your ingredients ready, you need to move quickly at this point.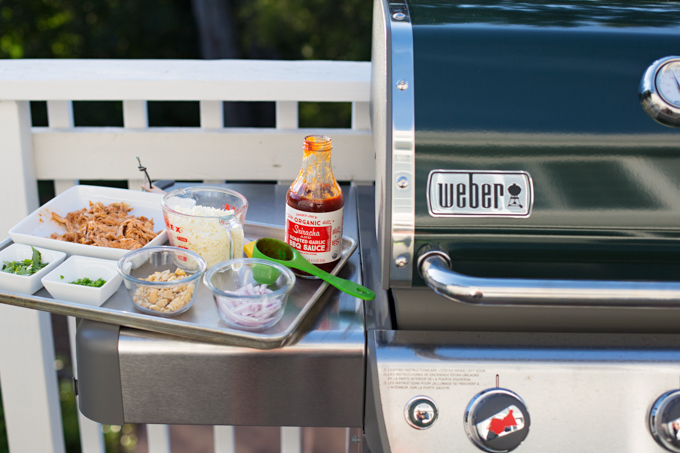 As soon as you've flipped the dough, layer on your toppings. BBQ sauce, chicken, cheese, red onion, cashews, cilantro, and jalepeno.
Close lid and let it cook, checking it occasionally. You want the top to get bubbly hot, but don't want the bottom to burn. If needed lower heat or turn off one side of your grill and finish cooking using indirect heat.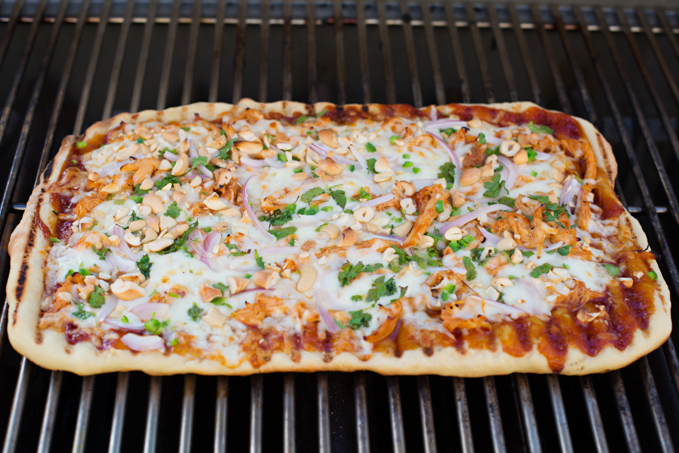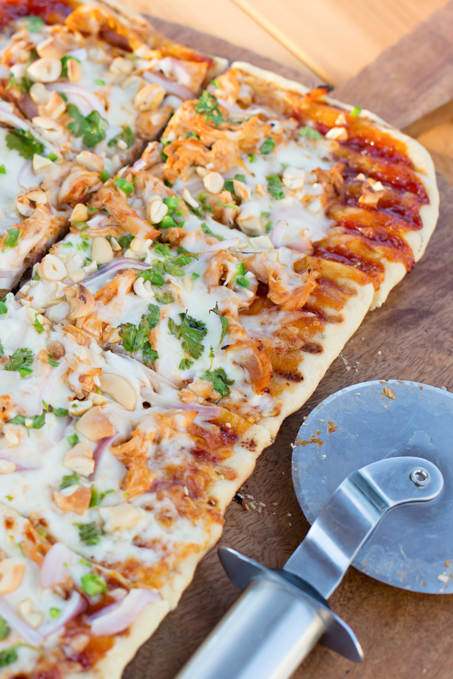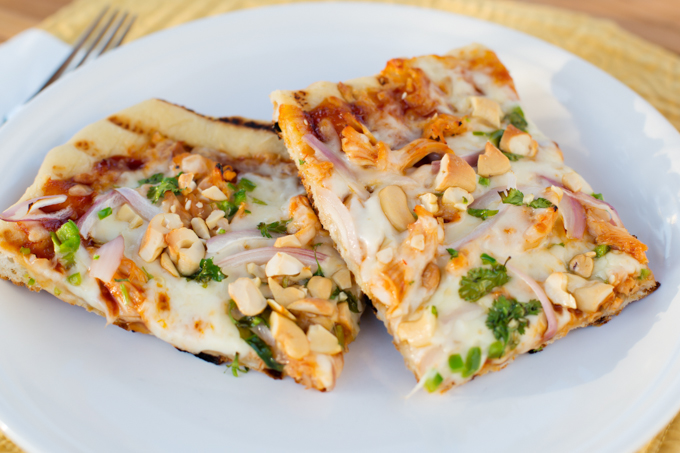 It was such a nice evening out, we dined outside!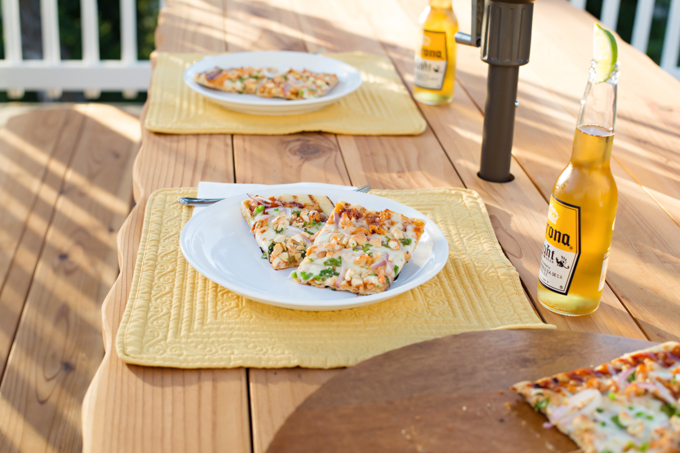 Just me, my hubby, some awesome Grilled BBQ Chicken Pizza, a cold Corona, and……..
the basket game!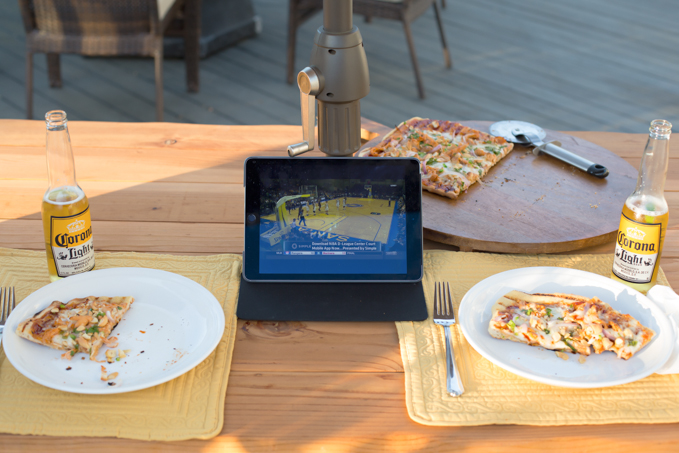 **If you like this recipe, please feel free to share onto your Facebook page, and don't forget to PIN!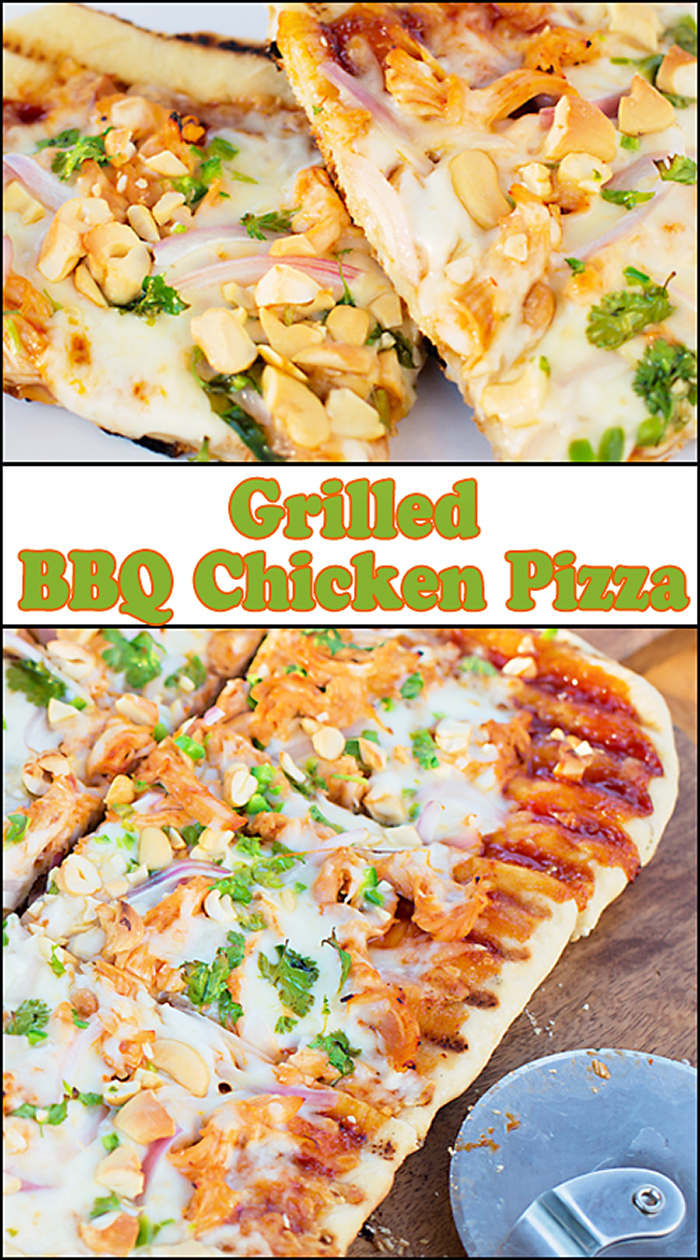 Grilled BBQ Chicken Pizza
The jalepeno peppers were spicy, so if you can't handle the heat, do not add peppers!
Ingredients
One Pizza Crust

make your own, or not, mine was from Trader Joe's

3/4

cup

BBQ sauce

use a little for heating the chicken and garlic, and the remainder is used as your pizza sauce

1-1 1/2

cups

shredded or chopped cooked chicken

1

garlic clove

crushed

1-1 1/2

cups

grated mozzarella cheese

2

TBSP

chopped cilantro

1/4

med red onion

thinly sliced

1/3

cup

cashews

rough chopped

**Optional: 1-2 TBSP jalepeno pepper

very finely chopped
Instructions
Work pizza dough on a floured surface into desired shape and thickness (mine was a thin rectangle). Set aside on olive oil drizzled waxed paper.

Warm chicken in a small amount of BBQ sauce (1/4 cup) along with clove of crushed garlic.

Grate cheese, chop cilantro, finely slice red onion, rough chop cashews, finely dice jalepenos.

Preheat outdoor grill to 500*

Place dough on clean grill grates by picking of dough on waxed paper and flipping onto grill, peel off waxed paper.

Close grill lid and cook for about 2 minutes.

Carefully flip dough using tongs and/or large spatula.

Top with remaining bbq sauce, chicken, cheese, onion, cilantro, cashews, and jalepenos (*optional).

Close lid and cook until bubbly, checking occasionally making sure bottom doesn't get too charred.

Adjust heat and cook indirectly if bottom begins to char too much before top is bubbly.
*Please use caution when handling hot peppers. Wash your hands thoroughly after handling them.
Looking for more grill ideas?
Blue Cheese BBQ'd Ribs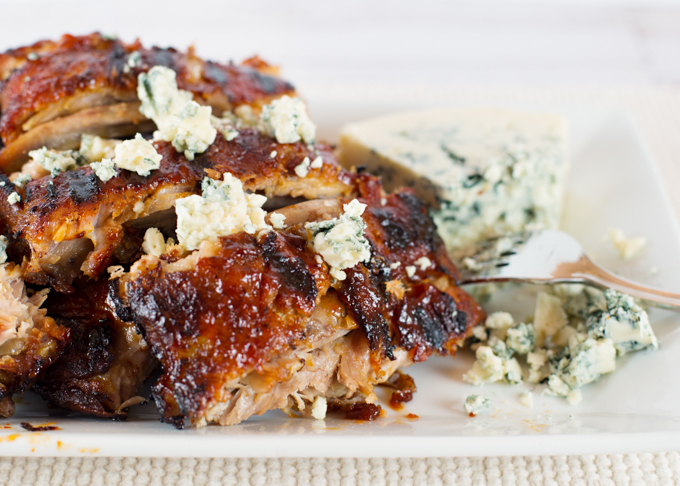 Chimichurri Steak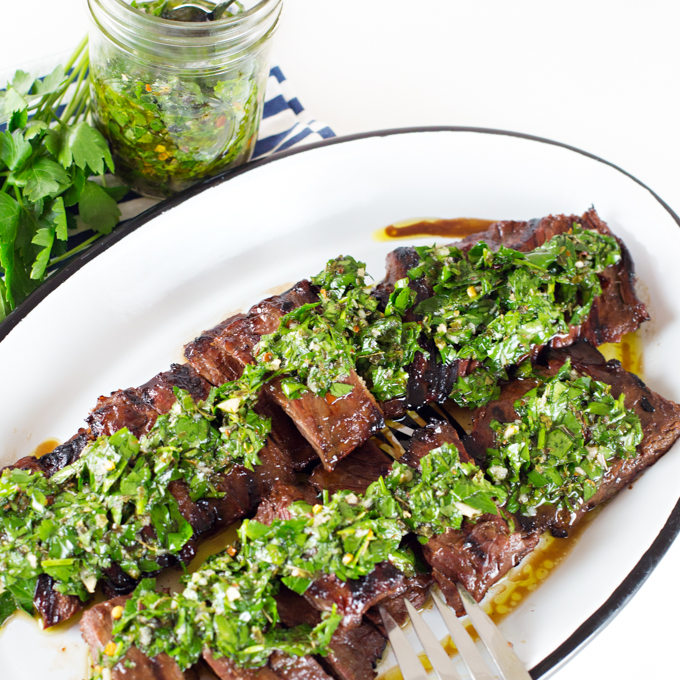 Chicken Caesar Salad