This shop has been compensated by Collective Bias, Inc. and its advertiser. All opinions are mine alone. #TearASquare #Collective Bias #Brawny #TargetFinds 4th of July is right around the corner and this year we'll be hosting again! I don't know about you, but I'm always looking for new 4th of July Inspiration. Our BBQ meal typically consists of BBQ'd ribs (and often, chicken and sausages also), grilled corn, an assortment of salads, baked beans, garlic bread, and of course, watermelon. It's not 4th of July without a ripe juicy watermelon!! BBQ food such as ribs, watermelon, and corn is messy! Very messy! This year instead of using regular paper napkins, I've decided to put out a few rolls of Brawny®Tear-A-Square™ Paper Towels.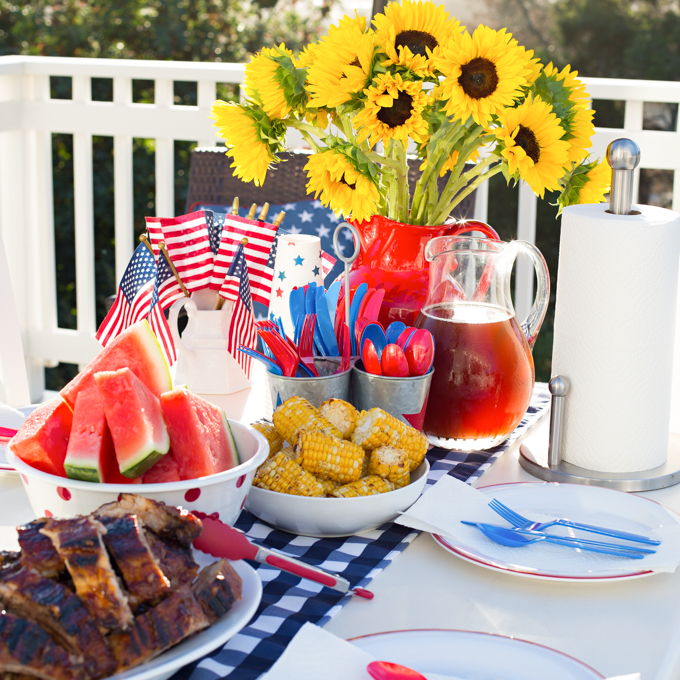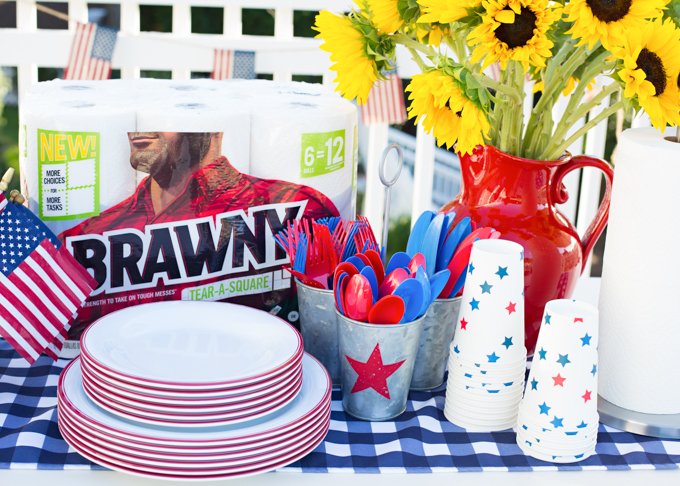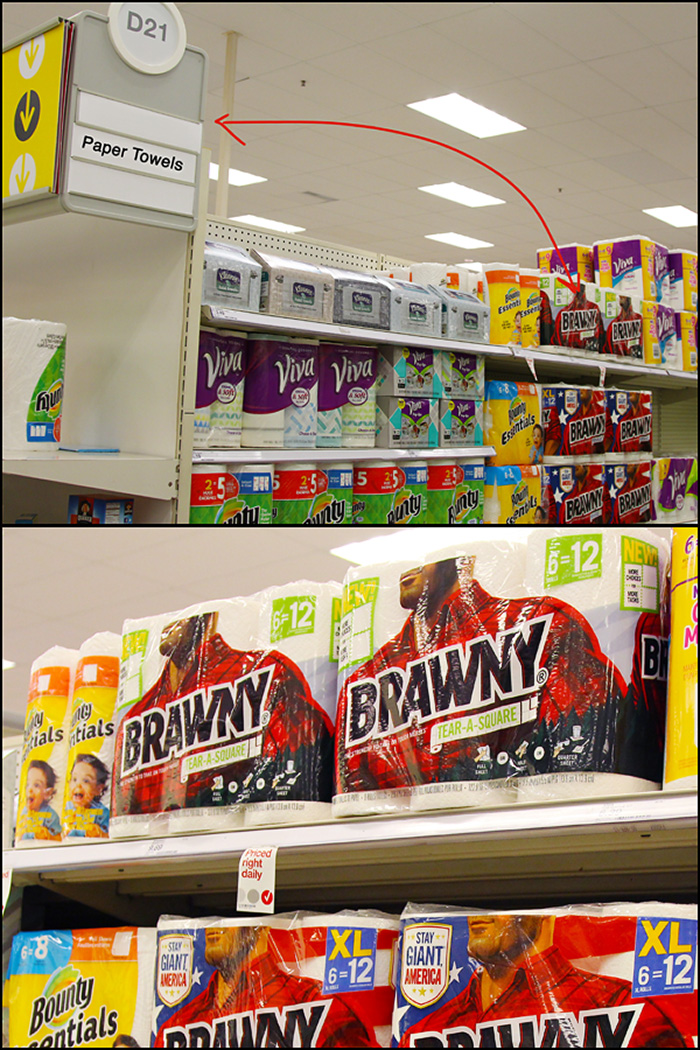 I shopped for Brawny Tear-A-Square Paper Towels at my local Target. This is my first time purchasing the Brawny Tear-A-Square Towels and I'll never use anything but these again. I can't wait to get back to Target and stock up on these paper towels. I love that I can use just what I need, 1/4 sheet, 1/2 sheet for full sheet. Less is certainly more when it comes to small messes and spills.
This table shows just a fraction of the actual BBQ that will be served on 4th of July! The backyard will be full of family, friends, and good food!! We alway's start our day with cleaning off all patio furniture and giving the BBQ a good wipe down. Brawny Tear-A-Square Paper Towels are awesome for this big job! Full size towels are a must for this dirty job!! These towels are strong and durable! Once everything is cleaned, it's time to set up, which is my favorite part!! I love parties and the fun decorations that go along with any themed event!!
The 1/4 size Brawny Tear-A-Square worked perfectly at the kids table! I don't know about your kids, but my Grandbabes tend to wipe their face or hands, then in inevitably drop their napkin and need another one. The small size is perfect and they can use as many as they need without being wasteful.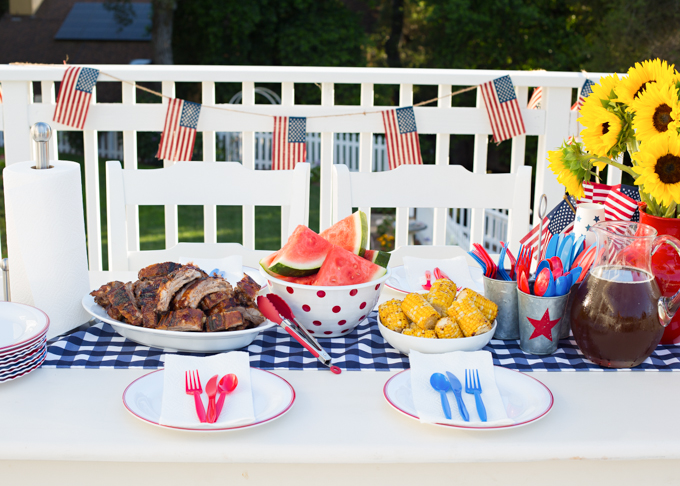 Now let's get to eating and enjoy this MESSY meal!!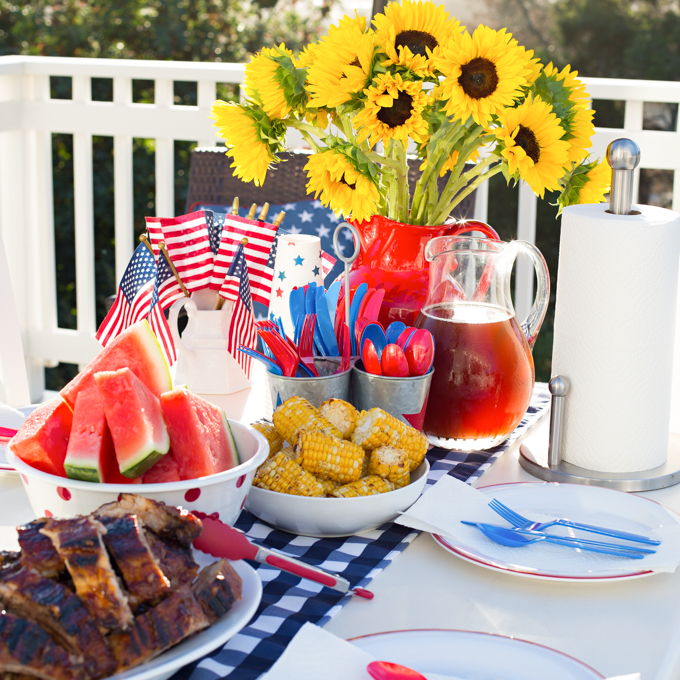 I had the greatest little helper (a.k.a. my Gigi Bean)! She was great at helping me tear the towels! And the best part, she worked for Watermelon!!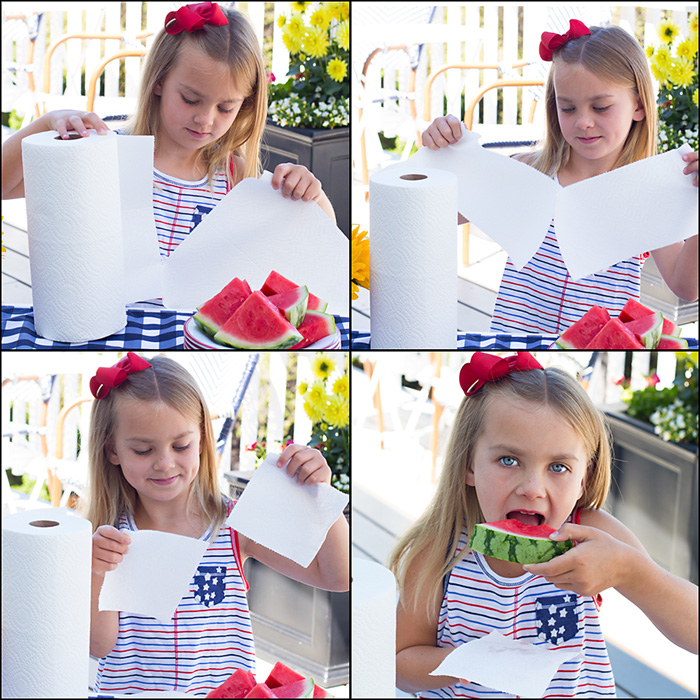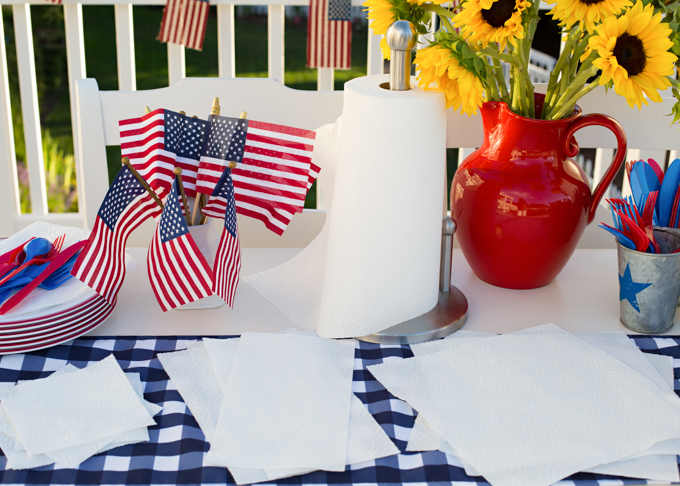 Did you know that each roll of Brawny Tear-A-Square Paper towels has 256 quarter sheets. That's especially perfect for messy little BBQ fingers!! Which size best fit your needs? 1/4 size, 1/2 size, or full size? #TearASquare #Brawny #TargetFinds
I gotta go clean up now! Thanks for stopping by and I hope you have a safe 4th of July filled with lots of family, friends, good food, and maybe some fireworks!! Leave a comment below, I'd love to hear what your traditions are on 4th of July!!