When I'm invited to someones home, whether it be for dinner or a party, I always try to show up with a little hostess gift. This 4th of July Gift Basket might be a bit larger than I typically do, but I couldn't resist all the easy to find red/white/blue items.

After Christmas, 4th of July is my next favorite holiday to decorate for. I love everything about this holiday!
Here's why:
Let's start with the definition of 4th of July (Wikipedia), "Independence Day, also referred to as the Fourth of July or July Fourth, is a federal holiday in the United States commemorating the adoption of the Declaration of Independence on July 4, 1776."
I'm a sucker for anything red, white, & blue! And the American flag!
We typically host a large BBQ with lots of family and friends.
Our small town parade and FiReWoRkS!!
This 4th of July Gift Basket!!
Knowing that I wanted to put a gift basket together for a special someone in my life, I headed to Target to see what I could find. Our town has what I refer to as a mini-Target and I often can't find everything I'm hoping to find. I lucked out this day and found plenty of items for a great 4th of July Gift Basket, starting with the plastic tote.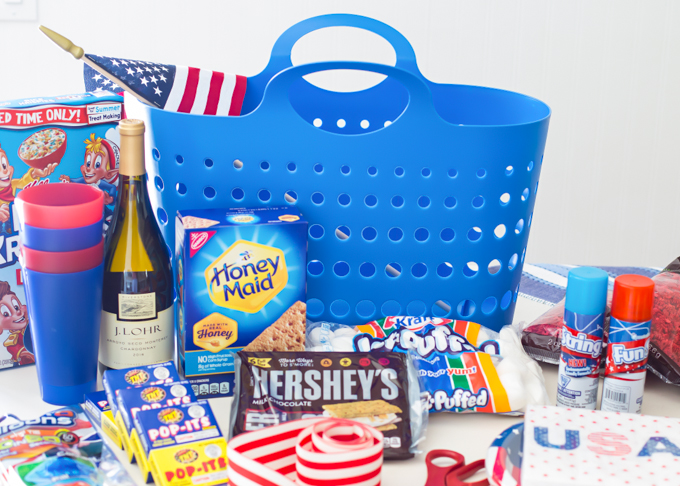 I knew that I wanted this gift basket to be fun for both the kids and the adults. It only took a few minutes of browsing the aisles to find plenty to fill the basket. I topped it off with a bottle of wine and some flowers that I picked up at my grocery store. I already had the red crinkle filler and striped ribbon.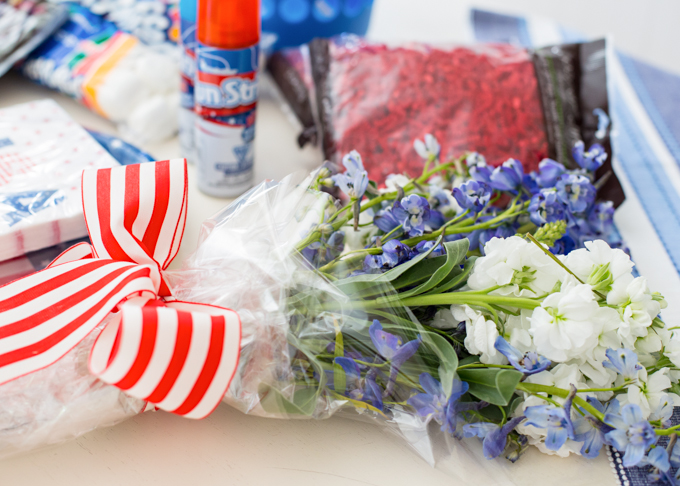 It literally took about 5 minutes to add everything to the "basket." I love the way it turned out and can't wait to drop it off!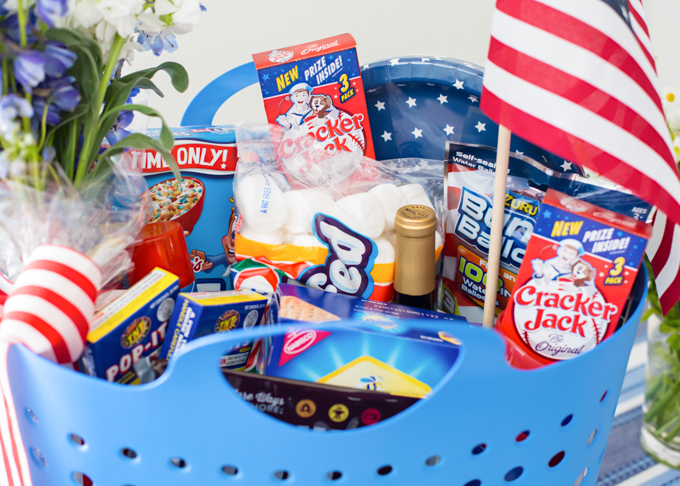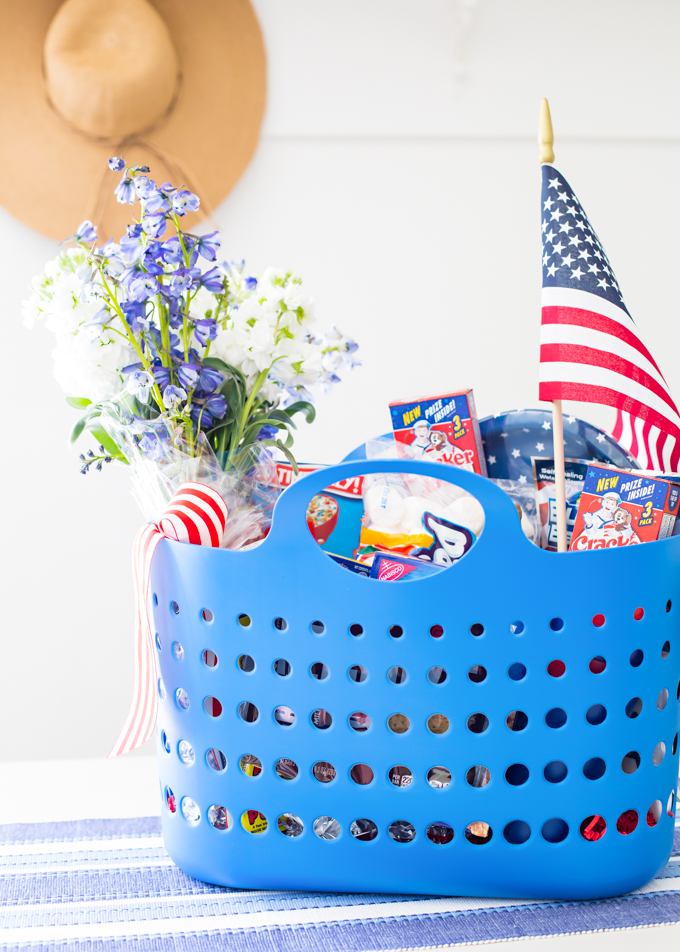 I know you're going to love this post that I posted a couple of years ago. It includes my "must have" Baked Beans recipe and lots of 4th of July decor.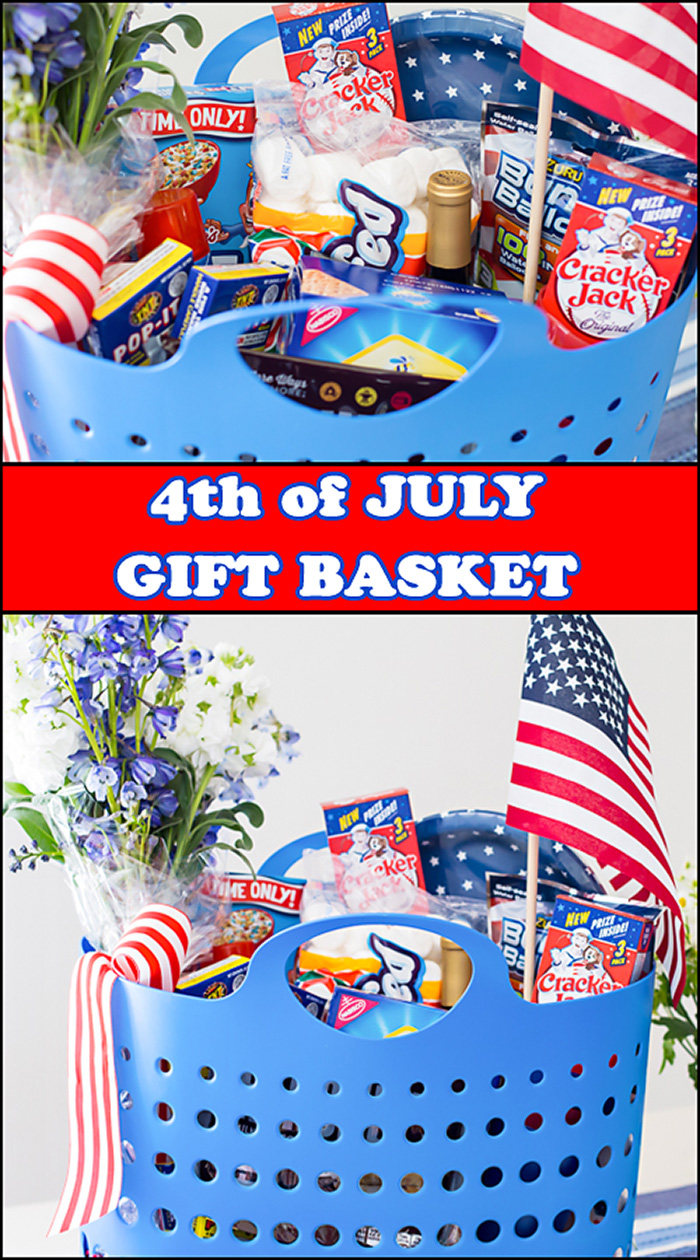 I'm not sure what our plans are this year, but I've been chatting with a niece of mine (who lives very close) and we're talking about a "progressive" 4th of July Party for family and friends. I'll host the BBQ (and possibly a bounce house for the little ones), then we'll head over her house for dessert and watching our local fireworks. She should have a great view from her back deck!
What plans do you have this year for 4th of July? Whatever you do, keep it safe and if you're a guest at someone's home, how about putting together your own little 4th of July Gift Basket full of fun goodies that their family might enjoy!!
This post was NOT sponsored by Target, it just happens to be a store that I love and shop at a lot!