We finished up our month of Whole 30, and I have to tell you, I we (my husband & I) were surprised how easy it was! I'll admit that we were not 100% perfect, but every meal at home was. Our small "slips" came when we were away from home and no matter how many times we asked told the waiter what we wanted, a couple of times it came back "slightly" incorrect. All in all, we're proud of ourselves for completing our 30 days, and we're both down a solid ten pounds. This Beef & Broccoli is a W30 compliant dish that I made the day after completing our 30 days. It was delicious!!!!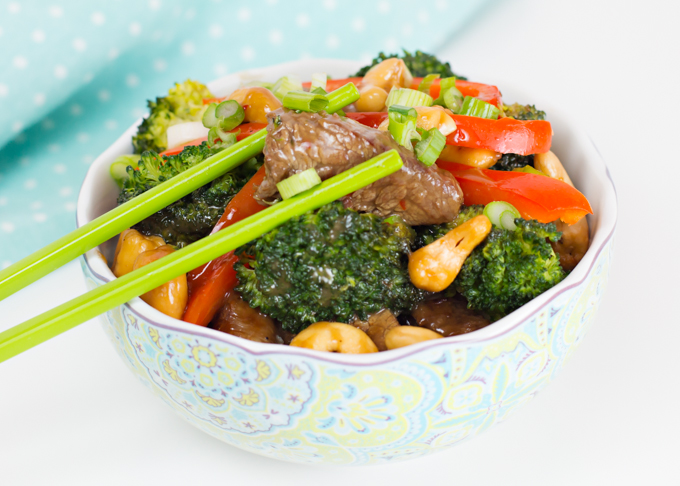 We're both motivated to drop a few more pounds, and will do so with some W30 Meals and also watching calories. Our goal = thin and healthy!! Ok, I might not end up thin, but hopefully I won't be "fluffy" anymore. With meals like this Beef & Broccoli, which I served over cauliflower rice, will certainly make the next month another easy 30 days (I hope).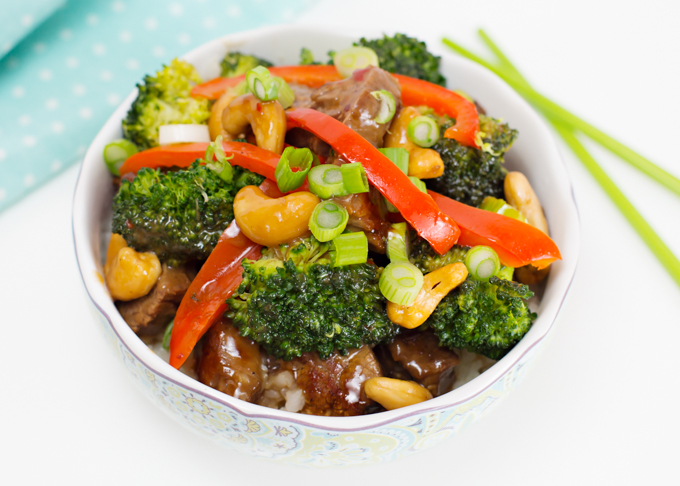 I was amazed at how simple this dish was prepare. After I made up the marinade, I placed the meat into a gallon size zip lock bag and poured the marinade over. Into the 'fridge for a couple of hours it went. It required very little additional prep and cooked up quickly for a delicious and healthy one bowl meal.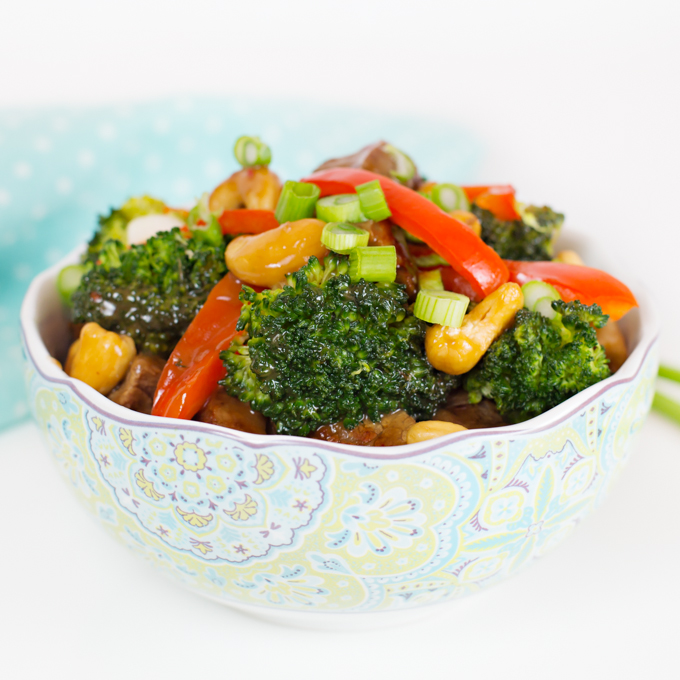 **Disclaimer, if you're following any of my recipes that I note as Whole 30 compliant, please check your ingredient labels first as they can vary.
Beef & Broccoli
Ingredients
1

cup

coconut aminos

similar to soy sauce, but W30 compliant

1/2

cup

fresh squeezed orange juice

3

cloves

garlic

crushed

1

tsp

fresh ginger

grated with microplane

1

tsp

crushed red pepper flakes

2

TBSP

arrowroot powder

similar to cornstarch, but again W30 compliant

1/2

tsp

salt

1/2

tsp

pepper

1 1/2

# flank steak

thin sliced or cubed

1

head broccoli

separated into small florets

1

red bell pepper

seeded and thin sliced

2

TBSP

coconut or olive oil

3/4

cup

cashews

*Optional: Sliced green onions
Instructions
Combine together: coconut amines, orange juice, garlic, ginger, red pepper flakes, arrowroot powder, salt, & pepper.

Cut flank steak (against the grain into thin strips, or bite sized cubes)

Place steak into gallon size zip lock baggie. Add marinade.

Refrigerate for at least 30 minutes.

Separate broccoli into florets.

Slice red bell pepper.

To cook: add 1 TBSP coconut or olive oil to large skillet over med heat. Add broccoli florets. Cook for 3-4 minutes, stirring often.

Add sliced bell pepper to broccoli pan along with 2 TBSP water, cover, and reduce heat to low. Allow to steam until vegetable are just al-dente.

Remove veggies from pan and set aside.

Increase heat in pan to med/high. Add another TBSP of oil to pan.

Into hot pan, place pieces of flank steak (use tongs or slotted spoon to remove from marinade, reserving extra marinade) and place into hot pan. Do not crowd meat, cook in batches if necessary. You want to brown your meat, not steam it in pan juice.

Once meat is cooked, add in additional marinade from baggie. Add in broccoli and bell pepper.

Cook until everything is heated through. Add cashews.

Serve over rice or cauliflower rice for W30.

Top with sliced green onions if desired.

Enjoy.