I'm long overdue sharing a Traeger recipe with you all, I apologize. These Beef Fajitas were definitely worth the wait and definitely the best fajitas I've ever made! How can you go wrong with warm flour tortillas topped with super smoked citrus marinated steak, grilled seasoned veggies, topped with sour cream and fresh cilantro?
This recipe was inspired by Traeger and they're definitely worth all the five star ratings! Traeger (or smoker grill) recipes can often seem overwhelming at first, but if you have all the ingredients the day before you plan to cook, they're actually not as time consuming as it appears. There is usually a lot of wait time during the smoking process, but we enjoy a "Traeger day" as we call it.
Back to the Beef Fajitas … I didn't realize I was going to share this as a blog post, so the images are not quite up to par, and in fact, I didn't even get a shot of the meat on the grill.
You start by marinating the meat for 3-4 hours
Smoke meat for approximately 45 minutes
Once the meat is cooked, prep and cook onions & bell peppers
Remove cooked veggies, slice cooked meat into fajita bite size pieces and sear in hot cast iron pan
Heat flour tortillas in hot dry skillet to heat/lightly toast
Assemble: meat, veggies, sour cream, cilantro
Enjoy!!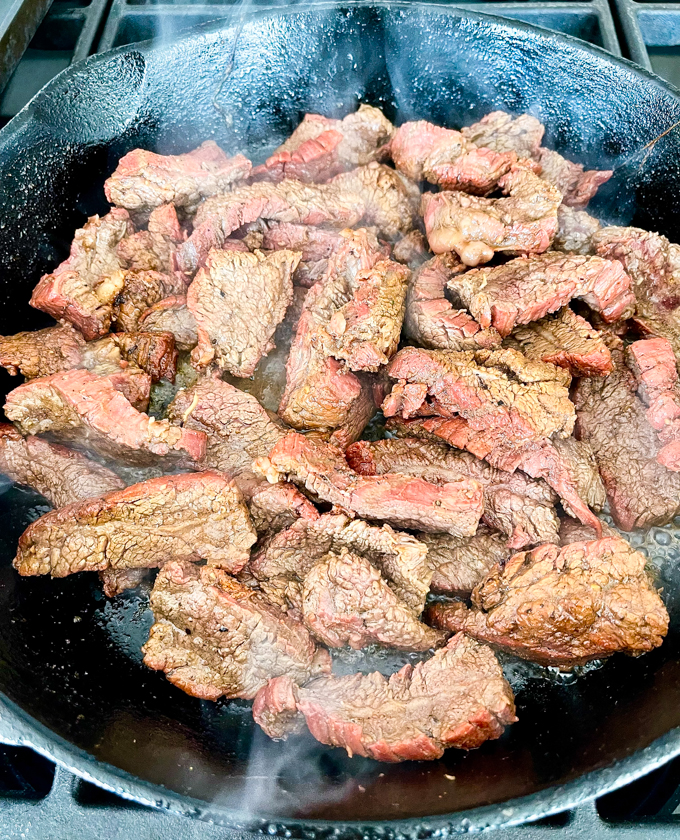 There are no photos of the marinating or Traeger smoking of the meat. Above shows the final sear after it was sliced into fajita sized pieces. After I seasoned the veggies, I then cooked them until tender in the hot cast iron skillet. I seasoned them with Fiesta Rub from Hey Grill Hey. I love both the recipes and seasonings from Susie at Hey Grill Hey.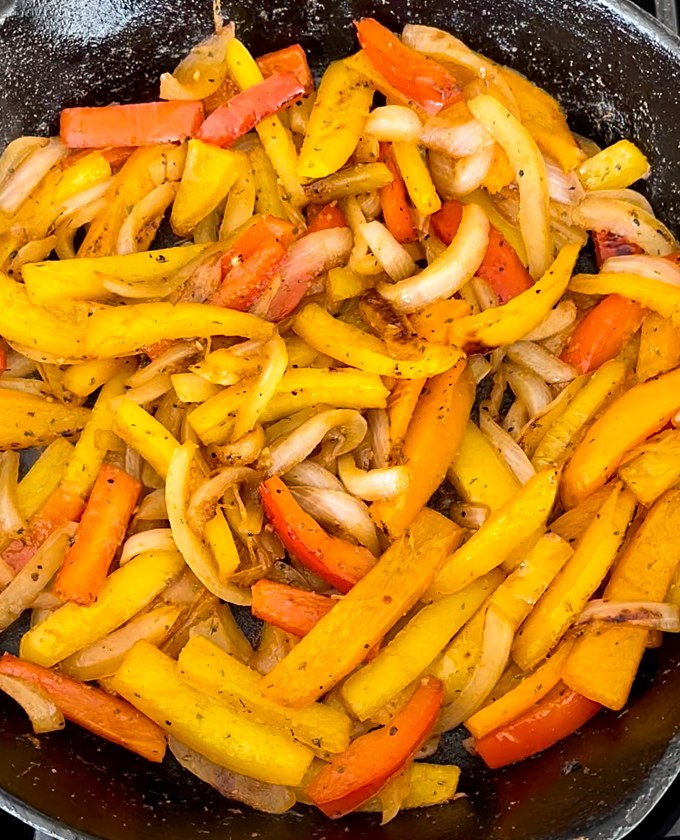 Toast the flour tortillas for great flavor!! I used a large flat dry griddle which allowed me to heat 6 tortillas at a time.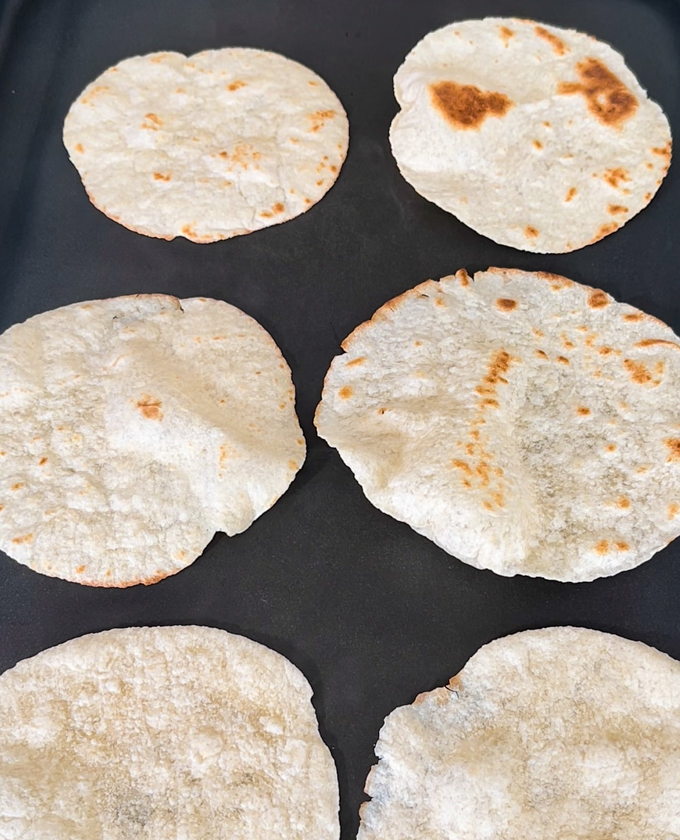 Now's the best part. Top those tortillas with meat, veggies, and chopped cilantro! Don't forget to add some sour cream!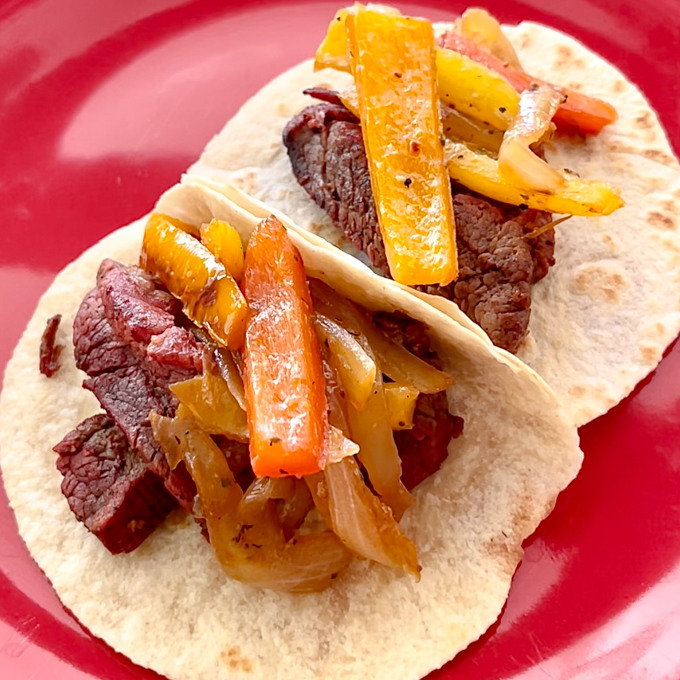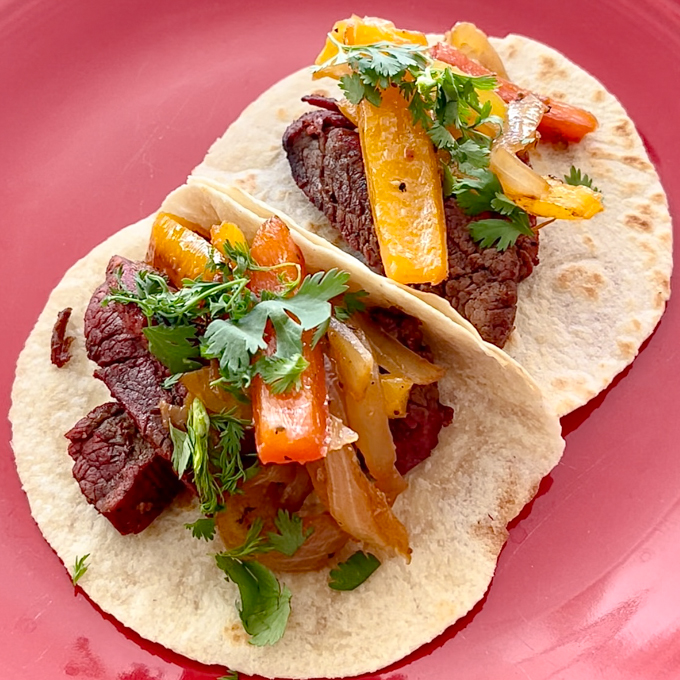 Seriously, how good do these look!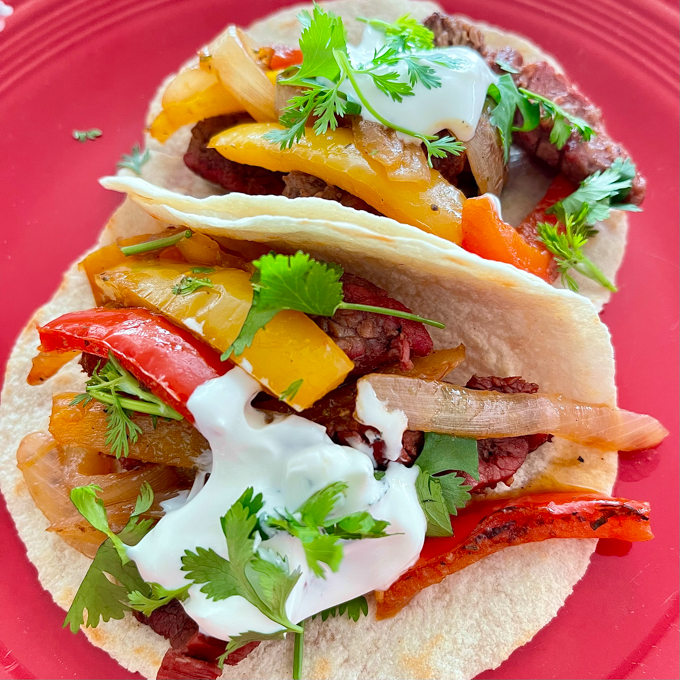 I hope you'll give this recipe a try!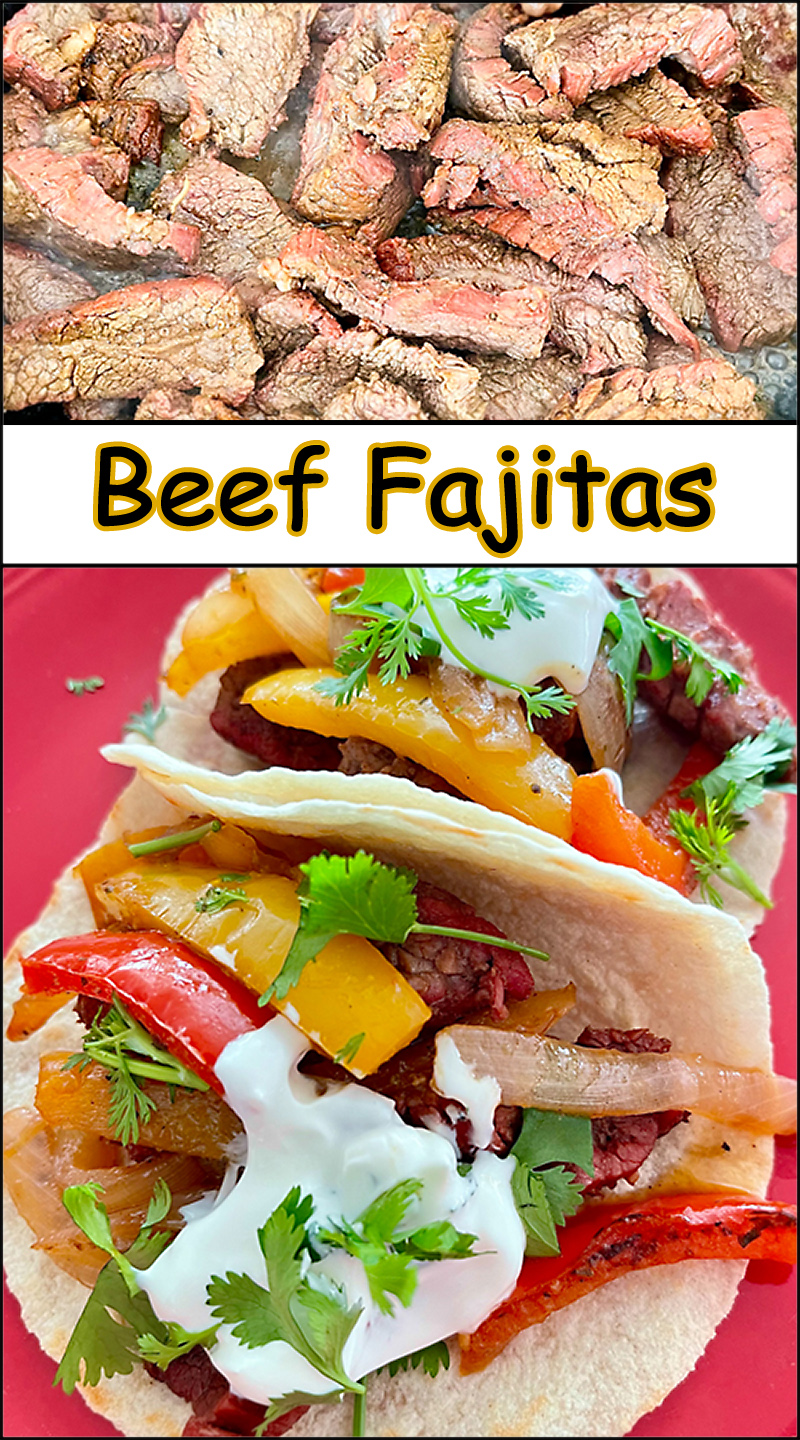 Beef Fajitas
Citrus marinated, smoked beef fajitas, topped with seasoned grilled veggies.
Ingredients
2

lbs.

flat iron or flank steak

4

bell pepper (red, yellow, or orange)

sliced

1-2

yellow onions

sliced

12

fajita size flour tortillas

1

bunch

fresh cilantro

chopped

sour cream

optional
Marinade
1/2

cup

olive oil

1/2

cup

orange juice

preferably fresh squeezed

3

limes

zested & juiced

4

cloves

fresh garlic

zested or crushed

3-4

TBSP

fajita spice (plus extra for veggies if desired)

(combo of cumin, chili pwd, oregano, salt, pepper)
Instructions
Combine all marinade ingredients.

In a large zip lock bag, add steak and marinade. Refrigerate for 2-4 hours.

When ready to cook, remove meat from marinade and pat dry with paper towels. Discard marinade.

Preheat Traeger to "super smoke" at 185• Place steak directly on grill and smoke for 45 minutes.

Remove steaks, cover with foil, and set aside.

In large cast iron skillet, add a little olive oil and saute sliced onion & bell peppers over medium high until tender. Add a little extra fajita seasoning if desired.

Slice rested steak into bite sized slices.

Remove cooked veggies, add a little more oil to skillet, and add sliced smoked steak to hot skillet. Sear steak. *if steak produces too much liquid, blot it out with a paper towel (use tongs, pan is very hot). Remember you want to sear the steak, not steam it.

Preheat large flat skillet or griddle and lightly heat/toast flour tortillas. No oil is needed, place tortillas directly onto hot griddle.

Serve meat & veggies in hot tortillas topped with fresh cilantro (and sour cream).