You've got to love when your daughter and her boyfriend come to town for the weekend and he spends the morning out fishing! Ahhhh, I love these fresh caught benefits!! They head out fishing in hopes of catching a boatful of salmon, but the salmon seemed to escape their bait. However, the Ling Cod, were not as smart! All four fisherman caught their limit!! Thank you very much!
My first thought was to make fish tacos, but being that I seem to make tacos quite often, I decided to mix it up a little. And, as it turned out, I had everything I needed to put together this quick and easy dinner. It may sound fancy with a name like "en papillote," but all it really means is "in parchment."
When I say easy, I mean it. It was about a 10 minute prep and 15-20 to cook. Easy breezy and dinner is served!
Start by cutting your fish filets into equal sizes (so they'll cook in the same amount of time). Lay out your parchment, add your ingredients, wrap, and cook. It's truly that easy!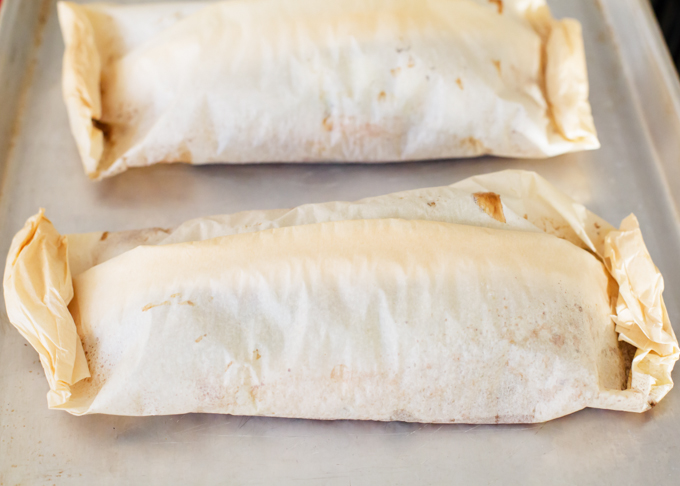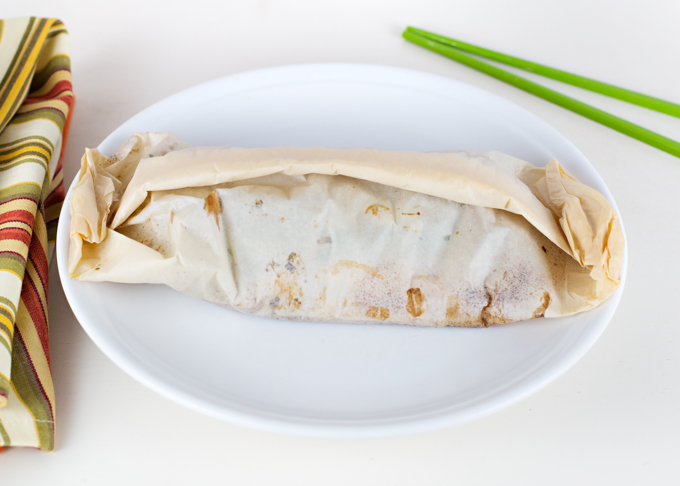 When the fish was cooking, I quickly cooked up a TJ's brown rice (I cheated and didn't make homemade rice). There are certain shortcuts that I don't mind taking, and Trader Joe's Brown Rice packets are one of them.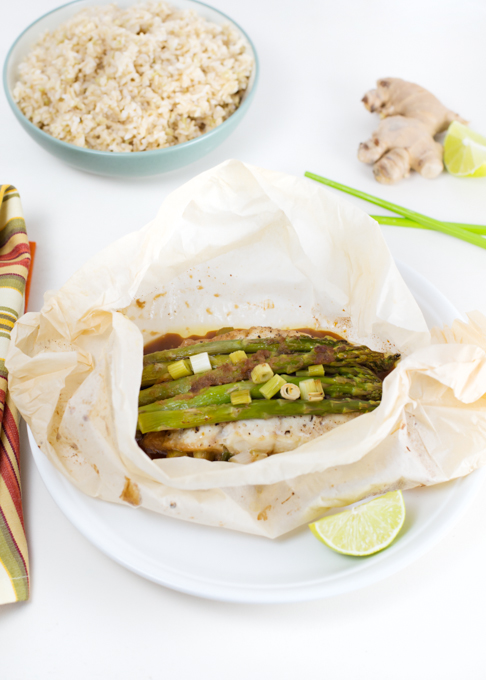 **Remember to share this recipe onto your Facebook page!
Cod & Asparagus en Papillote
Ingredients
2

cod fillets

1

bunch asparagus

trimmed

4

green onions

thinly sliced

1

clove

garlic

crushed

1

" fresh ginger

finely grated, using mandolin or grater

2

TBSP

soy sauce

2

TBSP

olive oil

2

tsp

sesame oil

Juice of one lime

Fresh cracked pepper
Instructions
Tear off two pieces of parchment paper about 12" long

Drizzle with olive oil

Place fish on parchment

Top with asparagus and green onion

Whisk together in small bowl, olive oil, sesame oil, soy sauce, garlic, and ginger.

Top each fish filet with half of olive oil mixture. Top with cracked pepper.

Wrap up the parchment into little packets (see above photo), folding tightly.

Bake at 425* for 20 minutes. Fish should be cooked through and asparagus tender.