This Old-Fashioned Pot Roast recipe brings back so many memories. It's a dish I remember having at my Grandma's house on a regular basis. Either she cooked or one of my aunts did and they were all wonderful cooks (they also knew that it had to pass grandma's taste test). We lived next door to my Grandma for many years when I was a child so we ate many meals around her table. Homemade meals! Go to the corner market every day and get your meat from the local butcher kind of homemade meals. The meat might have been hand cut by the butcher, but the vegetables were a different story. I have very few memories of fresh vegetables. Back then, they came in a can. And were overcooked. Soggy, mushy, no flavor kind of vegetables. Maybe fresh vegetables were expensive in our town, I'm not sure, all I know is I grew up on canned veggies (blecch)! It's a good thing the meat and potatoes were good. Carry on the tradition and pass it down kind of good.
Besides the comfort food factor and my house smelling absolutely delicious all day, I used my Grandma's dutch oven pot to cook it in. It's not a pot I use often, but it really makes my heart swell with happiness when I do.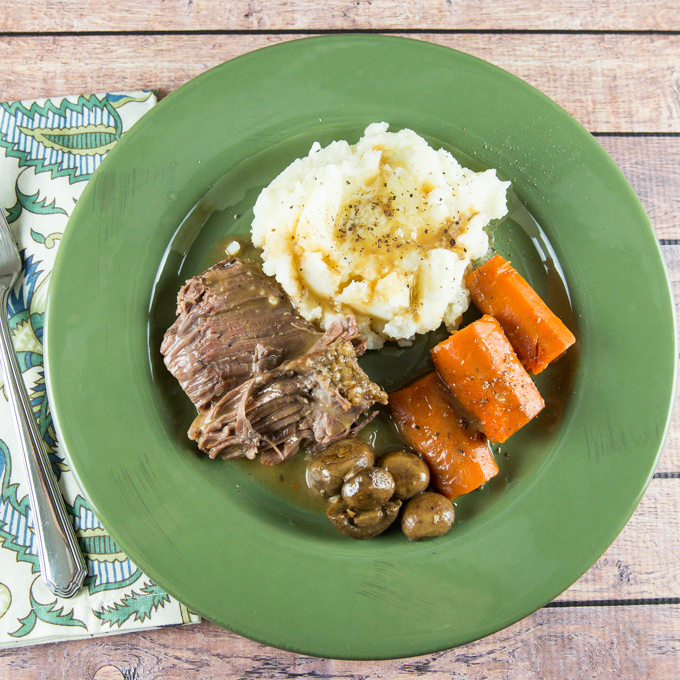 Start by prepping all the veggies. First I cooked the onions (in my hot dutch oven with a little olive oil) to get a little brown on them. Spoon them out of the pan and do then do the same with the carrots and mushrooms.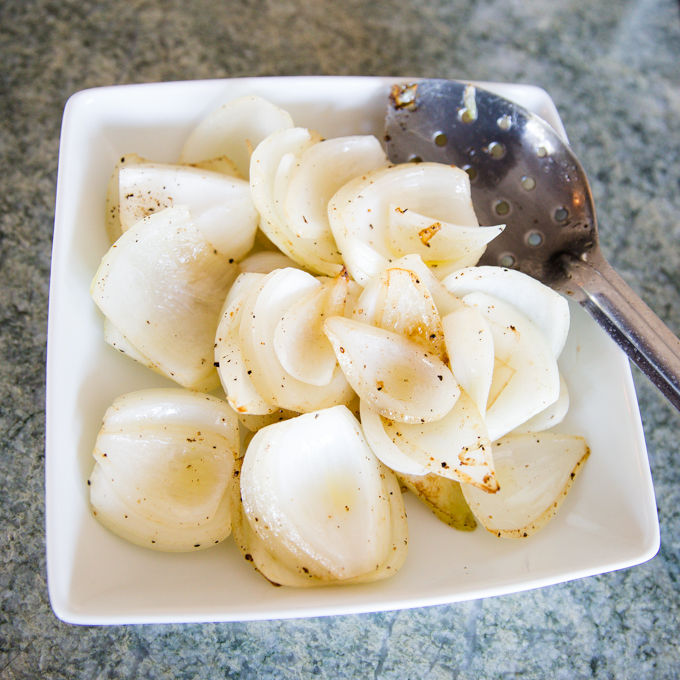 Once you've browned the veggies, it's time for the meat. Add a little more oil to you hot pan. After dredging your chuck roast in seasoned flour, you'll want to brown it on all sides.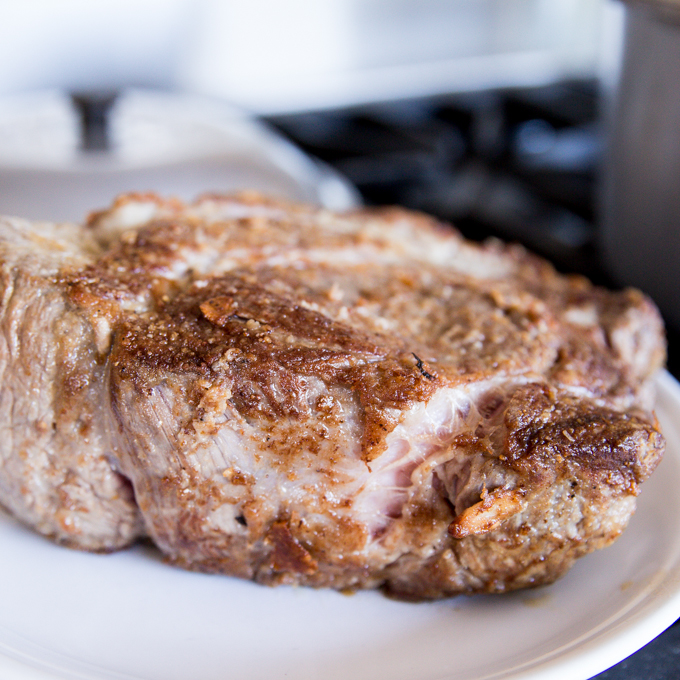 Remove from pan after it's browned and set aside (just like you did with the veggies). Add a little of your beef stock to your hot pan and stir and scrape the browned bits off the bottom. You'll want all the bits of flavor to get into the stock and not stay stuck on the pan. Layers of flavors!
Now, add the meat and the veggies back into the pan. Add rest of stock (it should cover roast about 3/4 of the way). Add in fresh thyme sprigs and fresh rosemary.  Cover and place pot in preheated 350• oven for 1/2 hour. Then reduce heat to 275• and continue to cook for about 4 hours or until meat is really tender and begins to fall apart. Cooking time will vary slightly depending on size of chuck roast.
This is what it will look like when its ready! YUMMY!!  Remove meat and veggies and thicken cooking liquid with some of the leftover seasoned flour if you prefer a thicker gravy.
I'm not sure this was quite as good as Grandma's but it was pretty darn tasty. This was a meal of love and time and layers of flavor. No crock-pot pot roast for me. I think know she'd be proud!
Old-Fashioned Pot Roast
Ingredients
3-4

# chuck roast

6

carrots

peeled and cut into 2" sections

2

med size yellow onions

peeled and quartered

6-8

ounces

mushrooms

whole, halved or quartered depending on size

1/4

cup

olive oil

32

ounce

box beef stock

2

sprigs fresh rosemary

2

sprigs fresh thyme

1/4

cup

flour

1

tsp

salt

1/2

tsp

pepper
Instructions
Prep onions, carrots, and mushrooms are explained above.

In a large dutch oven (heavy ovenproof pot), add olive oil and heat till hot

Brown onions. Remove from pot and set aside.

Brown carrots. Remove from pot and set aside.

Brown mushrooms. Remove from pot and set aside.

While veggies are browning, mix flour, salt & pepper together in flat dish and thoroughly coat all side of chuck roast (dredge) with flour mixture. Save extra for thickening gravy if desired.

Add additional oil if necessary to hot pan and brown all sides of chuck roast.

Remove roast and set aside.

Add about one cup of the beef stock to pot and stir and scrape brown bit from bottom.

Add meat back into pot. Add in carrots, onions, and mushrooms. Add remaining broth (enough to cover meat 1/2-3/4 of the way). Add sprigs of rosemary and thyme.

Place covered pot into 350• oven and cook for 1/2 hour. Reduce heat to 275• and continue to cook for approx. 4 hours. Cooking times might vary slightly depending on size of roast. It's done when meat begins to fall apart and veggies are really tender.

Remove meat and veggies from pot and thicken gravy on stovetop with flour mixture if desired (combine a few tablespoons of flour with 2 TBL water till smooth and stir into cooking liquid over high heat).

Serve with mashed potatoes.