Once you make homemade toasty croutons, you'll never go back. They are so full of flavor and you're in control of the crunch factor! Simply bake for a shorter period of time if you prefer a softer crouton, or add a few extra minutes to the baking time if you like them really crunchy.
Making croutons is a perfect use of leftover garlic bread, but since we never have left over garlic bread, I buy a loaf specifically for making croutons.
Homemade croutons are perfect on any salad, but my favorite is as a topping on my Caesar Salad. The combination of the creamy caesar dressing with the topping of homemade flavorful croutons is true salad perfection in my mind!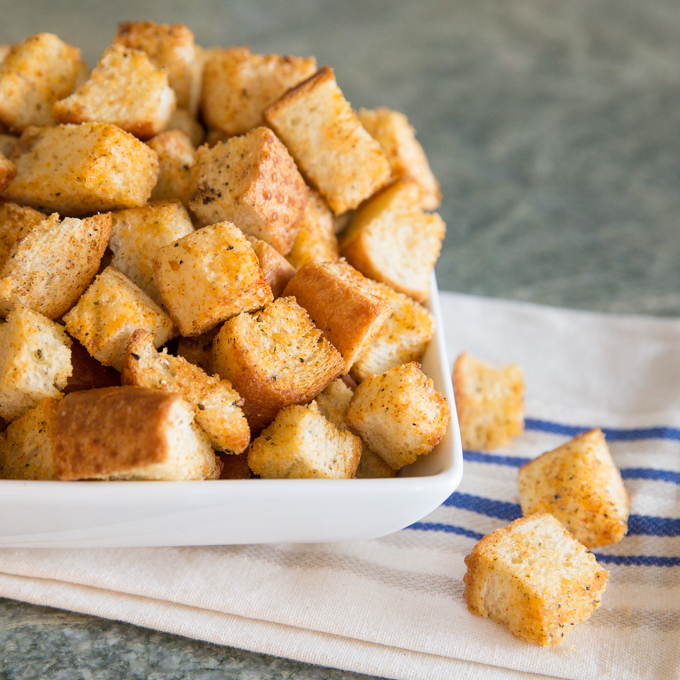 Homemade Toasty Croutons
Ingredients
1

loaf french bread

4

TBL butter

or a little more if you're feeling generous

2

tsp

garlic powder

1

tsp

salt

1

tsp

paprika

1

tsp

Mrs Dash

3/4

tsp

pepper

1/4

c

olive oil
Instructions
To prepare croutons, start by slicing your french bread in half (lengthwise).

Butter both halves & sprinkle with about 1 tsp of the garlic powder.

Cut french bread into cubes in place into large bowl.

Combine in small bowl: remaining garlic pwd, paprika, Mrs Dash, salt & pepper.

Drizzle olive oil over bread cubes and sprinkle with spice mixture. Mix well (I use my hands, but feel free to use a spoon).

Place seasoned cubes on baking sheet.

Cook croutons in 325• for approx 20-30 minutes. Turn croutons about every 10 minutes. Cooking time will vary depending on desired crispness.

Cool on sheet pan. They will continue to crisp up as they cool. I store mine in a ziplock bag.