When I have helping hands in the kitchen, I need simple to prepare recipes and kiddo friendly flavors. These Sausage & Potato Grill Packets were easy to prepare, quick on the grill, and enjoyed by all. And, the best part, no pans to wash!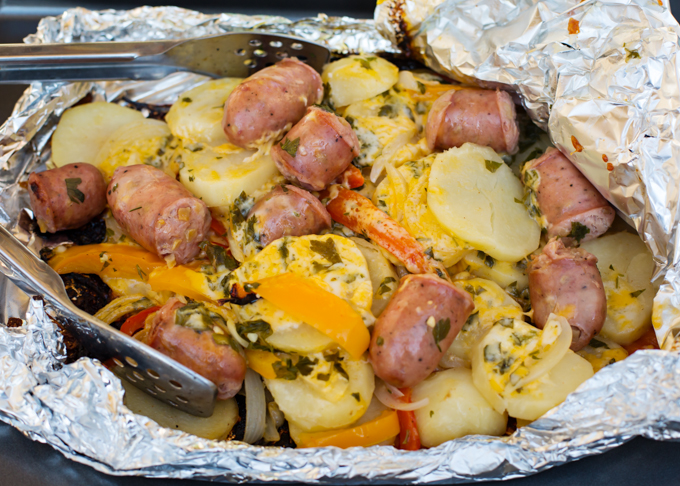 It's not often enough when I have my little helpers in the kitchen. All of my grand babies love to help and I love having them alongside me! I'm down staying in our little "home away from home" condo in Santa Barbara for a few weeks, which happens to be where my oldest daughter and her family live. Lucky me, two grand babies in the same town!!
B & G were eager helpers and loved practicing their knife skills. Gigi, who's 4, wasn't quite tall enough, and since I don't have a little stool, she decided that sitting "criss-cross applesauce" on the counter would work perfect! She kept telling me, "Nana, I can't believe you let me use a real knife!" Don't worry, I had my eyes on her the entire time. B, who spends a lot of time in the kitchen, cooking with his Dad, is actually turning into quite the little foodie!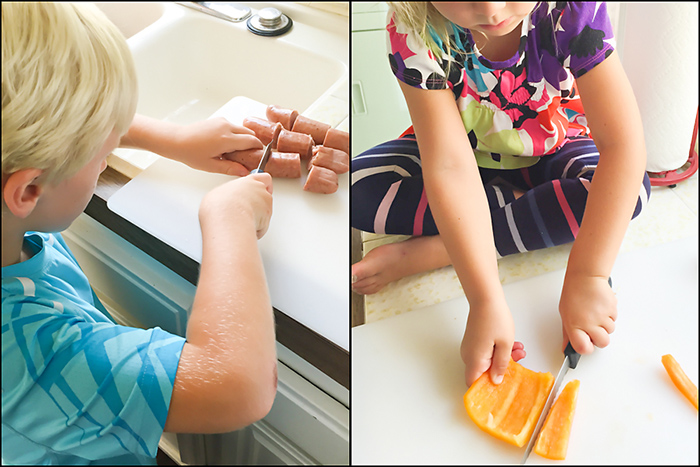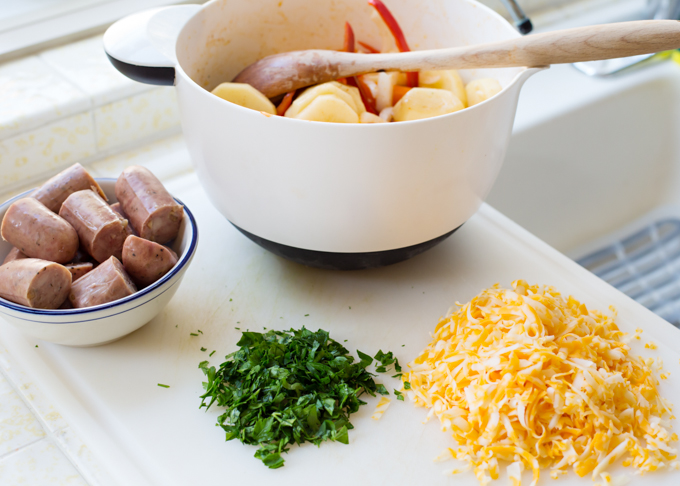 After cutting, chopping, and shredding, we were ready to assemble. I think B got focused on sports on the TV, so Gigi and I did the assembly. She was so proud of her own grill packet, especially the amount of cheese that she topped it with.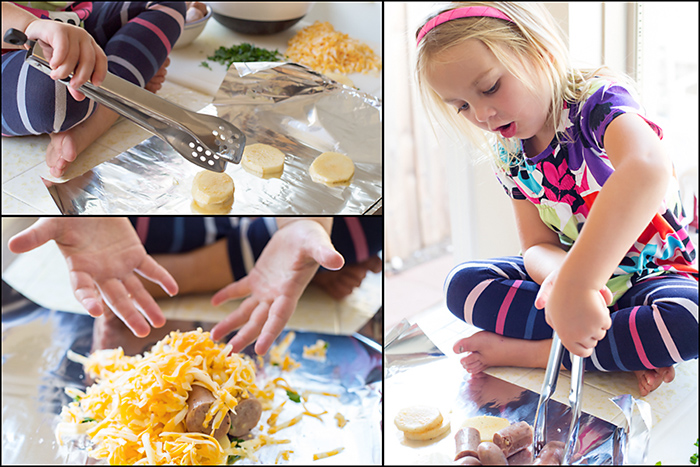 After assembling each packet, wrapping each securely in foil, it was time to grill. G & B wanted their own packets, so we made three. One for G, one for B, and one large one for the adults.
. . . . . . . . .
Hot off the grill and ready to open our Sausage & Potato Grill Packets!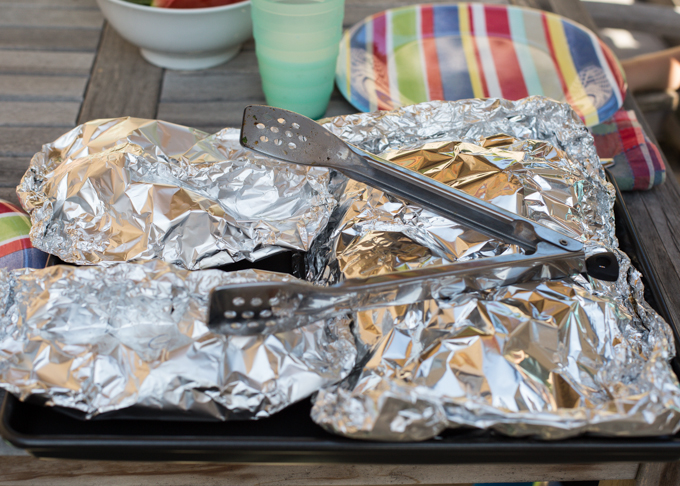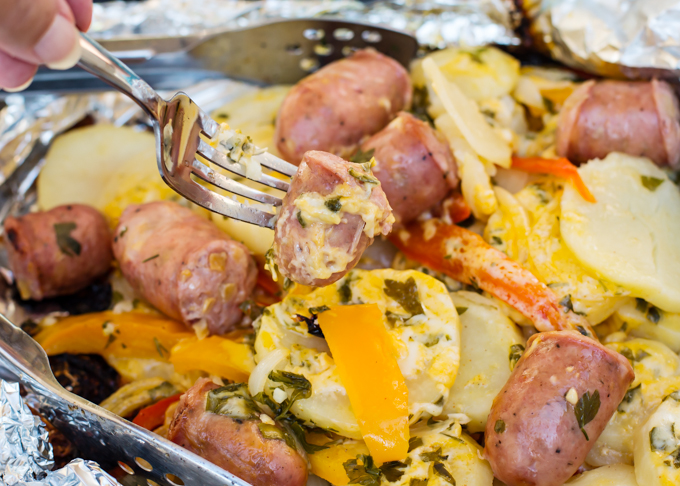 The potatoes, onions, and bell peppers were perfectly tender, the sausages steamy hot, and just look at all the ooey gooey melted cheese!!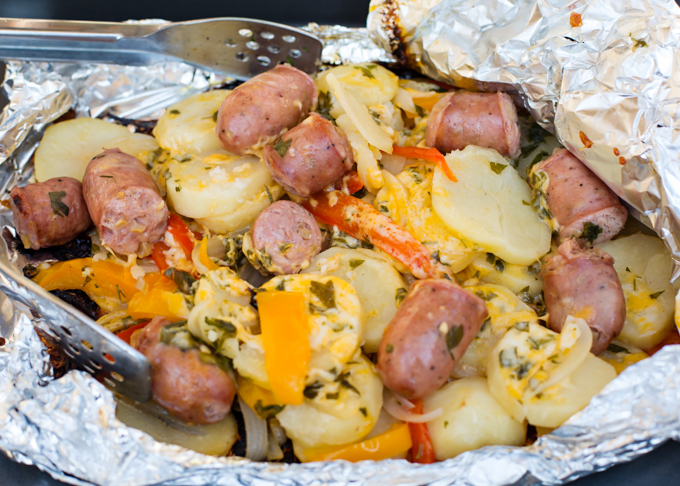 Sausage & Potato Grill Packets
Ingredients
3

medium size russet potatoes

washed & peeled

1 1/2-2

bell peppers

I used red and yellow

1

med yellow onion

3

cloves

garlic

crushed

4-6

sausages

1

tsp

BBQ seasoning

2

TBSP

olive oil

1

cup

grated cheese

I used colby jack
Instructions
Wash, peel, and thin slice the potatoes.

Cut the bell peppers into strips.

Thinly slice onion.

Combine potatoes, bell pepper, onion, and garlic in large bowl. Toss with BBQ seasoning and olive oil.

Cut sausages into thirds.

Prepare foil packets by using 2 layers about 12" for bottom. Layer potatoes/veggies/sausages on top of foil. Top with grated cheese.

Place another piece of 12" foil on top.

Tightly crimp edges so they are secure.

Cut a few slits in each pouch so steam vents.

Place on med heat grill for 20-30 minutes.
This recipe was inspired by J at A Hot Southern Mess.