This Sweet & Spicy Ziti with Sausage is so delicious!! My goal was to duplicate my favorite pasta dish from a little Italian Restaurant down in Santa Barbara, CA. My interpretation came out close to perfect!! It's sweet and spicy and full of flavor. The sauce is thick and full of sweet italian sausage.
I highly recommend this dish to anyone that enjoys a hearty pasta meal!
We like spice, so I added a bit more than 1 tsp of crushed red pepper flakes. It had a little kick to it, but was really yummy! Adjust the red pepper flakes to your family's spice level. Remember, you can add more if needed, but can't take away once it's been added.
I certainly remember the crazy busy days of young children. This is a perfect recipe that you can start early in the day and finish off about 30 minutes before serving. Simply make the sauce (do not cook the pasta yet) and come back to it later. About 30 minutes before you want to serve it: cook the pasta and start warming sauce on low. When the pasta is al-dente, add to warm sauce and let simmer for about 15 minutes.
**Pasta tip….add a little of your pasta cooking water to your sauce. The starch will help to thicken the sauce a bit.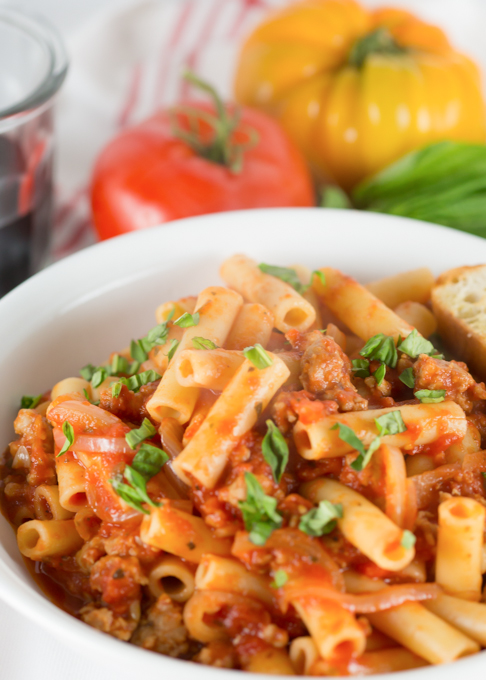 Sweet & Spicy Ziti with Sausage
Ingredients
1

# Ziti Pasta

1

# Sweet Italian Sausage

2

TBSP

olive oil

1

large yellow onion

peeled and chopped

3

cloves

fresh crushed garlic

1 28

oz

can San Marzano peeled tomatoes

1 15

oz

can tomato sauce

1

tsp

dried basil

1

tsp

dried oregano

1/2-1

tsp

crushed red pepper flakes

start at 1/2 tsp and adjust to taste

1/2

tsp

salt

1/2

tsp

pepper

Optional toppings: Freshly grated parmesan and fresh chopped basil
Instructions
Cook Ziti pasta according to box directions (under cook by 1-2 minutes, it will finish cooking in sauce). Drain, but do not rinse. Try to time pasta cooking with finishing of sauce cooking.

Heat olive oil to med/high in large deep skillet (or dutch oven).

Remove casing from sausage, and brown in skillet (crumbling and breaking apart as it cooks).

Once sausage is nice and browned, remove from skillet (using slotted spoon) and set aside.

Add chopped onion to skillet (reduce heat to med) and saute for a couple minutes, scraping up brown bits from bottom of skillet. Add in fresh chopped garlic. Continue to sauté until onions are tender.

Add sausage back to skillet.

Add tomatoes (crushing by hand as you add them), tomato sauce, and dried spices.

Cook for approx 1/2 hour over med/low heat, stirring often.

Adjust spices to taste **(remember that you can add more chili flakes, but can't remove the heat if you over do it).

Add al-dente cooked pasta to sauce pot, simmer on low for approx 15 minutes.

Serve with freshly grated parmesan and chopped basil leaves (optional).