Fresh baby greens, creamy avocado, sweet mango, and candied pecans combine to make the perfect Mango Salad. I can pretty much guarantee that if you're at our house for a bbq or I'm asked to bring a salad to a potluck, that this might show up. Everyone loves it and I certainly haven't gotten tired of it yet. The combination of flavors just hits the spot.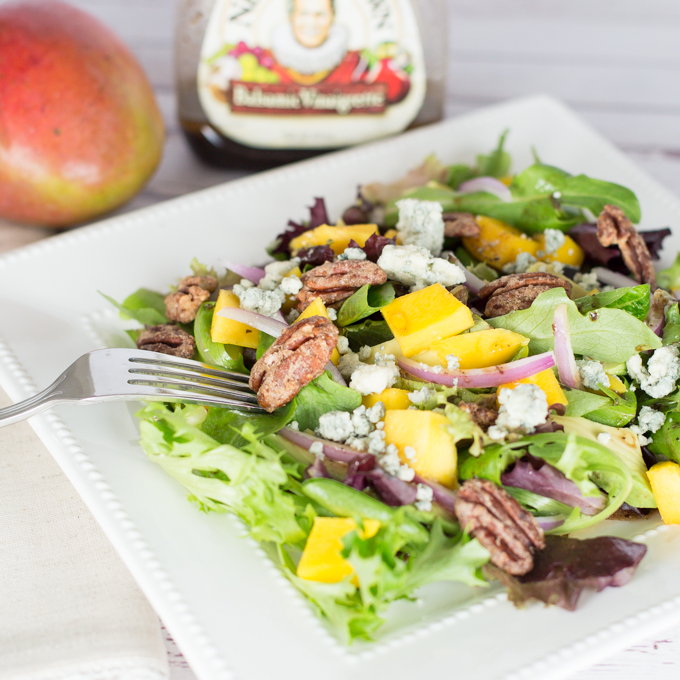 Don't judge. Yes, that is bottle salad dressing. I rarely make my own balsamic dressing because this one is just so good. Seriously I think that Newman's Own should sponsor me, because I use A LOT of this dressing!!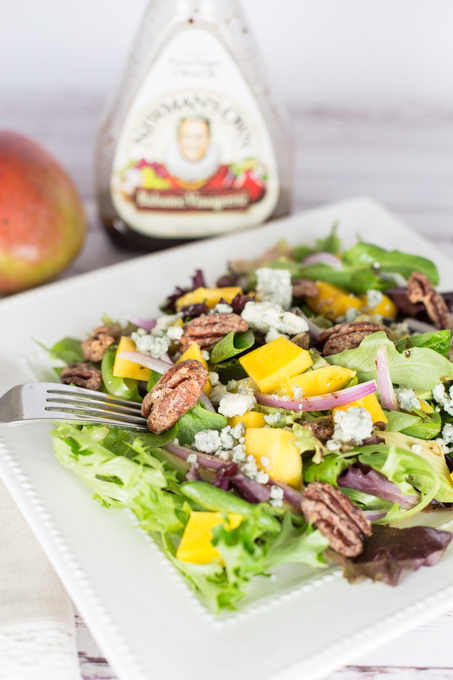 This is such a pretty salad that I typically serve it on a large platter instead of a bowl. Again, this is another of those "non-recipe" recipes that just serves as inspiration. Feel free to mix up ingredients. No, Don't! It's just too good as it is 🙂
Layer baby greens, sliced red onion, sliced avocado, diced fresh mango, homemade candied pecans, and blue cheese, on large serving platter. Lightly dress with your favorite balsamic dressing. Don't drench you salad, you want to taste every ingredient. Lightly toss. Serve and Enjoy!!
**I know that not everyone likes blue cheese, so I often serve it on the side.