I make two kinds of spaghetti sauces. One is thick and chock full of meat and veggies. Served over pasta it is a filling comfort food meal. The other, today's recipe, is a light vegetarian marinara sauce. This simple marinara sauce is quick and easy to make, and I typically have everything I need in the pantry.
Now I know I said it was vegetarian, but I did serve ours with some homemade meatballs that I made a couple weeks back and had in the freezer. I love having some home cooked items frozen and ready to go in my freezer. A side salad of maybe my caesar salad and some toasty garlic bread and dinner is served.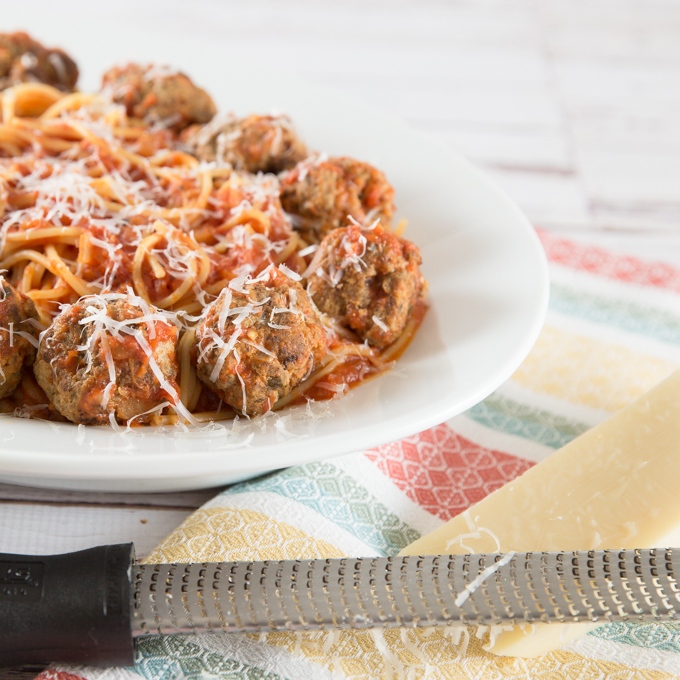 This simple marinara sauce really is simple. The prep time is next to nothing and it cooks up in 45 minutes.
Simple Marinara Sauce
Ingredients
2

TBSP

butter

2

TBSP

olive oil

1

med yellow onion

chopped

3

cloves

garlic

pressed or finely chopped

2 -28

oz

cans San Marzano tomatoes

1

TBSP

sugar

1

tsp

dried basil

1

tsp

salt

1/2

tsp

pepper

1/2-1

tsp

chili flakes

depending on how much spice you like
Instructions
Heat large pot or sauté pan over med heat.

Saute onions till just tender.

Add in garlic.

While onions are cooking, break tomatoes (do NOT drain) apart using your hands or a potato masher.

Add smashed tomatoes, salt, & pepper. Bring to a low boil over med heat.

Reduce heat to low, add sugar, basil, and chili flakes.

Cook on low (uncovered) for approx 45 minutes.

Cook 1 # spaghetti pasta according to package directions.
*You may serve this sauce served over the noodles or mixed in. If you mix it in, I recommend under cooking the pasta by 1-2 minutes and put cooked noodles into the sauce pot to mix. Noodles will finish cooking and sauce will thicken a bit from the pasta starch.
**FYI, I used my immersion blender to make my sauce a bit smoother (right before adding cooked noodles). I love my other spaghetti sauce really chunky, but I prefer this to be a little smoother. Do whatever suits you and your family.