I was kind of a crazy meatball lady when I made these recently. I decided to make a lot and freeze part of them, which resulting in a lot of meatball rolling and cooking. The end result, however, of meatball subs for dinner, and a couple of zip-lock bags in the freezer definitely made the time commitment worth it.
Meatballs are one of those recipes where you really don't need a recipe and you can hardly go wrong with changing things up a bit. I decided to use a combination of ground beef and turkey, but I easily could have used one or the other, or even a combination of ground pork, beef, and veal (which by the way is also the traditional meatloaf blend). I personally don't like using just ground turkey because I think they turn out a bit dry and the flavor isn't quite there. But, if you don't eat red meat, by all means, use just turkey.
Here is how we enjoyed ours the first night.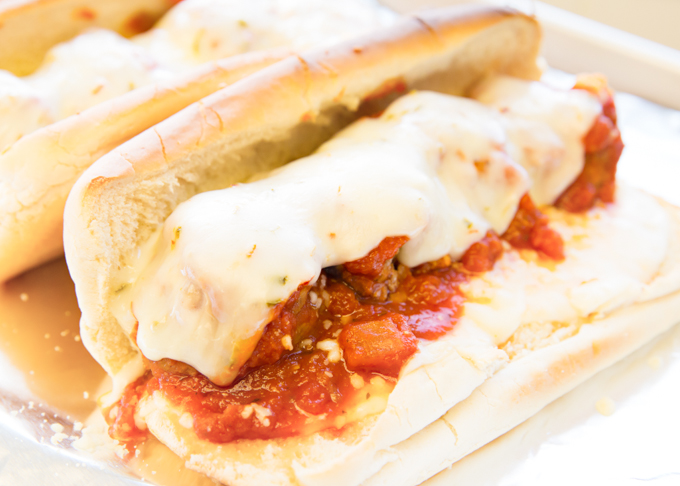 Yummy right?? Warm meatballs with melted provolone cheese on a toasted sandwich roll.
For my meatball sub, I warmed the meatballs in marinara sauce. I cheated and used a delicious organic jar sauce, spiced up a bit with some extra garlic and Italian herbs. I typically make my own sauce, but after rolling about five dozen meatballs, I took the shortcut of the pre-made sauce. Feel free to make your own of course.
The rest of the meatballs went into the freezer. I froze them on baking sheets, then once frozen, popped them into a zip lock freezer bag. When I was ready for my next meatball meal, I grabbed out what I needed and set out to prepare some delicious Spaghetti & Meatballs.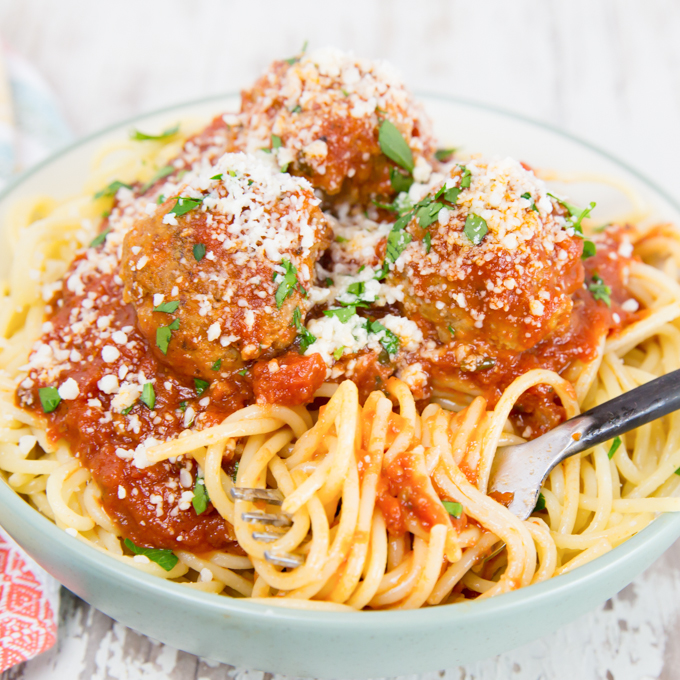 While the pasta is cooking, slowly simmer the "thawed" meatballs in your favorite marinara sauce. In less than 15 minutes you can have a hot delicious homemade dinner on the table for your family. A side of Caesar Salad and some delicious Garlic Bread and you're ready to go.
And for the final meal with these delicious Meatballs, I made a Cheesy Meatball Bake. Oh my goodness, talk about cheesy goodness!! You can scoop this right onto your plate and serve with bread, top a bowl of hot buttered pasta, make meatball subs, or for a lighter version, serve over Baked Spaghetti Squash.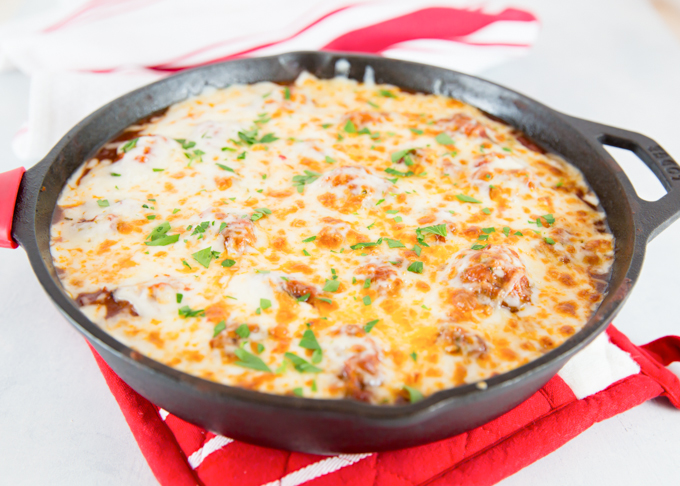 To make this Cheesy Meatball Bake, I simply heated thawed meatballs in my favorite marinara sauce until heated through. Then, topped with freshly grated cheese (I used a combination of pepper jack, mozzarella, and parmesan), and place under broiler until cheese it hot, bubbly, and golden brown.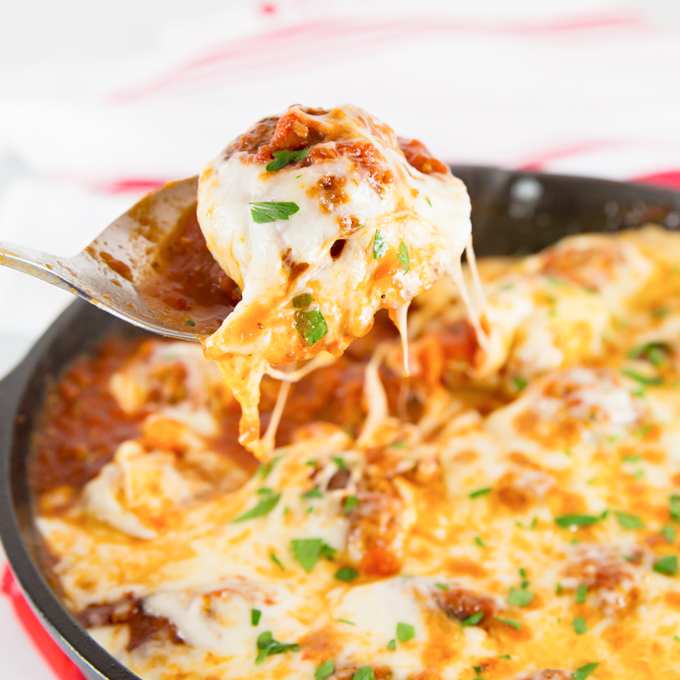 And finally, here's the meatball recipe. Warning, this recipe makes about 5 dozen "golf ball" size meatballs. But as I've shown you above, they freeze well and you'll have many options of how to serve them!!
Meatballs!
Ingredients
2

lbs.

ground beef

1

lb.

ground turkey

3

eggs

1

yellow onion

finely chopped

4

cloves

fresh garlic

pressed or finely minced

1

cup

seasoned breadcrumbs

1

cup

grated parmesan cheese

1

tsp

salt

1

tsp

fresh cracked pepper

1

tsp

red chili flakes

1/2

cup

milk

Olive oil

for browning meatballs in skillet
Instructions
Combine ground meats in large bowl. Mix together with clean hands (rings removed).

Add the rest of the ingredients and mix until well blended.

If mixture seems too dry add a little more milk (it should be a fairly wet mixture).

Roll meatballs into even sized balls (mine were about golf balls).

Heat olive oil in large skillet (I used cast iron) to med high and brown meatballs (turning to brown all sides).

Remove from skillet and place onto rimmed sheet pan.

Bake in preheated 350* oven for about 12 minutes.

*Cooking times will vary depending on size of meatball, please adjust as needed.
Please make sure and share onto Facebook and Pinterest. Sharing is caring!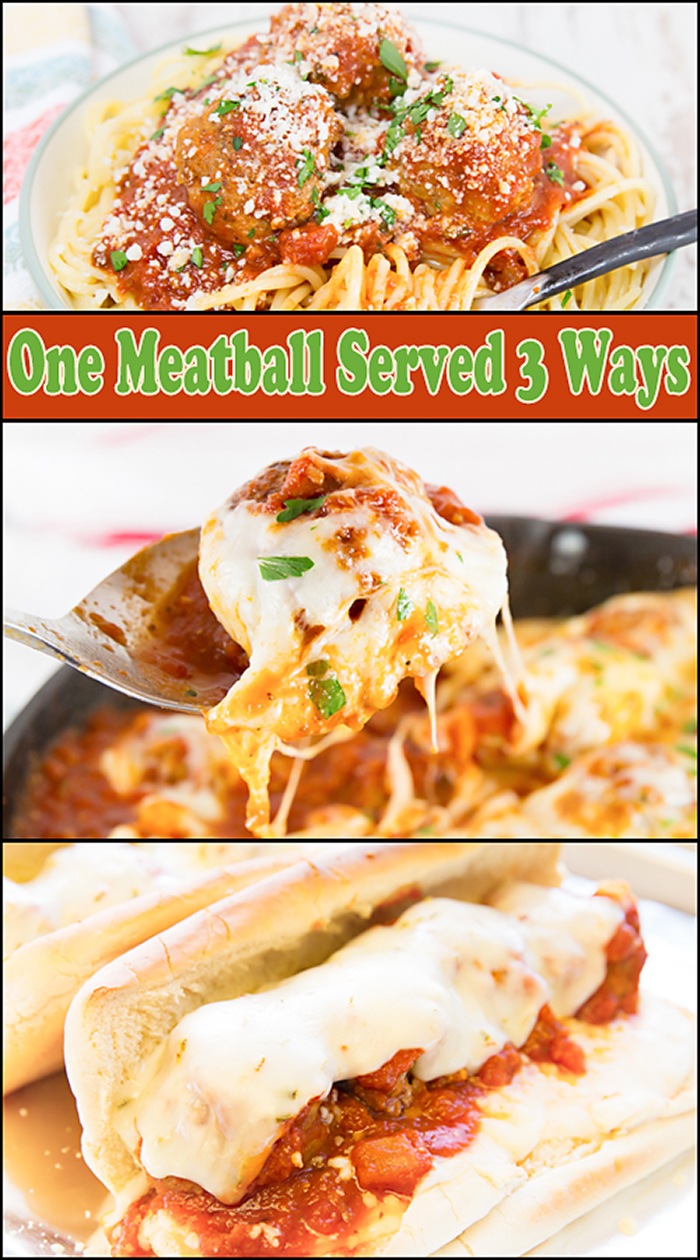 You'll want to serve any of these delicious Meatball recipes with a delicious Caesar Salad!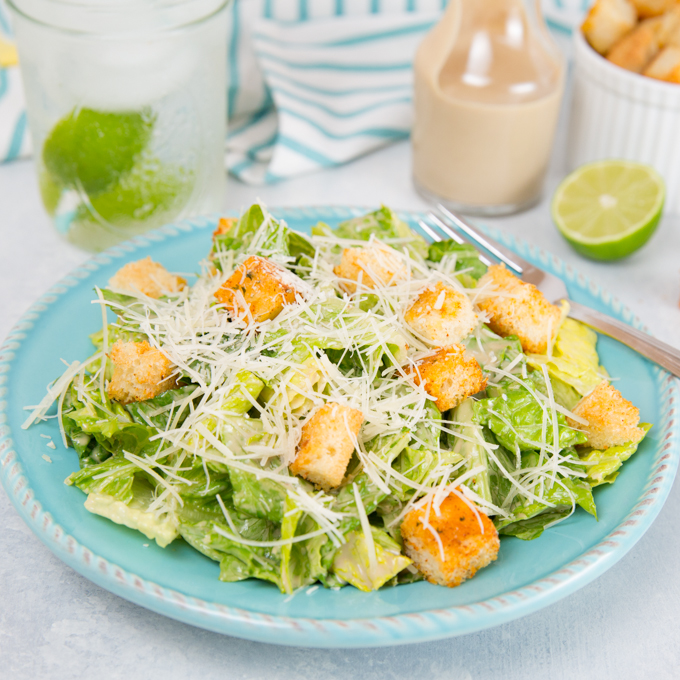 You might also like:
Cacio e Pepe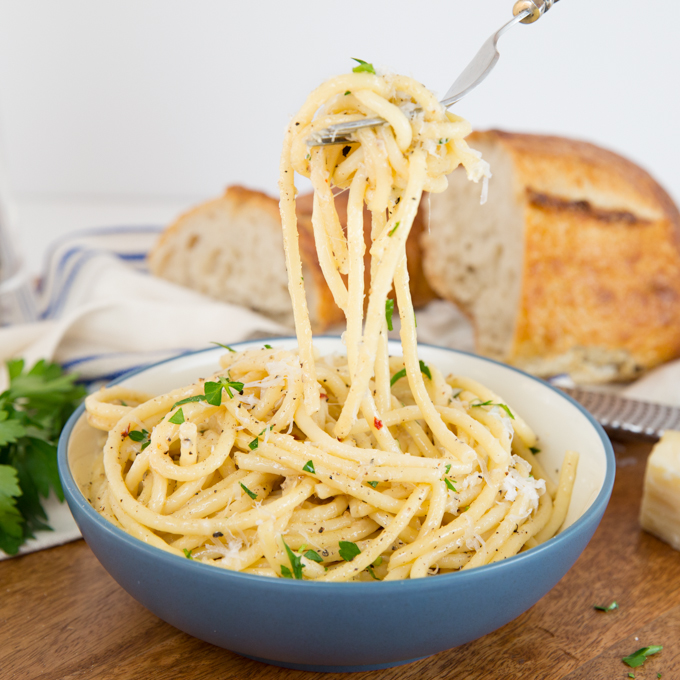 Chicken Parmesan w/Penne Pasta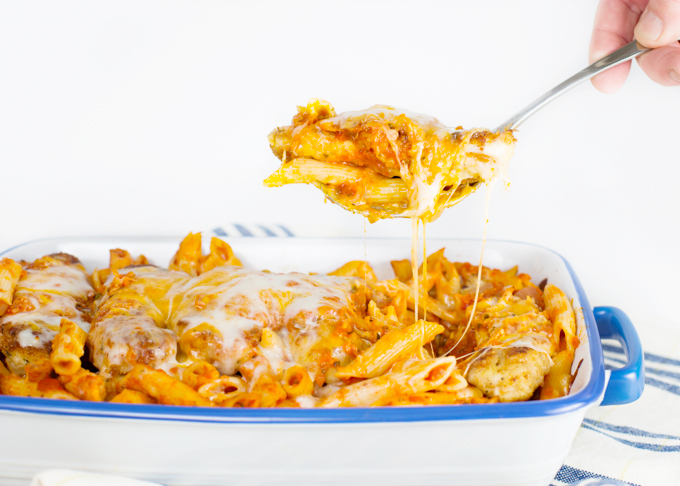 Baked Spaghetti & Meatballs