Chicken Parmesan w/Penne is not only delicious, but it's simple to make and freezes well. I made a double-triple batch this week and brought one dish to a friend, had dinner (with leftovers) for my husband & I, and have a small casserole in the freezer. I would say that was time well spent in the kitchen!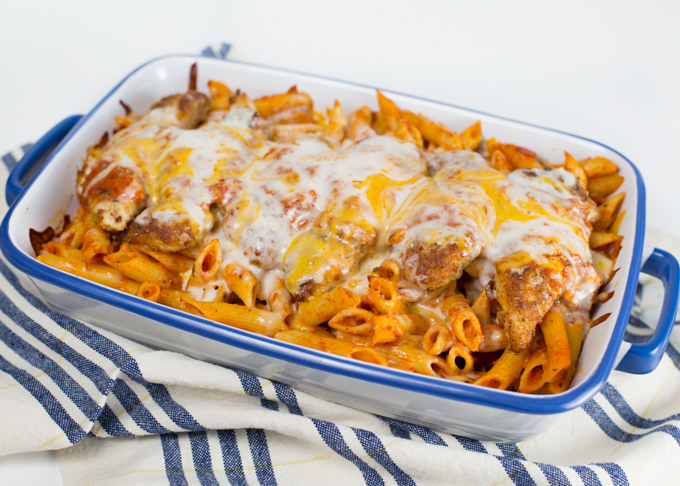 I've been wanting to bring dinner to my sweet friend Katie and her family for a few weeks now, and finally last night I did. Katie's son, Noah (age 5), was recently diagnosed with Type 1 Diabetes. To say that their world has been rock is an understatement! Poor little guy has to endure multiple finger pricks (10x per day, including during the night) to check his blood sugar levels, and also receive multiple insulin injections everyday (6x per day) . . . . . that's 16 pricks per day! Sadly, there currently is no cure for T1D, but, hopefully Noah will see one in his lifetime!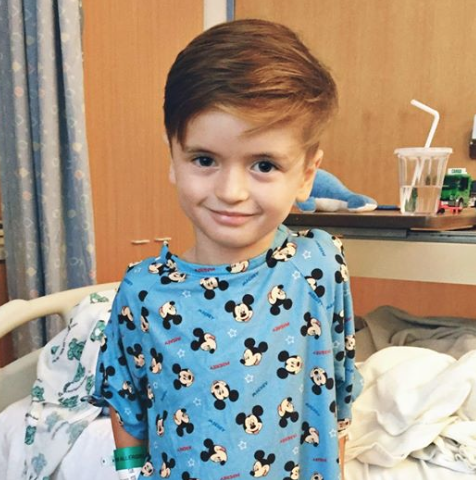 Excuse the cell phone pics, but here's the basket that I delivered to Katie and family. It was such a blessing for me to be able to help (even if it was only one meal). My challenge for you, is to cook up a big batch of my Chicken Parmesan w/Penne and drop off dinner to a friend or family member who might need a little extra help. And don't worry about making it fancy, check out the "bagged salad" I included and the Ben & Jerry's Ice Cream for dessert. Some days not all parts of the meal are homemade. And that's okay. At least I made the Chicken Parm and garlic bread.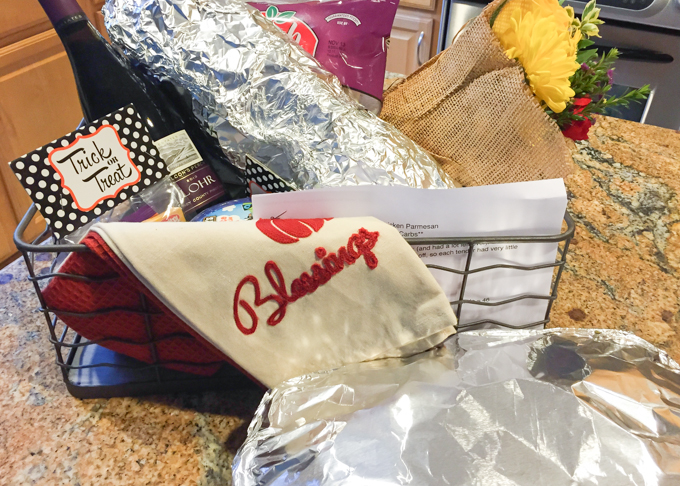 Ok, finally on to making Chicken Parmesan w/Penne Pasta. This is one of those dishes that I've never used a recipe or measured, because you really can't mess it up, but I did measure this time so that I could provide those of you that have never made chicken parmesan a recipe that would be easy to follow. So easy in fact, that I started with a jarred sauce and used Foster Farms Chicken Tenders so that the entire dish would be simple to make and quick to cook. And to be honest, it's just as easy to double-triple the recipe and make some to share and some to freeze!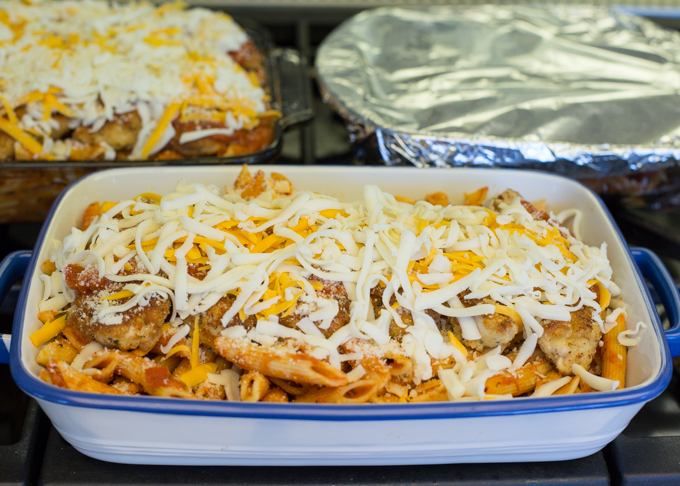 I don't want you to think this is a one pot meal. It's not. But, I had everything cooking all at the same time: the sauce was being spiced up a little in one pot, the pasta was cooking in another, and the chicken cooked in a large sauté pan. Three pots to wash, but the end result was three casseroles of deliciousness!!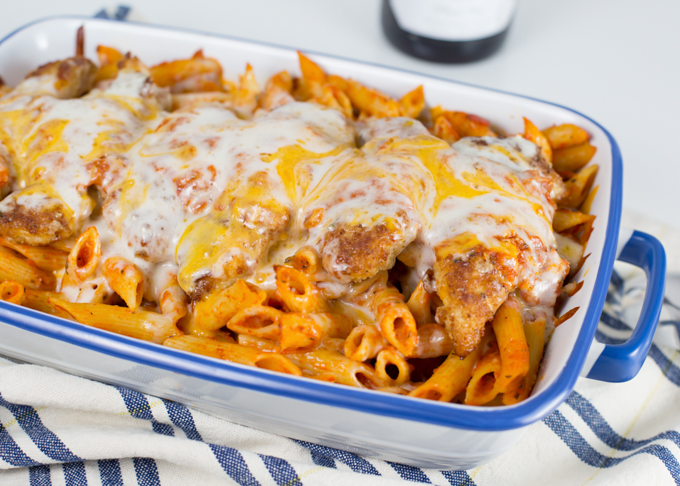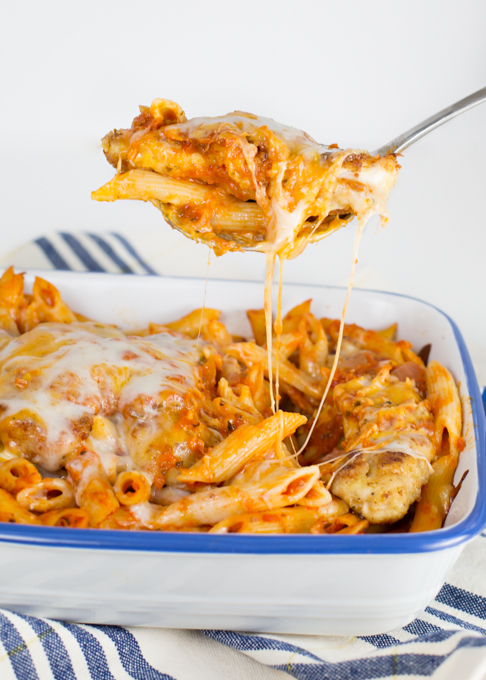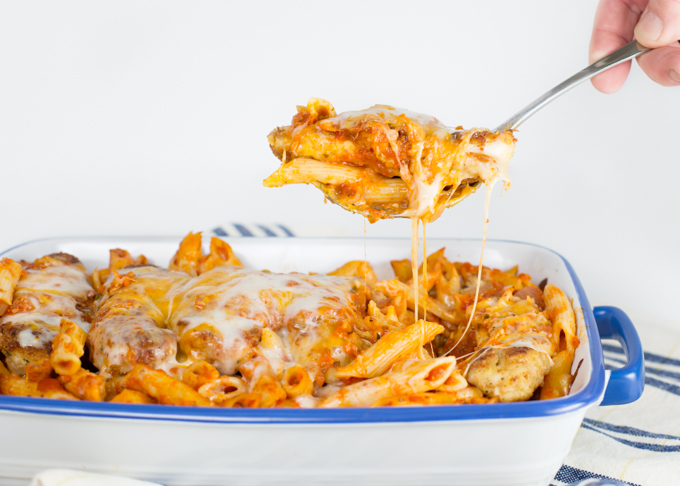 And, because you can't serve pasta without garlic bread, and being the efficient homemaker that I am, I happened to have a loaf of my garlic bread in my freezer. The best part, now I have a casserole of Chicken Parmesan w/Penne Pasta and a loaf of garlic bread in the freezer, just waiting for a non-cooking day. FYI, I'm kidding about being an "efficient homemaker." I served ours with (and delivered) bagged salad! Somedays you just don't have all the salad makings in the fridge and need to stop at the store before a meal drop off. If, I had actually made the salad, it, without a doubt would have been a homemade caesar salad!!
Here's the recipe, and please remember to give this a share on FB or Pinterest for me!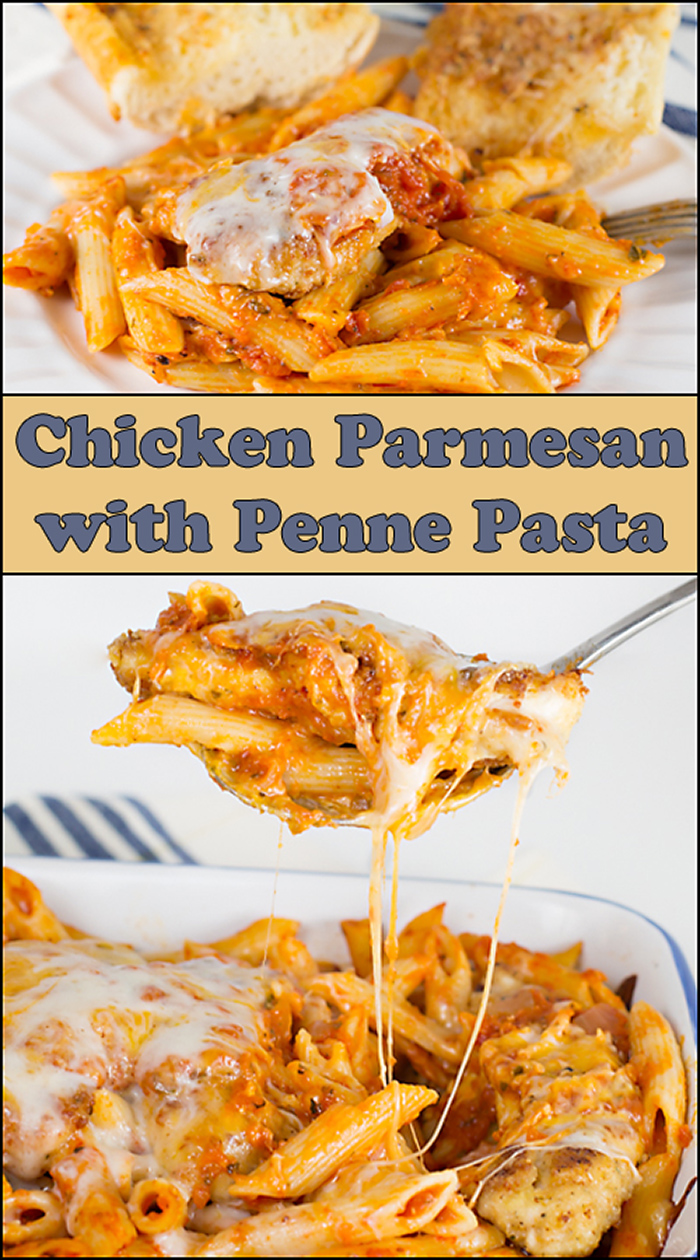 Chicken Parmesan w/Penne Pasta
Make and bake OR make extra and freeze. Thaw before heating.
Ingredients
For chicken:

1-2

packages Foster Farm's Chicken Tenders

1

cup

flour

1

cup

seasoned bread crumbs

1

cup

grated parmesan

2

tsp

salt

2

tsp

garlic powder

1

tsp

pepper

2

eggs

olive oil

for frying chicken

For sauce:

1 1/2 - 24

oz

jars marinara sauce

I used San Marzano Marinara

1/4

yellow onion

chopped

1

clove

garlic

crushed

1/2

tsp

dried basil

1/2

tsp

dried oregano

1/4

tsp

red pepper flakes

drizzle of olive oil

1

box Penne pasta

4

oz

mozzarella cheese

grated

2

oz

mild cheddar

grated

1/2

cup

parmesan
Instructions
Begin with the sauce: In med. saucepan, drizzle in a little olive oil. Add onions and sauté over med/low heat until almost translucent. Add garlic and cook for another couple minutes. Add in basil, oregano, pepper flakes, & sauce. Lower heat to simmer.

To prepare chicken:

In large zip lock bag, add 1 cup flour, 1 tsp salt, 1 tsp garlic powder and 1/2 tsp pepper. Shake to combine. Add in chicken tenders and shake to thoroughly coat chicken pieces.

In med size shallow bowl, using a fork or whisk, mix the eggs until they are light and frothy.

In shallow bowl or baking dish, combine together 1 cup bread crumbs, 1 cup parmesan cheese, 1 tsp salt, 1 tsp garlic powder, and 1/2 tsp pepper.

Using tongs, take a piece of chicken from flour bag (shaking off excess flour, dip into egg mixture, then place into bread crumb/parmesan mixture, coat chicken thoroughly.

Heat olive oil in large sauté pan over med low heat.

Cook chicken in sauté pan a few pieces at a time, until golden brown on both sides. Remove cooked pieces and place on wire cooling rack (like the kind you'd use for cookie baking). Repeat dredging & frying process until all chicken has been cooked.

In the meantime, cook pasta according to package directions.

To assemble: mix cooked pasta with pasta sauce, reserving about 1 cup. Add 1/2 cup parmesan cheese to saucy pasta. Pour into rectangle baking dish (freezer & oven safe). Place cooked chicken on top of pasta. Spoon on remaining pasta sauce and top with grated mozzarella & cheddar cheese. Cover with foil. Bake at 350* until hot and cheese is melted.
** I made three med size casseroles and used 3 packages Foster Farms Chicken Tenders, 3 jars of sauce, and two boxes of penne pasta. No adjustment was made to the flour and breadcrumb/parm coating, except I used 3 whisked eggs for dipping. To the 3 jars of sauce, I used 1/2 large yellow onion, 2 garlic cloves, 1 tsp basil, 1 tsp oregano, 1/2 tsp red pepper flakes.
Make sure and save these recipes also 🙂
Baked Spaghetti & Meatballs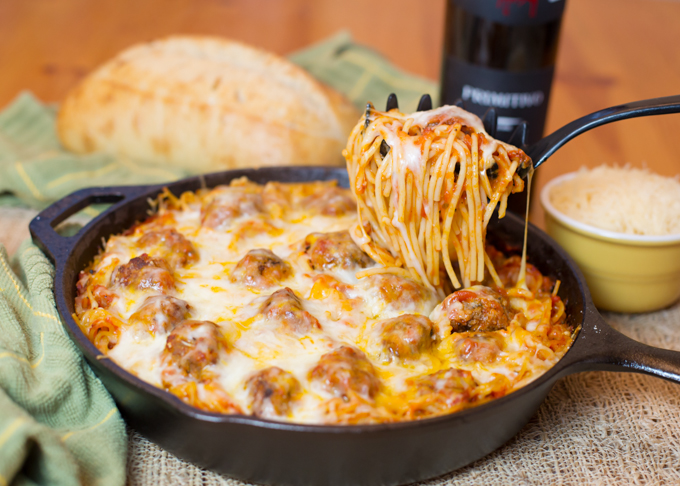 White Chicken Ravioli Bake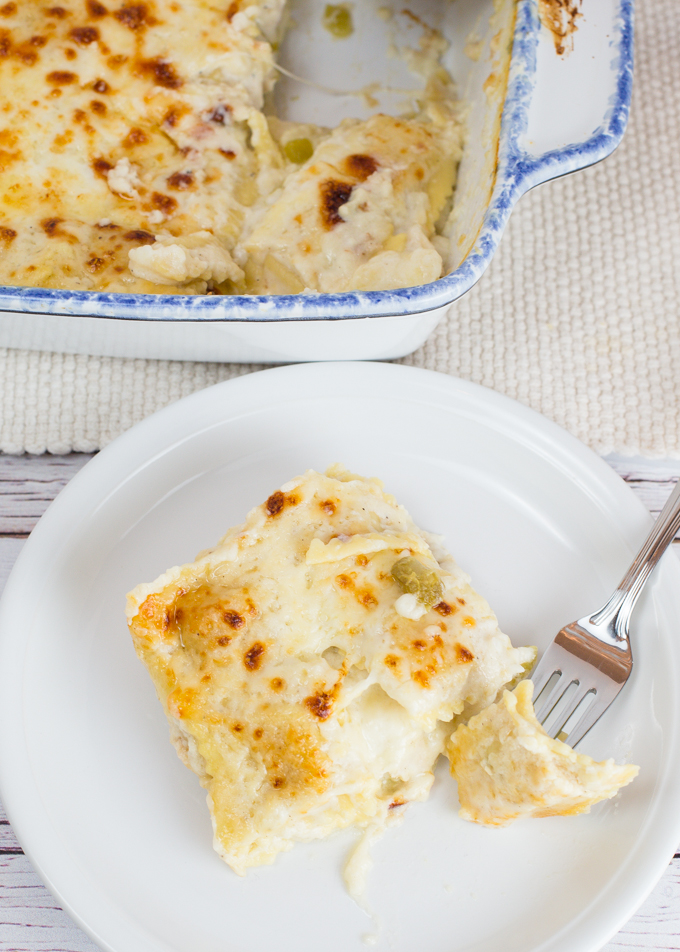 Chicken Alfredo Bake