I'd love to say that we had friends or family over to enjoy this Red Heart Tablescape and a delicious meal with us, but we're still living cautiously. As soon as we get past this darn pandemic, I'll be filling my calendar with lots of gatherings. I can't wait to be able to host again!! In the meantime, I'll set an occasional table just for fun!!
Sometimes you have to do things that bring you JOY! And for me, walking past my dining room and glancing over and seeing a beautiful table, truly does bring me joy! I know it probably sounds crazy, to set a table for no reason, but for this Nana, it makes me happy, so why not! What do you enjoy doing, just for fun!!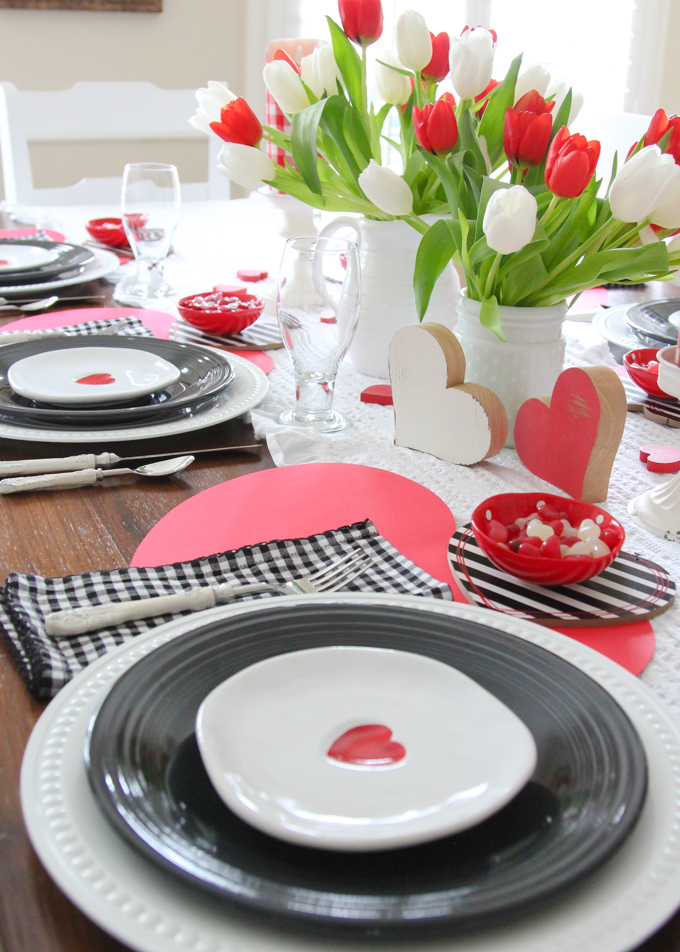 The fresh tulips were probably enough, but I tend to add a few extra layers to my tablescapes.
What purpose exactly do the layers provide?
Table runners provide an extra layer of protection from heat, moisture and spills while adding a "pulled together" look. They also a base for your centerpiece (source credit-premiertablelinens-blog.com)
On the table, a centerpiece is a central object which serves a decorative purpose. However, centerpieces are often not too large, to avoid difficulty with visibility around the table and to allow for the easier serving of dishes. Centerpieces are often made from flowers, candles, fruit, or candy (source-wikipedia)
Charger plates can catch pieces of food, and prevent spills and messes that would otherwise stain the tablecloth or flow onto the table. Chargers also help to retain the heat in dinnerware since they are placed directly underneath plates and bowls (source credit-webrestaurantstore.com)
Cloth napkins are cute and functional. "They hold up way better than paper napkins. No one wants to use paper napkins that are going to disintegrate after a few quick hand wipes during a messy meal. A cloth napkin can stand up to the messiest fingers — every single time" (source- Kitchn)
What is the purpose of the small heart plate? My response is because it makes the table look complete, however, this is actually a dessert plate, which wouldn't be on the table until dessert is served. Oops. "The dinner plate is the center of the place setting, and the salad plate is placed to the left. The dessert plate sits just above the dinner plate in many cases. When the dessert plate is not placed on the table before the meal, it arrives after the dinner dishes have been cleared (source-classroom.synonym.com)
Party favors or sussy "A small gift, given for no particular occasion other than love and friendship, usually not wrapped and often not given directly but left as a surprise to find. A little inexpensive present given from the heart."
And most of all, they're fun and pretty!!
So there you have it, lots of info that I doubt you really care about. My thought, is set your table however it makes you happy!!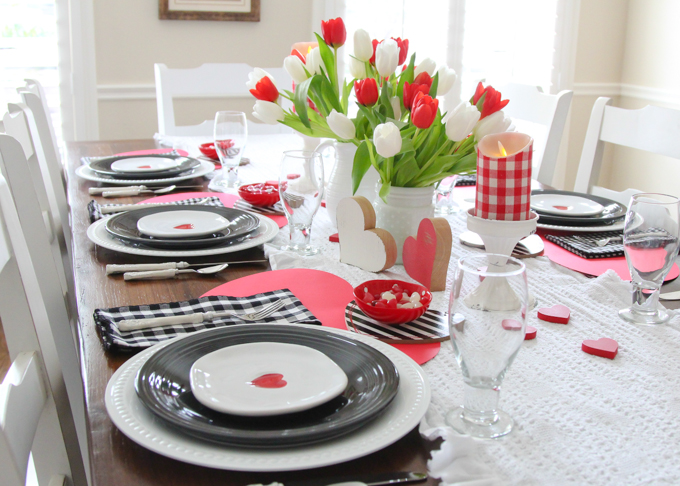 It's fun to use unexpected colors on a table. Like black on Valentine's day! I've also used black on an Easter Table before! Go take a look and let me know if you're in agreement that black is a fun addition to a tablescape. I'm not sure I'll be able to pull it off for 4th of July, but I might try.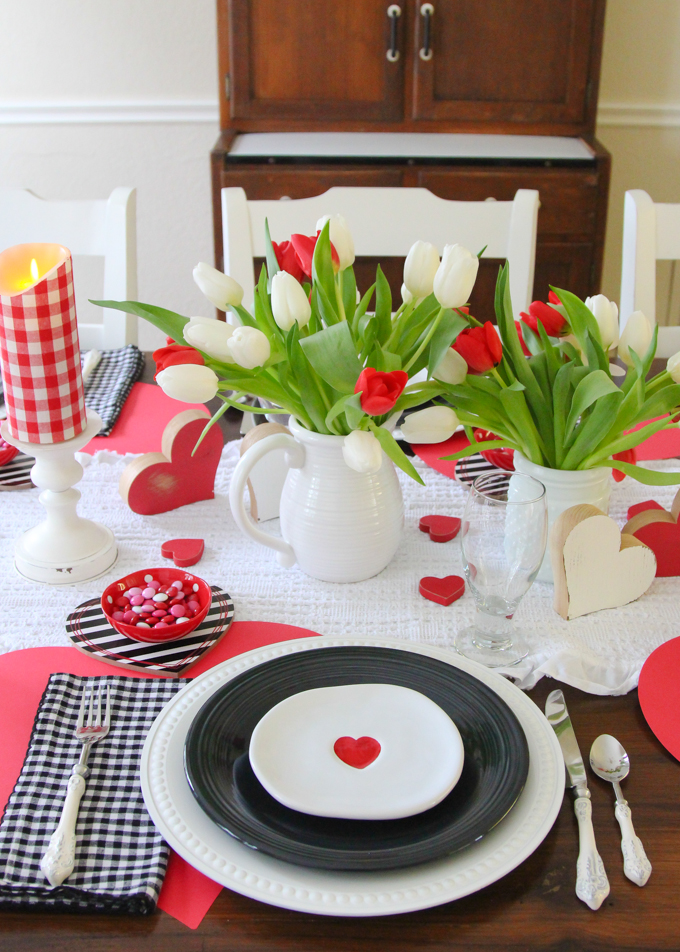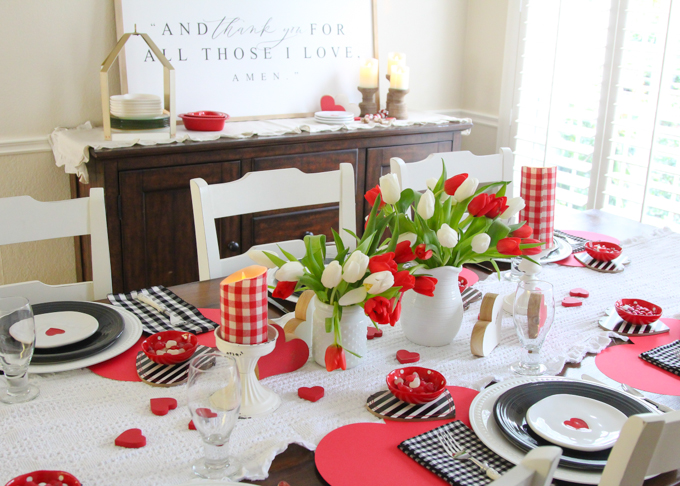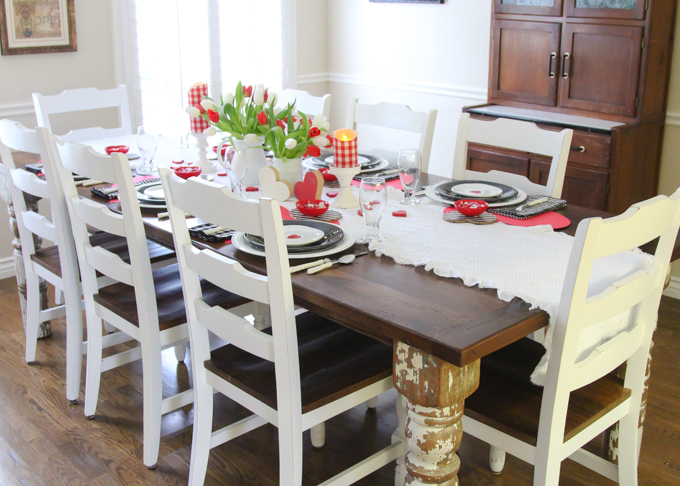 If this post has brought you JOY, please feel free to PIN this to your favorite pinterest board!!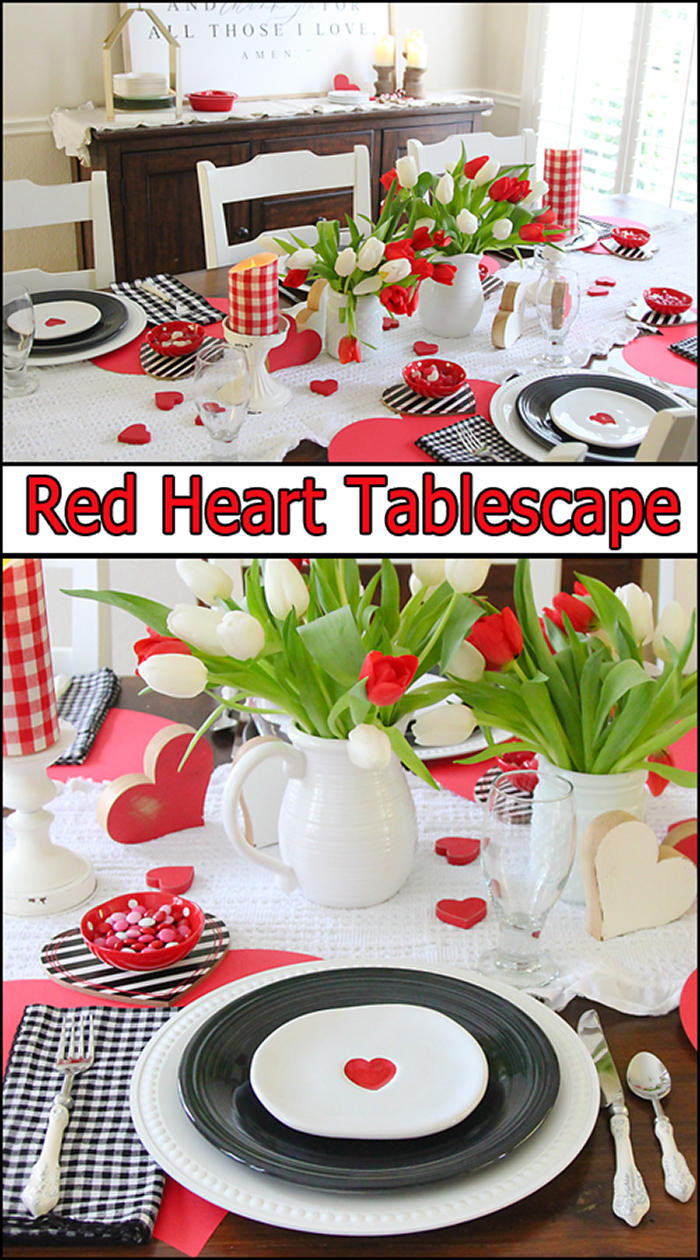 Here's my Red & Aqua Valentine's table from last year.